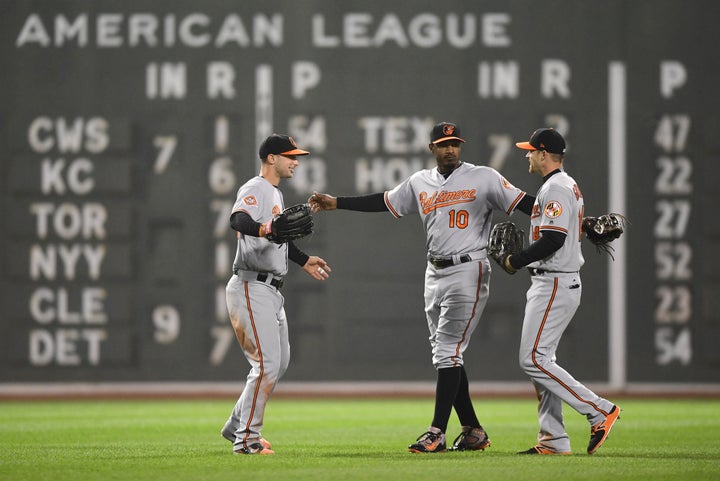 Adam Jones of the Baltimore Orioles said fans hurled racial slurs and food at him at Fenway Park in Boston on Monday.
"A disrespectful person threw a bag of peanuts at me and I got called the 'N'-word a handful of times," Jones said after the Orioles beat the Red Sox, 5-2, per the Boston Globe. "It was pretty awesome out there. Just part of the job, right? That's one of the worst nights. It's very unfortunate, to be honest with you."
"It is what it is," he added. "I just go out and try to play baseball."
The atmosphere was so heated that Jones gestured to fans after making a diving catch in the eighth inning, the Baltimore Sun reported.
Jones, a center fielder, said he has been heckled before at Fenway, but never like this.
"It's unfortunate that people need to resort to those type of epithets to degrade another human being. I'm trying to make a living for myself and for my family," he said, according to USA Today.
The Red Sox confirmed to USA Today that a fan was ejected for throwing a bag of peanuts at Jones.
"It's pathetic,'' Jones said. "It's called a coward. What they need to do is that instead of kicking them out of the stadium, they need to fine them 10 grand, 20 grand, 30 grand. Something that really hurts somebody. Make them pay in full. And if they don't, take it out of their check."
"The Red Sox want to publicly apologize to Adam Jones and the entire Orioles organization for what occurred at Fenway Park Monday night," Red Sox President Sam Kennedy said in a statement. "No player should have an object thrown at him on the playing field, nor be subjected to any kind of racism at Fenway Park."
Boston Mayor Marty Walsh also spoke out, calling the incident "unacceptable and not who we are as a city."
This article has been updated with statements from the Red Sox and Walsh.
Related
Popular in the Community