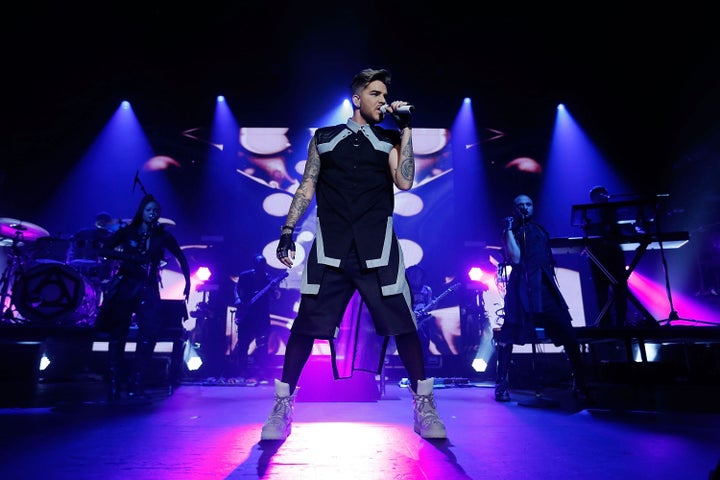 Full disclosure time: I entered Adam Lambert's show at Terminal 5 in New York City on Thursday night as a fair-weather fan, appreciating his brand of glam rock from afar, but never fully committing to his post-"American Idol" career. Sure, I've danced to a club remix of "Whataya Want From Me," but what self-respecting gay man in his 20s hasn't?
Somehow, I walked out of the venue after the show covered in glitter, wearing a tiger-striped Lambert concert tee and wondering why I'd never gone full Glambert before. 
If the intention of his Original High tour for his album of the same name was to uplift audiences, then I was feeling high AF. 
Since finishing as the runner-up on the eighth season of "American Idol," Lambert has adeptly adjusted to the sometimes treacherous post-reality-show reality, releasing three critically and commercially successful albums, scoring a Grammy nomination and completing two tours with iconic rock group Queen.
The 34-year-old singer has also managed to remain unapologetically queer since his "Idol" days, championing LGBT causes both on and off stage. (Remember the outrage when he made out with his male keyboardist during the 2009 AMAs?)  
But what has kept Lambert relevant seven years after his turn on "Idol" is his voice. Described by Queen guitarist Brian May as a sound that "reaches out with sensitivity, depth, maturity, and awesome range and power which will make jaws drop all around the world," Lambert's vocal talents were the focal point of his New York show. If there's anything that "Idol" teaches its contestants to do, it's how to sing live and how to do it well. 
Starting the set with the funk-infused dance track "Evil in the Night," Lambert's high-tempo opener was a fix for the dance-deprived crowd, which was a strange mix of New Jersey moms, fangirls, gay boys and celebs like Tyler Oakley and Betty Who. Dressed in a geometric black-and-white number accented with sparkly high-top shoes and his tattoo-covered arms, Lambert performance exuded confidence and sexuality. 
Next, he treated fans to the lead single off of the album, "Ghost Town," which happens to bear a similar name to that one Madonna song. The track begins with a deceptive acoustic guitar riff, quickly scrubbed away by a thundering house beat. Lambert, along with his two backup dancers, upped the ante with a surprising amount of choreography that never detracted from the singer's vocal power. 
You heard it here first, folks: Adam Lambert can grind and body roll with the best of 'em. 
It go so hot and heavy that at one point a fan chucked a pair of underwear with the words "Sugar Daddy" emblazoned on the back onstage. "You can't throw shit at my face, bitch. Not this face, c'mon," he responded off the cuff before adding, "I'll be your sugar daddy."
Although his new album has its fair share of hits (see "Another Lonely Night" and "The Original High") the crowd went from zero to alone-in-your-bathroom style belting, as the room collectively sang (screamed?) Lambert's most popular song, "Whataya Want From Me."
In addition to the highly performative nature of his music, a strong current of self-acceptance and "Born This Way"-light messaging ran throughout the show, reaching its peak with lyrics like "It's me, I'm a freak / But thanks for lovin' me / 'Cause you're doing it perfectly."
During one interlude, Lambert thanked his fans, who "accept me the way I am" and made it clear that he is nothing without their support. 
The thing that I've noticed about breaking out of theatre and breaking out of LA and traveling is that no matter where you're from, no matter how old you are, or what the color of your skin is, no matter what gender you are, no matter what religion you are, what sexual preference you are, however you want to label yourself, which is getting so passé anyway, we're all human beings. And you know what? We all got hearts. They're the same damn organ and they feel a lot of the same shit and that's what I love. I love that music can connect us and bring us together. 
Yeah, it was a little hokey and might qualify for an eye roll, but in the moment the declaration was authentic and clearly resonated with the New Jersey moms in the audience. Just kidding -- I was into it too. 
Rest assured, he quickly got back in the groove with a praiseworthy "Let's Dance" David Bowie tribute and a cover of Queen's "Another One Bites the Dust." Considering how deeply Lambert has benefited from the legacies of both performers, honoring the two was a superb finish to the show. His last message to the audience? 
Calling all HuffPost superfans!
Sign up for membership to become a founding member and help shape HuffPost's next chapter
BEFORE YOU GO
PHOTO GALLERY
Celebrity News & Photos