For the pop music superstars and global philanthropists in attendance, 2012's We Are Family Foundation Gala might be best remembered as the annual event that almost wasn't.
The gala, held at New York's Hammerstein Ballroom, had to be pushed back to Jan. 31 from its original October date due to Hurricane Sandy. But while the megastorm's devastation was the topic of much conversation at the party, it certainly didn't dampen most of the attendees' spirits -- least of all Adam Lambert, who was honored with the We Are Family Unity Award in recognition of his collaborations with The Trevor Project, Equality California and the Gay and Lesbian Alliance Against Defamation (GLAAD) among other organizations.
After accepting his award, the 31-year-old "American Idol" alum -- who became the first openly gay man to top the Billboard charts in 2012 -- hit the stage alongside fellow dance-pop artist Sam Sparro and legendary record producer and We Are Family founder Nile Rodgers for a smash set that included "Whataya Want From Me?" and a cover of the David Bowie classic "Let's Dance."
Backstage, Lambert was all smiles, laughing off the blogosphere chatter over the unexpected birthday lap dance he received from David Arquette. "He's one of the owners of the club [where I celebrated my birthday], so it was just a joke," he said. "It was very funny."
As for speculation on whether he's planning to tie the knot with longtime boyfriend Sauli Koskinen, Lambert said, "I haven't actually thought about marriage at this point. I want everyone to have the right to get married, of course, and I believe in that and support that fully. But for me, personally, it's not on the immediate horizon."
Also honored at the event were Mattie J.T. Stepanek Foundation Executive Director Jeni Stepanek, who took home the Mattie J.T. Stepanek Peacemaker Award (named after her late son), and Reservoir Capital Group founder David Stern, who received the We Are Family Visionary Award.
Among the other high-profile names in attendance were Rosie Perez, Taylor Dayne, hip-hop artist Q-Tip and "Real Housewives of New York City" star Ramona Singer and her husband Mario. As they strolled the red carpet, Ramona said they felt drawn to the work of We Are Family because of its emphasis on global education projects for teens.
"I really love anything that has to do with children, and this is an international organization, which makes it all the more special," she said. "I have a teenage daughter that I would do anything for, and [We Are Family] really speaks to the issues facing teens around the world."
Before You Go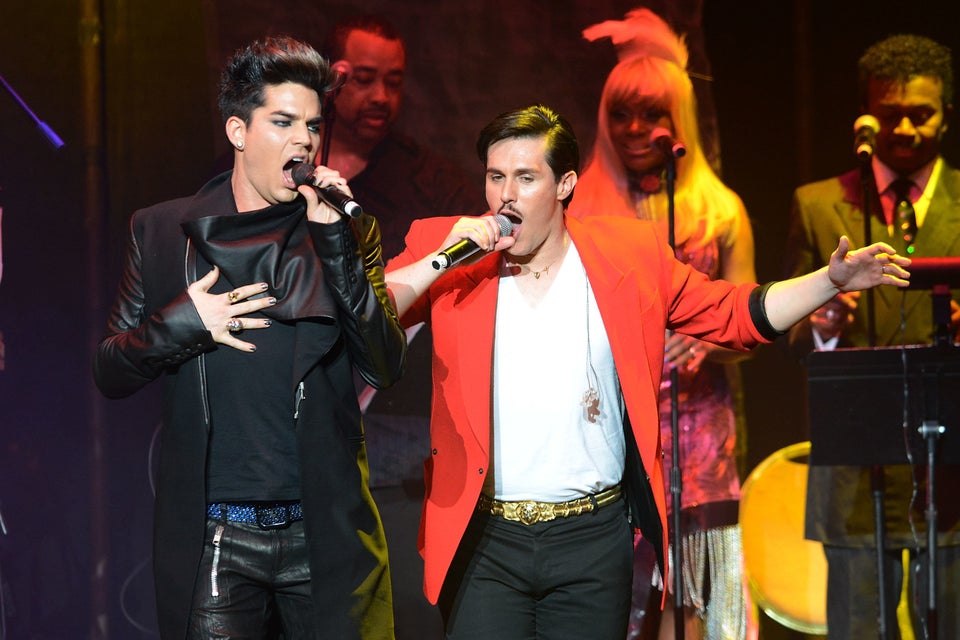 Adam Lambert Honored In New York
Popular in the Community