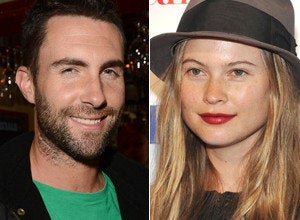 Prinsloo, 23, regularly dons bras and panties for Victoria's Secret; she has also modeled for Vogue, Vogue Italia and Chanel.
"There are two kinds of men. There are men who are f**king misogynist pigs, and then there are men who really love women, who think they're the most amazing people in the world. And that's me. Maybe the reason I was promiscuous, and wanted to sleep with a lot of them, is that I love them so much."
Bouncing from one super hot model girlfriend to another in a matter of weeks? How very rock star. But Anne might be up to some shenanigans of her own -- she was spotted with Jared Leto last week.
Click over to the Daily Mail to see pics of the pair sneaking a kiss in Hawaii, and for memory's sake, check out pics of Levine and Anne V in happier times below.