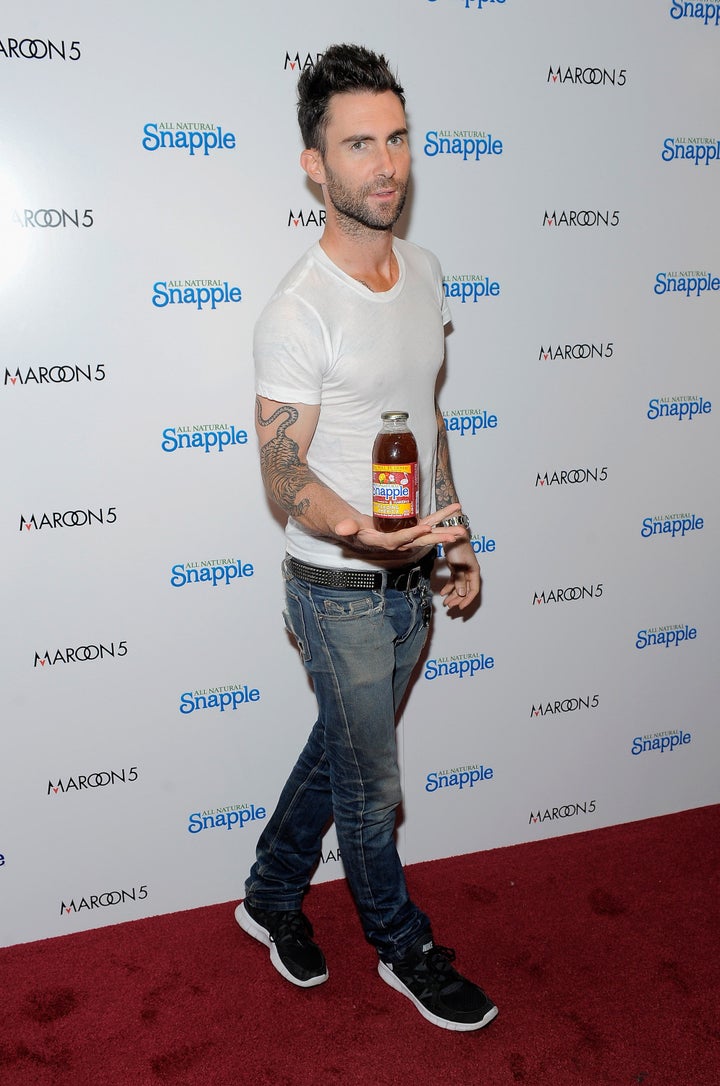 The Huffington Post recently sat down with the Maroon 5 frontman to talk "The Voice," the new NBC show that he's producing and his newest endeavor--professional tea-taster.
The 32-year-old Maroon 5 frontman, along with his bandmates Jesse Carmichael, James Valentine, Michael Madden, and Matt Flynn, created a Snapple drink, Tea Will Be Loved (conveniently named after their famous song "She Will Be Loved"), to benefit Feeding America. As part of the partnership, Snapple and Maroon 5 will donate $250,000 to the Feeding America, an organization close to the frontman's heart.
"It's so great to be in a position where you can help," says Levine, "It seems like to not help out would be strange."
And Levine and his bandmates were involved in every step of the tediously tasty process.
"We worked on the flavor, extensively, for hours in the lab--we really did," says Levine. "We got really into it. We were so drunk off Snapple by the end of the day. I remember when Snapple got popular back in high school. It was huge. And then there was Fruitopia--R.I.P. Fruitopia."
"I'm not a fan of singing competitions," admits Levine. "I never have been. But there was something that rang true with 'The Voice.' It's just a very sincere, honest show where we were allowed to speak our minds and be ourselves and help people along--in a real way. No one is being teased; no one is being mocked. It's all about positive reinforcement. We're dealing with a bunch of people who are all really talented to begin with."
And when it comes to those rumors regarding the cast's off-screen relationships, Levine assures fans that there's absolutely no drama between him and co-star Christina Aguilera.
"I love everyone I work with, and I think that really shows," says Levine. "All the drama is kind of beneath us. We're not trying to create stupid tension on the show. Any tension that we produced was all fabricated. We all liked each other. The media just played it up. Christina [Aguilera] kicks ass. She's super talented."
"We have our own path," says Levine, referring to "The Voice's" fall competition--Cowell's "The X Factor"--"We're fine."
Yet, even though Levine isn't a big fan of reality singing competitions, it turns out that the frontman has a soft spot for television musicals. Who knew Levine was such a Gleek? He's going to take a step out of the big red chair and into the executive producing chair for a single-camera comedy project, with Jake Kasdan attached to executive produce and direct, that can only be described as "Cheers" meets "Glee."
"My roommate is a writer and he had this incredible idea that we developed together," says Levine. "There's this spot in L.A. that we go sing karaoke at. It's kind of like a watering hole for our friends, or it's like a place that you go when you want to celebrate something or when you want to forget about things and get distracted. The concept is kind of like 'Cheers,' but it's a karaoke place in Korea-Town. So we just had this crazy idea for a show, and it's getting made, so I'm really excited."
And in case you're wondering what Levine's go-to karaoke song is--"it's all about Al Green."