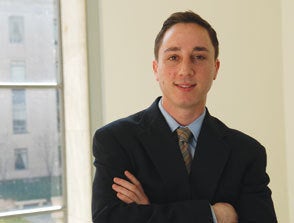 Capitol Hill is not a place where staffers become famous. The focus is on members of Congress, while aides remain in the background, unnamed and unremarked upon. But that convention has been a casualty of the battle between progressive and centrist Democrats over the bankruptcy bill aimed at easing the foreclosure crisis.
Adam Pase, the executive director of the New Democratic Coalition, has taken a leading and public role in the negotiations. Depending on who you ask, he's either been an indispensable help at reaching compromise or a toady for the banking industry, pushing the agenda of his former employer, a lobby shop that represented subprime lenders.
It started with a recent profile of Pase in Politico in which he's portrayed as a rising star, though the piece doesn't explicitly mention his role in bankruptcy negotiations. Then Monday brought a twofer: Pase was again name-checked in Politico, this time for his role in the negotiations. And Roll Call reported that he was "widely credited with bringing a sharp organizational focus that has reinvigorated the [New Dem] group [and] came to the coalition last year from the Blue Dogs, where he served as a top policy adviser."
The coverage hasn't, however, been universally favorable, with critics bringing up his past lobbying work to charge that he's hauling water for the banking industry inside the Democratic caucus. Jane Hamsher, founder of the liberal blog FireDogLake, wrote a piece on Saturday headlined, "Why Does Ellen Tauscher Value Banks Over Constituents? Ask Adam Pase..." The post, the first among several, noted that Pase is "a former lobbyist for the Twenty First Century Group, whose client, the Coalition for Fair & Affordable Lending, is an astroturf group, financed by the banking industry, that lobbied on behalf of. . . you guessed it. . . sub-prime lenders." (Ellipses in the original. Pase is a shared employee of the 67-member NDC but reports to Tauscher.)
The unusual heat on Pase is an indication of how intense the debate over the bankruptcy bill has gotten. "When you're dealing with this issue, advocates on both sides see it in almost religious terms: working Americans versus greedy banks in one view, or irresponsible borrowers versus the integrity of the mortgage system in the other view," said a senior aide on the House Judiciary Committee. The committee's chairman, John Conyers (D-MI), sponsored the legislation.
Pase's boss has taken as much heat as he has. Liberal bloggers and congressional negotiators have accused Tauscher of working to water down the bill, which would allow bankruptcy judges to renegotiate mortgages so people could stay in their homes. The banking industry strongly opposes the reform, arguing it undermines the sanctity of a contract and encourages bad behavior.
"Lenders think any country that makes it legal not to pay all your debts might as well be Somalia," said one congressional proponent of the bill. "Well, yeah, that's what bankruptcy does. It wipes out debts. I feel like Obama when he had to explain that stimulus means spending."
Several congressional sources accused Pase of taking the banking industry's line. Pase did, in fact, work for Twenty First Century Group, a small lobbying shop with about a dozen clients, in 2004 and 2005 as manager of government relations, after interning with Rep. Dennis Moore (D-KS), his hometown congressman.
In April 2005, he went back to Moore's office as a legislative assistant, according to congressional records. A year and a half later, he was promoted to "senior legislative assistant." From that perch, Pase led the Blue Dog effort at the staff level to kill bankruptcy reform after Democrats took control of Congress, said a congressional Democratic source involved in the fight at the time.
Pase, who graduated college in 2004, wasn't exactly a high-powered lobbyist, but the subprime lenders lobby -- the Coalition for Fair & Affordable Lending -- was a client of the firm where Pase worked. Twenty First Century was founded by former Texas Rep. Jack Fields, a Republican who left Congress for K Street one cycle after the GOP took over in 1994. As chairman of the Subcommittee on Telecommunications and Finance, he led the effort to pass significant pieces of deregulatory legislation, according to his bio.
That's enough for Pase's opponents within the Democratic Party to cry foul. Tauscher's assertion that she has not been in contact with the financial industry is undermined, they say, by Pase's presence as her lead negotiator.
"He was the lead staffer on all this stuff," said one Democratic opponent. "When he was with Moore, Moore was leading [the fight against bankruptcy reform]. When he went to Tauscher, then she became the lead." (Pase declined to comment for this story, other than to say that he had a limited to non-existent role with regard to the subprime lending client when he was at Twenty First Century.)
Why the attacks on Pase? He is, after all, just a staffer. Partly, liberal Democrats were spooked last week when the New Democratic Coalition managed to postpone the vote on the bankruptcy reform bill and are nervous about the strength of the financial industry. The Pase pushback also highlights Washington's current sensitivity to lobbying and the revolving door. Some Democrats are concerned that the lure of future employment can lead staffers to tilt negotiations in favor of the financial industry.
Pase is also, no doubt, the recipient of anger meant for Tauscher from liberals who object to her role. "Maybe he's just the guy who's taking the heat right now because he's the staffer who's the point in these negotiations," said a senior House Democratic leadership aide.
"He conducted himself very professionally and really helped us in leadership figure out what these members' concerns are. And we've been able to solve a lot of them," said the aide, who's been in on most of the negotiations. "I think he's been one of the key people in helping us get a lot of these undecideds into the yes category."
"Critics are misinformed," said Tauscher spokesman Jonathan Kaplan. "Rep. Tauscher has worked to find a way to make the bill more comprehensive and push it closer to President Obama's housing plan. She voted for the rule, she encouraged her fellow New Dems to vote for the rule, and she will vote to approve the bill. The goal is to make the bill more comprehensive and to give people a real opportunity to avoid bankruptcy through a loan modification plan."
Last week, Democratic opponents of the bill voted against a procedural motion that indicated to leadership that more work needed to be done -- the rule to which Kaplan refers. Tauscher wasn't among them, but had been the lead negotiator opposite Conyers and other supporters.
"To her credit, Ms. Tauscher was willing to make a deal. Unfortunately, some in the House are opposed but won't say why, and it has been a challenge for us to find people to negotiate with," said the senior Judiciary aide.
"Sometimes, when you're working these things, members just need a little bit of time," said the senior leadership aide. "They can't tell you why they're no, they're just a no. You try to pin them down, and the reason changes every time. That's a signal to us when we're working this stuff that they need more time to digest it. And that's why we only got it halfway done."
A hiccup in the Senate also contributed to last week's collapse, when American Banker reported that Senate Majority Whip Dick Durbin (D-IL) indicated he would be willing to limit the protection only to subprime borrowers, a concession that banks -- but not Tauscher -- had been seeking.
"Ms. Tauscher did a great job of bringing consensus," said the senior leadership aide. "She was really able to bring about 25 members to support this thing who were undecided or leaning no and an hour after she closed that deal, Dick Durbin just chopped her legs off and chopped our efforts out. That was extraordinarily unhelpful."
Durbin later said that he'd been quoted out of context and meant to say that while he'd been willing to limit it to subprime borrowers in the past, the depth of the crisis meant that he was no longer willing to do so. "He called several of our members and I think we're in a better place," said the aide. A Durbin aide confirmed that he called House members to clarify his position. Tauscher was among them.
Speaker Nancy Pelosi and Conyers have come to Tauscher's defense.
Tauscher has been negotiating most closely with Caifornia Rep. Zoe Lofgren, a proponent of the bill. The two sat next to each other during Monday night's meeting and were in full agreement, a leadership aide said. Pelosi, at a gathering of reporters on Tuesday, said that "Zoe could not be more complimentary of the constructive nature of the discussions she's had with Ellen, and Ellen has always said she would support the bill. And New Dems have said they would support the bill. It's a question more of message."
"They wanted less than many in the banking industry did, I can say that for sure," said the Judiciary aide. Pase "came with a specific set of proposals, we took their concerns into account, they listened to us, we met him halfway, and we came to an agreement. That's how the legislative process works."
The focus on Pase seemed to take people who negotiated with him by surprise. "When bloggers start attacking staff, that's when we kind of circle the wagons around those of us who dwell in obscurity and work the late nights," said the senior Democratic leadership aide.
A vote is hoped for by Thursday. Housing and Urban Development Secretary Shaun Donovan will address the Democratic caucus Tuesday evening, Pelosi said, so that he can brief members on the overall housing plan. Without details about options for homeowners that don't force them into bankruptcy, said Pelosi, members have little ability to explain what's so wonderful about the foreclosure bill.
"The uncertainty about people staying in their homes is intense, and [members are] saying, We don't want to just go home and say, 'Good news. You can declare bankruptcy,'" said Pelosi.
Support HuffPost
The Stakes Have Never Been Higher
Popular in the Community