Food Informants is a week-in-the-life series profiling fascinating people in the food world. We hope it will give you a first-hand look at the many different corners of the food industry. Know someone who would make a great Food Informant? Tell us why.
Adam Pearson is a food stylist from Los Angeles. With a variety of editorial and advertising clients, Adam creates the beautiful food seen in catalogs, magazines and cookbooks. He lives with his partner, a food photographer, and their 3 dogs.
Read on to see how Adam makes food look so good. Also, Adam made a snazzy stop motion video about his week that you can watch above.
Monday, April 2
6:30am: My alarm clock, also known as A Hungry Chihuahua, wakes me up. Time to feed the dogs, drink some coffee, spend some time catching up on current events and send off a few work-related emails.
7:30am: Gather up the 40 recipes we are shooting for Food Network and Cooking Channel this week and I need to make a shopping list for this project ASAP. I also need to figure out where to get prickly pear fruit by Thursday. Ugh.
8:10am: Get to the studio and start looking over the recipes for the day.
8:24am: Morning meeting with the assistants and a slice of Irish soda bread for breakfast. This is when we pick the recipes we are styling today. Today it's 10 recipes for Recipe Girl's cookbook for Wiley. How it works: I have a chat with the photographer and prop stylist about the recipe, discussing how much of it we want to show and what plate or bowl would be the best fit. Then I'm off to the kitchen where I, along with my two awesome assistants, cook and style the recipes. Once plated I take it to set and that's where the real magic happens. So many hands are involved in a photo of food, it's a wonderful collaboration.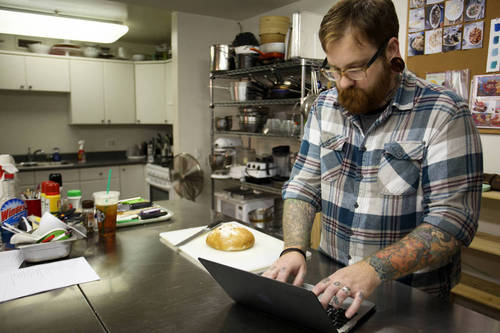 9:47am: Two recipes into the shoot day, the studio smells of garlic and sage. I'm STARVING! I guess it's time we pick what the crew wants for lunch.
12:48pm: Lunch. We ordered Japanese food today, but I've actually eaten 2 cupcakes and some risotto so far this morning.
1:41pm: Just styled an amazing recipe of roast cauliflower with lemon and brown butter. It was amazing, I'll be eating this for dinner.
2:29pm: Cheesecakes, red velvet cakes and brownies are cooling for tomorrow's shoot. Only two more shots left for the day. I need to book a flight to Wisconsin for a last minute job starting April 9.

2:45pm: Another difficult find: I need to find a source for bread fruit. Lots of interesting ingredients going on in the kitchen this month.
3:05pm: Shrimp tacos on set and I just ate another cupcake. I'm pretending it's healthy because they were banana carrot.
3:37pm: End of day. Dani Fisher, Matt and I are doing some fun shots for our portfolios. It's fun to style food with no limits. Moody and rustic is my favorite.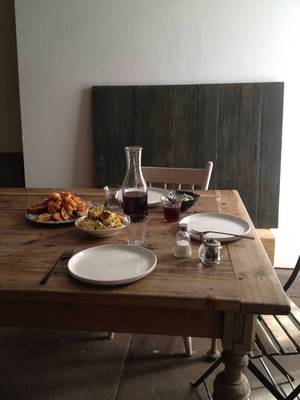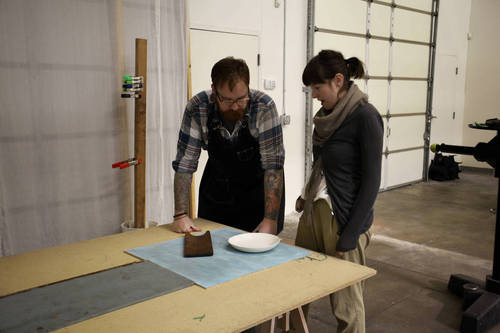 3:57pm: GOING HOME. Only after I drop these cupcakes off at my mother's house...DELICIOUSLY EVIL CUPCAKES.
4:56pm: Home. Responding to work emails and booking flight to Milwaukee...mmmmm cheese....But I still need to find prickly pears.
5:37pm: Making a shopping list for Food Network and Cooking Channel with a glass of wine and listening to The Smiths.
7:06pm: Shopping list made, work is officially over for the day! Time for a quick dinner (leftover risotto and roast cauliflower from today's shoot).
6:44am: The Chihuahua Alarm let me sleep in an extra 10 minutes. I want to try and get my day started as soon as possible as I need to get to the studio and get a quiche in the oven before everyone shows up. Today is the last day of Lori Lang's RecipeGirl cookbook.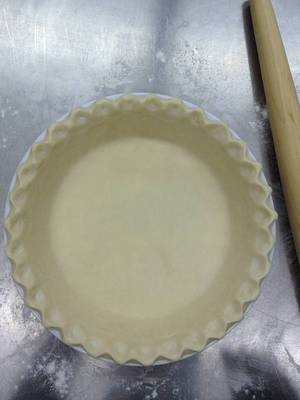 11:00am: Lots of baking in the studio today, red velvet cake with a layer of cheesecake in the middle. This might be lunch as everything is edible.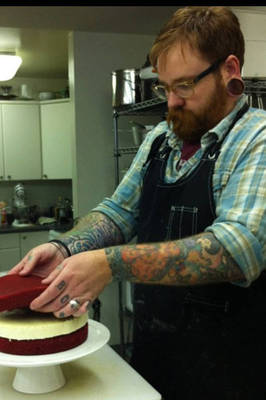 2:09pm: Last shot of the day and last of the Recipe Girl cookbook. Thankfully we baked off several recipes yesterday. It's much easier to slice brownies or cake when it was made the day before. Now it's time to clean, put the studio back together and get ready to start a 4-day 40 recipe shoot. That reminds me, I need to shop for all the food. I better get going.
2:34pm: I got an email inquiring about my availability for a job next week. I had to say no because I'm already booked out of town. I hate saying no but hopefully they will call again.
2:54pm: HOME! Now to grab my totes and head to the all the stores. Shopping for 4 days worth of food is going to make this a very long afternoon indeed.
4:44pm: Produce and regular grocery items? Check. Now off to Whole Foods for MEAT. Lots of grilling recipes means lots and lots of meat.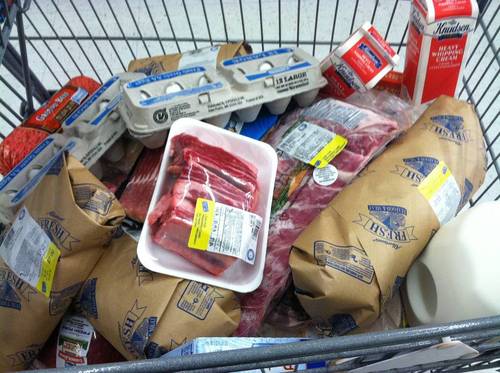 7:41pm: Home at last, and what a long day it was. Scrambled eggs with tomatoes and spinach for dinner and then a bubble bath but only after I return several emails and pay some attention to my 3 chihuahua kids.
8:42pm: Am I the only one who always thinks they left the oven on at the studio? Thankfully the studio is only 1/2 mile away. Ugh.
6:42am: I woke up to an email from a client that had an advance of some images we shot. So fun to see photos of our work, we usually have to wait a few months or even up to a year to see things in print. Great way to start the day. Now it's coffee time.
7:27am: Putting 2011 tax payments and 2012 estimated tax in the mail today. Also need to grab a bottle of whiskey to take to the studio. I still can't find prickly pears.
7:58am: Just got to work, I'm going to quickly get a brisket in the oven and a pot of pho on the stove to simmer. They're both for today's shoot but something tells me lunch is going to be fantastic today.
12:05pm: Four recipe shots into the day and the studio smells amazing: pho, spring rolls, chicken satay with peanut sauce. Hell to the yes.
3:34pm: Last shot on set: Chinese chicken salad. Totally going to take this home for dinner. We accomplished 10 shots today (!) and only have 30 more to go. Thankfully I have a great team in the kitchen helping me prep everything out.
5:20pm: Spent 2 hours cleaning the studio after work. Organized the pantry, swept and mopped the floors and gave some love to the prop room. I always felt I was a hard worker when I was employed by someone else but now that I'm the boss I work even harder. I wouldn't have it any other way.
7:55am: At work. Going to shoot two cocktails quickly before the crew arrives (the light is perfect early in the morning here), and then get a pork shoulder in the oven to roast.
12:08pm: Seven recipes into the day. There is some serious pork going on in the kitchen which means pulled pork sandwiches for lunch. And I just styled a very interesting side salad that had lettuce, bananas, water chestnuts, raisins, and nuts topped with a sweet mayonnaise dressing with cheese and bacon.
1:40pm: We got some sad mangos today. It happens. I had to give them a soak in water with a little bit of food coloring added to so that I could boost the color and "mango-ness" of them. It's a quick trick we use when we have sad fruit.
2:44pm: One more recipe left for the day. We're all waiting on a Yorkshire Pudding to get puffy and golden brown. Today was a good day and I booked two jobs for May and looks like we are going to finish early. Unfortunately, I do smell like fried fish and chips.
3:43pm: Quick portrait shoot of my partner Matt and I to pimp out our workshop in Stockholm. I love that he asks for this at the end of the day when I look and smell like fried fish.
4:17pm: Home and I am beat. Only 3 more days of work till I'm off to another job, this time to the lovely state of Wisconsin.
7:26pm: I'm so ready for bed. Kind of excited for work tomorrow as we're shooting two trifle recipes. Building them can be kind of a challenge but they are so pretty when you get it right. And I get to bake poundcake.
8:01pm: I just made a quick run to the grocery store, forgot to pick up Cool Whip for the trifles. It needs to defrost overnight so I can use it right away in the morning. Work work work, it never stops.
8:45pm: Writing menu notes for a summer grilling feature I did for CB2. Mmmmmm Sangria, grilled shrimp with lemon herbed panko and crostini with burrata and peaches. I think I need a snack.
7:02am: Hit the snooze button twice this morning, I just had to. We're halfway done with our shoot for Food Network and Cooking Channel. We're going to finish the week with one last day of shooting for Gaby Dalkin's book that's all about avocados. It's going to be a blast.
2:49pm: Today has been very busy. We're finishing the last few shots of the day which involved grilled pork tenderloin with chimichuri. It's on the set now and looks amazing. Meanwhile my assistants are in the kitchen breaking down some chickens for a BBQ chicken recipe. Really looking forward to a few days off, unfortunately I'll have to wait for another week before that happens. Work work work work work.
4:38pm: Wahooooo! Done for the day. 10 more recipes tomorrow and this shoot for Food Network/Cooking Channel is a wrap. Forty fantastic recipes in 4 days which could only happen when you assemble great people and have a great client. It's all about teamwork. Heading home in a bit.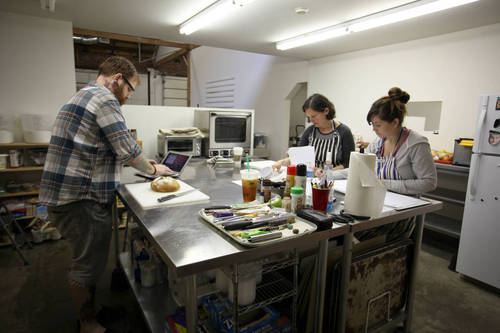 8:16pm: Feeling the fatigue of a long week but I can see the light though. I sure wish there was some ice cream in the house. I was just thinking about something we were talking about in the kitchen today: food styling is 10% technique, 80% problem solving and 10% managing people's expectations. We'll end today on that note.
6:35am: I miss sleeping in on the weekends. Not that I've slept past 8am in the last 10 years, but 7:30 would be so nice. I need to stop of at the grocery store on the way to the studio, we need lots and lots of avocados for the shoot on Sunday.
12:58pm: Seven shots into the day. We are really flying today. It's always nice when we have super talented prop stylist Dani Fisher here to help create such amazing images. She's awesome.
3:29pm: Just home from the studio. It's so nice outside, just over 80. Wish I had time to run around with the hubs at the beach but I have to clean the house and get my stuff together for my flight to Milwaukee monday morning. I also need to get my travel food styling kit together. The TSA loves me and my kitchen tools.
3:57pm: I need to scan in all the recipes for groceries and get invoices off to clients. We spent just over $2,000 on food for the past 7 days, we also shot over 80 recipes.
4:31pm: Best email of the day: "Your upgrades have been confirmed for both flights." Sigh, it's the little things in life, ain't it?
6:17pm: Spending some quality time on the couch with the family (Matt and the dogs) and catching up on bad TV. I can't wait to get back to the studio tomorrow to finish Gaby's book. Lots of tasty avocado recipes, all super delicious.
7:10pm: I just updated some behind-the-scenes photos to our studio's Facebook page. I love outtakes.
10:54am: Five recipes into the shoot and we are having a great day. Gaby brought in the famous "slutty brownies" for us to try. She makes them for Jessica Simpson all the time, apparently they're addictive. We are all officially hyped up on sugar. It is Easter after all. Oh, and did I mention there will be carne asada fries for lunch?
12:31pm: We all wanted to get out of the studio today because it's so lovely outside and the last shot is on set. Brownies and ice cream. It's a very pretty shot and we'll celebrate the end of her shoot with ice cream and even more brownies, Because we need more sugar, clearly.
1:06pm: All recipes done. It's over! Now I'm writing checks to the assistants and closing up shop. I need to stop off at the grocery store on the way home and get rice noodles and Thai chilies for my shoot in Wisconsin. I'll be bringing them with me because I don't want to run the risk of not being able to find them when I shop there. It reminds me of the time I flew with $150.00 worth of heirloom tomatoes to Wisconsin in November. The TSA got a kick out of that, too.
2:58pm: Home from the studio and packing for Wisconsin. I think this will be the end of my work week. Off to a lovely dinner with the better half and early to bed.
See more Food Informants below: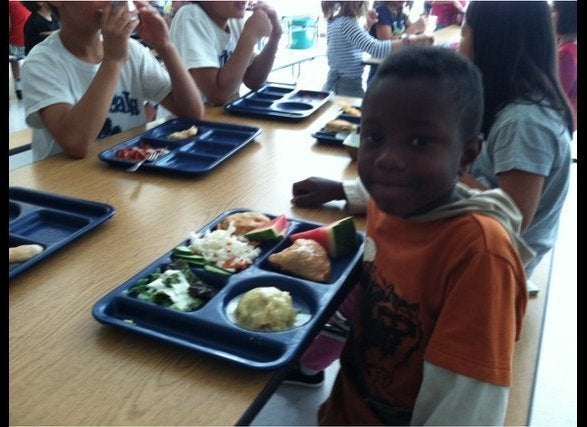 Food Informants
Related