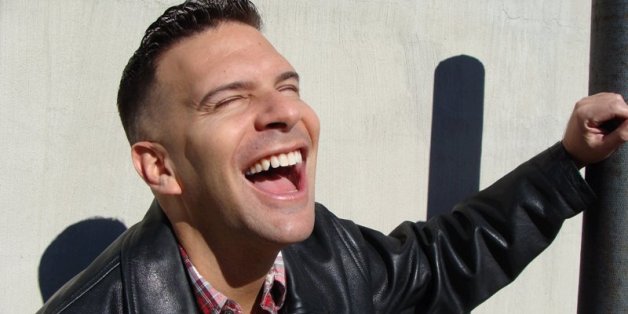 Comedian Adam Sank is no stranger to baring his soul (and then some) in front of an audience.
True to form, the 43-year-old gay funnyman will offer self-deprecating zingers on coming out, man-on-man sex and romance gone awry as a headliner at the Denver Improv on July 30. When he returns to New York in August, however, Sank will take his innuendo-laden stand-up act into new territory, tapping into his adolescent love of musical theater and all things Broadway with "Mama: I Want to Sing Showtunes: A One 'Mo Show."
"In some ways, it's the story of me coming to terms with being a gay man," Sank says of the show, which returns to The Duplex Cabaret Theatre on Aug. 14 and 21 after two sold-out performances in June. "But it's also the story of my coming to terms with wanting to sing and to be a performer. A song can say more than thousands of words of comedy."
Watch a clip of Sank's stand-up act, which hits the Denver Improv on July 30. WARNING: Contains graphic language


Directed by Maria Gentile, "Mama: I Want to Sing Showtunes" gives Sank's bawdy narrative a neo-vaudevillian spin, incorporating tunes from "Pippin" and "Evita" that highlight struggles and milestones in the comedian's early life but are sung mainly in jest. Whether he's recounting an encounter with a middle school bully or his burgeoning lust for a college fraternity brother, Sank evokes Danny Kaye by way of Howard Stern, matching song-and-dance flair with droll, salacious wit. (The show's cheeky title is a bit misleading, as Sank is joined onstage by singer-actress Erika Amato, his high school theater co-star, for several numbers; longtime collaborator Michael Isaacs serves as musical director and accompanist)
An active member of the New York City Gay Men's Chorus, Sank began developing "Mama: I Want to Sing Showtunes" after taking in a performance of "Methtacular!," in which Steven Strafford paired vignettes about crystal meth addiction with a series of musical numbers. Although Sank doesn't venture into territory quite so dark, the show's tone is sometimes comparable to Strafford, even when a crack about oral sex is forthcoming.
Check out a clip of Sank performing in "Mama, I Want to Sing Showtunes: A One 'Mo Show" below, then scroll down to keep reading:


Having worked the national stand-up circuit for 11 years, Sank sees "Mama: I Want to Sing Showtunes" as fulfilling, at least partly, his early dream of becoming a Broadway star. After pursuing a master's degree and working in media, Sank refused to ignore his calling even after his family had dissuaded him from pursuing the arts. Comedy, he says, was a natural fit as it allowed him to write his own material, and he made his stand-up debut in 2003, followed by a featured stint on "Last Comic Standing" in 2008.
"No matter what your passion is in life, you have to follow it and pursue it," he says of his show's ultimate message. "If you don't and you try to move way from it, you're going to feel empty … ultimately the only answer is to come back to it."
Whether Sank is referring to boys or Broadway is unclear, but if "Mama: I Want to Sing Showtunes: A One 'Mo Show" is any indication, it's both.
Adam Sank returns to the Duplex Cabaret Theatre in "Mama: I Want to Sing Showtunes: A One 'Mo Show" on Aug. 14 and 21. Check here for details. For more information on Sank's July 30 appearance at the Denver Improv, head here.
REAL LIFE. REAL NEWS. REAL VOICES.
Help us tell more of the stories that matter from voices that too often remain unheard.
BEFORE YOU GO
PHOTO GALLERY
LGBT Comedians