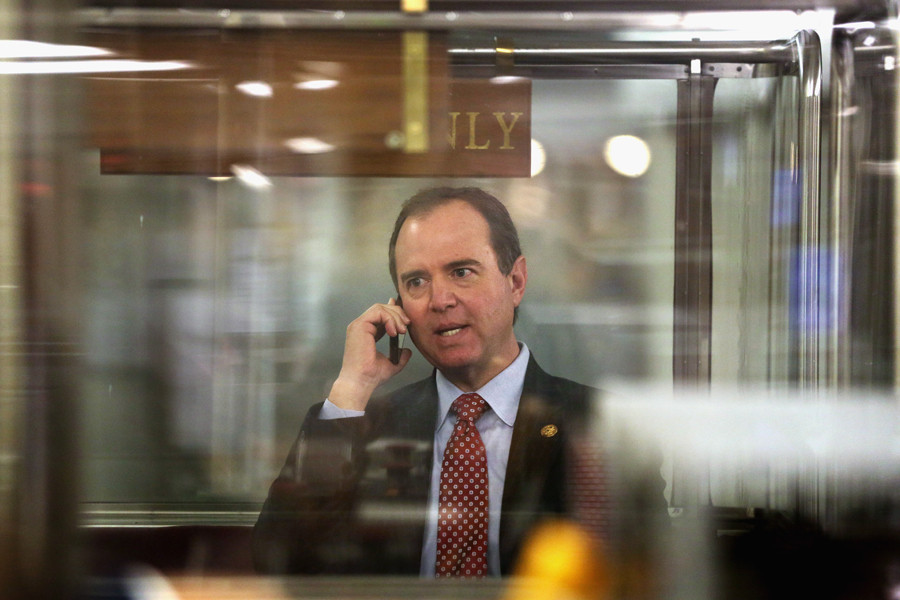 This article is part of a Huffington Post series, on the occasion of the site's 10th anniversary, looking at some of the people and issues that will shape the world in the next decade.
WASHINGTON -- Rep. Adam Schiff (D-Calif.), was sworn into office just months before the Sept. 11 attacks. He matured as a legislator as the government's intelligence machine, charged with safeguarding the nation in the era of terrorism, amassed sweeping power.
Now, nearly a decade and a half since his arrival in Congress, Schiff has grown accustomed to the spy grind of daily closed-door briefings, hushed overseas trips, and visits to places the American people -- and many of his colleagues on Capitol Hill -- don't know exist.
The coming months, however, stand to be some of the most intense and consequential of Schiff's career. In January, Schiff was named vice-chair of the House Intelligence Committee, making him one of the most powerful figures in the small circle of lawmakers guiding America's national security policy. The role will give him ample opportunity to wield his increased influence, as debates over national security come to a head.
Schiff, 54, a former federal prosecutor, said he wants to "help shape the debate over privacy and security in a way that analyzes not only what we can do and what's constitutional to do, but what we should be doing and how we should be structuring our intelligence-gathering, so that we get the maximum security benefit along with the maximum privacy.
"I don't think we've always thought in those terms," he added.
First up is the pending expiration of the National Security Agency's bulk data collection programs, whose existence former defense contractor Edward Snowden revealed in 2013. The Patriot Act provisions that authorize those NSA programs expire at the end of June, and a fight is brewing on Capitol Hill over whether they should be reformed, and how.
Schiff has been an outspoken critic of collecting Americans' phone records. He was in the first wave of lawmakers to propose reforms after Snowden's disclosures, pushing to end the program entirely and to overhaul the Foreign Intelligence Surveillance Court, the secret judicial body that supposedly rules on most Obama administration surveillance programs.
The court operates behind a thick veil of secrecy, which civil liberties advocates say unfairly tips the scales in the government's favor. Government lawyers go before a handful of judges to argue on behalf of Washington's intelligence apparatus for surveillance warrants. The court seldom rejects their requests.
Critics of the surveillance -- and possible targets -- aren't represented before the court, Schiff said. To balance the scales, he said he wants to create a body of civil liberties advocates who can argue against the government's lawyers, and he wants human rights and privacy groups to be able to write amicus briefs on issues that affect Americans' freedoms.
Schiff's approach doesn't go far enough, say some privacy advocates, who would prefer that the government quit mass surveillance entirely. But it reflects Schiff's views on the intelligence world.
To Schiff, it's not about choosing privacy over security, or vice-versa. It's about creating a system that's balanced, representing both sides. And for the first time since Sept. 11, Schiff said he believes Washington may be ready to listen to him.
"Post-9/11, there was an intense focus on national security," Schiff said. "Post-Snowden, there was an intense focus on privacy. And post-Charlie Hebdo and a few other things, I think they're settling in on an equilibrium, where people in the public recognize the need for good intelligence to protect the country, and people within the intelligence community recognize the need to uphold the privacy expectations of the American people and how you can't have one without the other. I think we're getting to a healthy equilibrium."
Beyond NSA surveillance, Schiff and his colleagues must face other national security priorities. Islamic extremism is forcing a new reality on Washington. Troop deployments to combat threats overseas are becoming the exception rather than the norm.
"We don't want to have put American boots on the ground everywhere," Schiff said. In this new age, with the U.S. increasingly battling amorphous groups rather than countries, intelligence agencies are playing bigger roles in identifying and combating threats.
The U.S. is slowly entering the realm of cyber-warfare -- another issue for Schiff. Last month, the Pentagon acknowledged publicly for the first time that cyber-warfare is part of the military's arsenal, but it has some catching up to do. Defense Secretary Ashton Carter recently travelled to San Francisco to recruit hackers to join the military.
But there's not much love for the military in Silicon Valley. Quiet battles between Washington, technology companies and privacy advocates have swelled over how information should be encrypted and who should be able to decode the protected information Americans store on their electronic devices.
The government is fighting to maintain its ability to snoop on private communications. But tech companies, stung by a backlash from customers and privacy advocates, are resisting government demands for access to customer data that also may be exploited by hackers. As companies take steps to block government encroachment, intelligence agencies are panicking.
"That's a mammoth issue," Schiff said of the conflict between tech companies and intelligence agencies.
Here, too, Schiff said he hopes for balance, pointing to a cyber-security bill recently passed by the House Intelligence Committee. The bill would allow law enforcement agencies to access information from tech companies. But the companies will be allowed to scrub personal information from the data, Schiff said. If any personal information does slip through, the government will be required to erase it.
That kind of considered position gives Schiff credibility with many of his colleagues and makes him a key cross-aisle player.
"We worked closely together on the cyber-bill, which passed out of the committee on a unanimous vote, and we've been collaborating on the FISA issue as well," said Rep. Devin Nunes (R-Calif.), the House Intelligence Committee chairman. "Although we don't agree on everything, we try to put partisanship aside in the committee's operation."
Schiff's friends and former House colleagues trace his views back to his work as a federal prosecutor in Los Angeles.
"He has a very logical, orderly, methodical approach," said Howard Berman, a former Democratic congressman from the LA area. "It's not ultimately motivated by ideology, but by analysis. I think he's effective in dealing with people who may not share his political philosophy just because he makes a very logical, compelling case for a particular position."
Schiff's knack for working with critics -- and his balanced take on national security -- creates a unique moment for national security reform. The outcome of the NSA debate will show whether Schiff's years of quiet work to balance the scales have opened a new era in Intelligence oversight.
"There's more of a willingness to talk about reform and think about reform," said Neema Singh Giuliani, legislative counsel for the ACLU on NSA and surveillance issues. "Congressman Schiff has said that he is interested in NSA reform and is supportive of it. I think that has created a slightly different tenor this time around."
REAL LIFE. REAL NEWS. REAL VOICES.
Help us tell more of the stories that matter from voices that too often remain unheard.
BEFORE YOU GO
PHOTO GALLERY
Edward Snowden