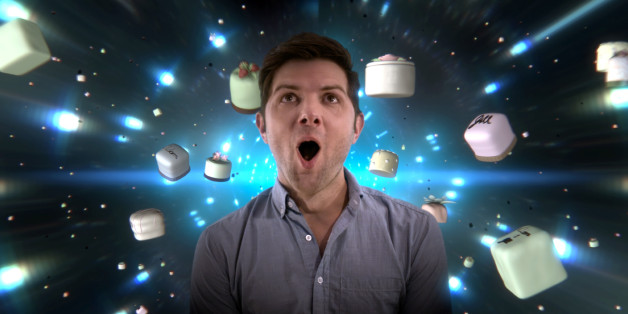 Adam Scott is just like you: obsessed with "Breaking Bad." He's talked about the Emmy-winning series with Vulture, HuffPost Live and even on "Talking Bad," which was the "Breaking Bad" after show on AMC. But despite his commitment to Vince Gilligan's beloved series, Scott wasn't immediately convinced that "Better Call Saul" would work.
"I kind of bracing myself to be disappointed, because how can a spinoff to one of the greatest shows ever possibly be as good -- or even half as good -- as the show it's spun off from," Scott told HuffPost Entertainment in a recent interview.
Fortunately, his fears were assuaged almost immediately. "I was blown away by how good it was," Scott said. "I watched both of those opening episodes twice. They're just amazing. The storytelling is as good as 'Breaking Bad.' The acting is incredible. I just think it's an incredibly exciting time for television and movies."
It's a pretty great time for Scott as well. He stars in this week's "Hot Tub Time Machine 2," ostensibly replacing original lead John Cusack as the fourth member in a gang of ne'er-do-well time travelers (played by Clark Duke, Craig Robinson and Rob Corddry).
"It was Clark Duke's idea," Scott said of joining the unlikely franchise. "He told me there was a role in it. Steve Pink, the director, called me and pitched me the idea for the movie. It ended up being completely different than what it was. I just said yes, which is a really stupid thing to do. But I knew Clark, Craig, Rob and Steve, and I just thought it sounded really fun. It was like going to summer camp with your friends in New Orleans. And when the script did arrive, it was hilarious."
Set in both a perverted present day (where Google has been replaced by Lougle and Lisa Loeb is a cat wrangler) and 2025, "Hot Tub Time Machine 2" is a murder mystery, of sorts. Scott plays the son of Cusack's character, a naive straight-arrow who breaks out of his shell in increasingly outlandish ways.
"When it's a really big world for someone and just every day is a discovery, there's a lot of funny there," Scott said of his penchant for playing unworldly characters. "Mostly because the world can be a dark place. To watch someone's innocence be broken is fun to watch."
Scott also got to exhibit his fair share of naïveté as Ben Wyatt on "Parks and Recreation." That series comes to an end next week, but if the 41-year-old actor has his way, it won't be the last time he's on a television show.
"I definitely want to do another one. I don't know what -- comedy or something else -- but I'm just taking my time to find something interesting. But I definitely want to find another show." Might we suggest "Better Call Saul"?
REAL LIFE. REAL NEWS. REAL VOICES.
Help us tell more of the stories that matter from voices that too often remain unheard.
BEFORE YOU GO
PHOTO GALLERY
"Better Call Saul"