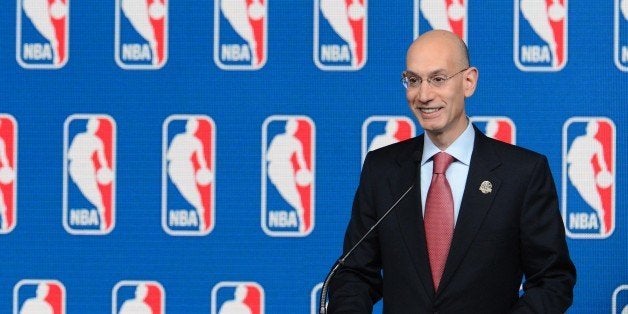 Adam Silver has officially begun his tenure as NBA commissioner. Silver, 51, has worked for the league since 1992 and brings an energy and approachability that Stern seemed to lack toward the end of his 30 years in the job. Silver is credited with helping to end the lockout in 2011-12, salvaging the season, and as president of NBA Entertainment, expanded the league's marketing and television departments. HuffPost tracked Silver down after All-Star weekend to discuss hot topics such as jersey sponsorships, expansion plans and the future of instant replay. (This interview has been edited and condensed for clarity.)
Your predecessor, David Stern, spent a great deal of time growing the NBA in Europe. How does Europe fit into your plans?
Europe continues to be a priority, as does international growth generally. I'll say that it's not at the very top of my list right now, because I want to focus on the health of our 30 teams in North America and want to make sure that we're also focused on the game. I think there are real short-term opportunities to work with college basketball and youth basketball, and work on increasing the quality of basketball played.
The length of the NBA season has been criticized for being too long. Would the league ever consider shortening it?
I'm never going to say something's not a possibility. It's not on my list right now. We will continue to look at everything, and that includes midseason tournaments, play-in tournaments, summer tournaments. Everything is on the table, but we've had an 82-game season for roughly 45 years. We think it's optimal.
What are the league's next steps for instant replay?
Part of what makes for great NBA basketball is the flow of the game, and that flow is interrupted by instant replay. At the same time, we want to get it right. Where our attention is focused right now is speeding up the process for when we do allow replay, as opposed to adding more triggers. One of the ways will be to create a central location where a group of officials can review -- through digital technology -- the same plays that referees are now reviewing courtside. That way, the officials will be in a position to speed up the process, rather than what we currently do, where the officials walk over, turn the monitor around, put on a headset, talk to the television truck, go back and forth about what the right feeds are. If you have a group of officials in a central location, they have every angle available to them and don't have 19,000 people screaming at the same time. That's the next step and we're working on it now -- to create a central location.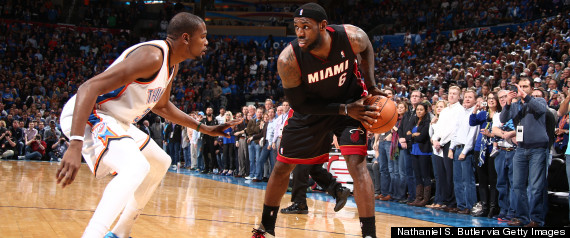 I know you are investing a great deal of energy into technology. What is the balance for the NBA moving forward for the fan experience?
What I always hear from people is that the best ticket in all of sports is the courtside NBA seat. And one of the things that makes that seat so terrific is what you hear and not just what you see. You hear the back and forth between the players, you hear the officials talking to the players. If we can find ways in our arenas to enhance that audio ... we're looking at improving the quality of the apps. There needs to be a balance: I hear Mark Cuban loud and clearly when he says we want people looking up, meaning not looking down at their smartphones. But at the same time, people are so used to being on their phone, if we don't provide relevant content for them during the game, they're invariably going to be doing something else on their phone that's not related to the game.
For the modern-day NBA player, how much of a distraction is social media?
I'm not sure that social media is that much more of a distraction than all the things that came before it. I will say, especially for the young players, it takes enormous amount of discipline to be successful in the NBA. I'm often saying to the young players that their greatest priority should be eating healthy, getting adequate sleep and practicing outside of the structured practices of their team. I think our players are not unlike a lot of young people that get distracted by social media. We all do it; not just young people.
Fantasy football has produced tremendous results for the NFL. Does the NBA want to replicate or mirror that type of success?
We're very focused on fantasy basketball. There are certain advantages to playing fantasy football, in that it's not as time consuming. We see a huge opportunity there. We have an enormous social media community. We see huge upside in fantasy basketball for us.
What is the current status of jersey sponsorships and are they a definite at this point?
We've now begun discussing with our television partners extending our current deals. There is a recognition by everyone that there is a pool of advertising dollars available to the NBA. Our ultimate goal by putting branding on jerseys is to grow that pool rather than move money from commercial units onto uniforms.
Our experience has been -- both from the NBA and from talking to our friends in European soccer clubs -- is that sponsors want to buy integrated packages, so it's unlikely that someone who now advertises during games is going to say, "I'm no longer going to buy commercial units. I only want to put my logo on the jersey." We are talking to our network partners to demonstrate to them that these will be integrated packages. They raise a fair point, which is we should also consider selling branding on jerseys in partnership with our network television partners, so that advertisers are presented a holistic approach.
I think it's inevitable that there will be sponsors on jerseys at some point, but we're still working on the best way to do it.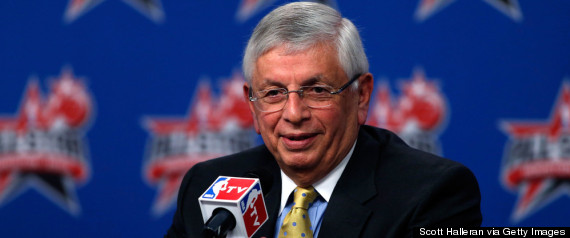 What is the league's role when stepping in and controlling franchises. Is it appropriate for the league office to step in and make basketball decisions, as it did with New Orleans, when it blocked the Chris Paul-Los Angeles Lakers trade?
Do we want to control teams? Absolutely not. Are we prepared to step in when we feel it's necessary? Yes. That was the situation with the Hornets -- now Pelicans -- that David Stern felt that, in order to bring stability to the franchise in New Orleans, it made sense.
During that period, when we were running the team, David was tasked with making the best decisions for that franchise. By definition, his view was you could not hand that responsibility to a group of owners, all who had their own incentives. David did what he thought was in the best interest when it came to player signings and player trades. Putting aside any individual decisions he made about trades, we ended up in the best possible situation, that is, with extraordinary strong ownership in the Benson family in New Orleans.
Email me at jordan.schultz@huffingtonpost.com or ask me questions about anything sports-related at @Schultz_Report and follow me on Instagram @Schultz_Report. Also, be sure and catch my NBC Sports Radio show, Kup and Schultz, which airs Sunday mornings from 9-12 ET, right here.
Related
Popular in the Community