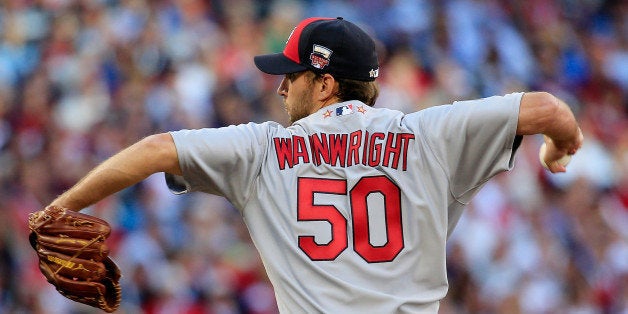 Everyone was willing to be mad at Adam Wainwright on behalf of Derek Jeter. Folks on Twitter were outraged that the St. Louis Cardinals' pitcher admitted to grooving a pitch to the New York Yankees' captain in the first at-bat of his final All-Star game. Even after Wainwright publicly recanted, FOX's Joe Buck insisted on air that Jeter would not have been pleased.
The only problem with all the outrage?
Jeter didn't seem to care at all about Wainwright's comments or that he might have been given a cookie to hit when he came to the plate at Target Field in the bottom of the first inning on Tuesday night. Jeter cracked a smile when asked about GrooveGate after the game and even praised Wainwright for his classy gesture just moments before that controversial plate appearance.
Before delivering his first pitch of the night, Wainwright joined in an ovation for Jeter, leaving his glove on the mound as the cheers filled Target Field in Minneapolis. When he picked up his glove, Wainwright started Jeter off with a low pitch. The 40-year-old captain of the Yankees watched it for a ball. The second offering stayed up in the zone and Jeter sent it out to right field for a leadoff double.
"I was gonna give him a couple pipe shots. He deserved it," Wainwright told reporters after his inning of work, reported Jeff Passan of Yahoo! Sports. "I didn't know he was gonna hit a double or I might have changed my mind."
The comments didn't go unnoticed as the game progressed, with some more upset with Wainwright for talking about grooving a pitch to Jeter than for actually giving him something to hit. In the eighth inning, FOX interviewed Wainwright from the NL dugout, seemingly looking more for an apology than an explanation.
"The comments you made to the reporters after you pitched, what was that all about?," Erin Andrews of FOX asked.
The 32-year-old right-hander, who also surrendered a triple to Mike Trout of the Los Angeles Angels and a home run to Miguel Cabrera of the Detroit Tigers in the first inning, then claimed the initial comments were just an attempt at humor and apologized for creating a distraction on Jeter's night.
"Sometimes my humor gets taken the wrong way," Wainwright told Andrews. "I feel terrible about this, if anyone is taking any credit away from what Derek Jeter has done today or off me or anything. It was missaid. I made a mistake about that. I hope people realize I'm not intentionally giving up hits out there. I know this game means something. I'm guessing people don't think I'm trying to give up home runs to Miguel Cabrera too."
Even after Wainwright backtracked on his earlier statements, Buck informed viewers that Jeter would never have approved.
"Well done," Buck chimed in after the exchange. "Well said by Adam Wainwright. Jeter would not have liked that either."
After the American League's 5-3 win over National League, Jeter was asked about his first at-bat and Wainwright's comments. Rather than expressing disappointment, Jeter joked about the at-bat and thanked Wainwright.
"He grooved them? The first one was a little cutter that he threw down and away. He probably assumed I was swinging. So he didn't groove the first one. The second was about 90, a two-seamer that stayed on a really good ... No, I don't know, man," Jeter told reporters, cracking a smile and eliciting laughs. "I have no idea. If he grooved it, thank you. You still got to hit it. I appreciate it if that's what he did. Thank you."
Calling all HuffPost superfans!
Sign up for membership to become a founding member and help shape HuffPost's next chapter
BEFORE YOU GO
PHOTO GALLERY
PHOTOS: 2014 MLB All-Star Game