Let's agree that among all the film and TV versions of Batman, Adam West's was the silliest.
It was also one of the most important – because West kept Batman alive at a time when the character could have faded into bat-obscurity.
In the ABC television series that ran from 1966 to 1968, West played Batman for laughs, parodying superhero situations and behavior while setting up jokes that could have been lifted from Hee-Haw.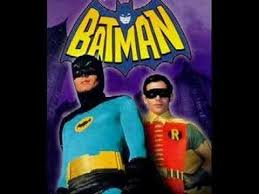 West's Batman did face off with The Joker, the Riddler and the other familiar villains. But where those showdowns in the movies and the comic books would often lead Batman into very dark places – a response the current TV prequel Gotham seems to suggest is unavoidable – they took West in far different directions.
They could just as easily, and randomly, end up with the Caped Crusader reminding teenage viewers that drinking plenty of milk builds strong and healthy bodies.
West may have taken that advice himself, since he was 88 when he died of leukemia on Friday, and he kept working pretty much until the end.
He appeared in hundreds of movies and TV shows, usually in guest roles and frequently as some incarnation of himself or Batman.
That may be the strongest clue to the impact of his TV portrayal, which endured long after logic says it should have become a footnote.
The TV series, to be honest, wasn't that good. It was one joke, basically, that was recycled twice a week for the first two seasons and then once a week in the third and final season.
Once you'd seen a couple of episodes, you knew the joke, which probably explains why ratings fell in the second season and plummeted in the third.
No, it wasn't script quality that kept West's Batman in demand for the rest of West's life.
It wasn't the fact Batman was played as a kind of earnest clown.
No, the importance of West's Batman is that it was a bridge, keeping Batman out there between the comic book years of the 1950s/early 1960s and his later explosion in the movies.
Deep Batman fans, of course, didn't need a bridge. They stayed around for the whole run.
But Batman, like Superman and Spider-man, only reached the level he occupies today after he entered the wider realm of popular culture – when TV and movie viewers who knew nothing of his comic book universe found him entertaining and kind of cool.
West's Batman certainly drew viewers from the baby-boom kids who devoured comic books. By reinventing him as a campy TV character, the TV show also attracted millions of random curious civilians.
Without the TV show, most of those civilians and even many of the comic-book fans would been moving on with their lives by, say, the 1970s. Life has a way of pushing pop culture aside.
Because we had West's Batman, whatever we thought of him, that didn't happen. Batman never fell from our line of sight. Years later his name still resonated, which wasn't the only reason studios started making Batman movies, but certainly didn't hurt.
By almost any conventional, logical assessment, West was the outlier in the Batman world, the odd duck that just didn't belong at the party.
Instead, he ended up as one of the party's most memorable and well-loved hosts.
REAL LIFE. REAL NEWS. REAL VOICES.
Help us tell more of the stories that matter from voices that too often remain unheard.