Adam White's stunning new coffee-table book Motown: The Sound of Young America (Thames & Hudson) is a 400-page non-stop heat wave of compelling narrative and enthralling images about a company whose musical brilliance and chart dominance was matched by its impact on American history.
White, a former Billboard editor, has collaborated with Barney Ales -- the right-hand man of Motown founder Berry Gordy almost from the beginning -- to tell the inside story of how Gordy and his creative team of black writers, musicians and producers made the records while Barney and his mostly white team of "backroom believers" made sure those records got played and that the bills got paid.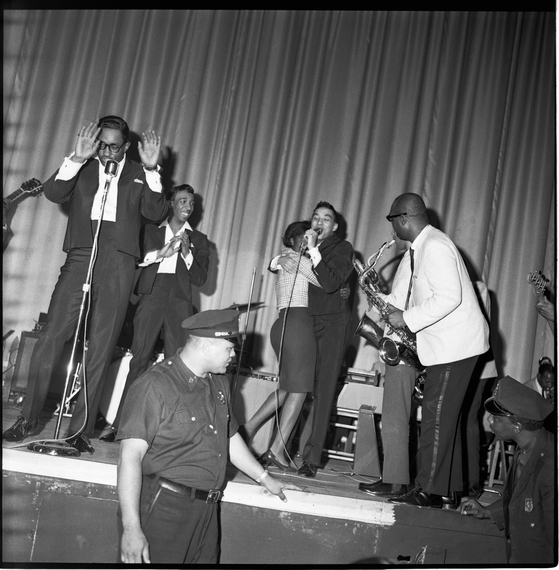 The Miracles during a show in the early 1960s
Motown Records Archives. Courtesy of the EMI Archive Trust and Universal Music Group.
Adam's encyclopedic knowledge of soul music and deep appreciation for the cultural/political meaning of Motown are as good as it gets. What makes Motown: The Sound of Young America even more astonishing are the 1,000 images of Motown's artists, execs, and design iconography -- many rarely before seen.
Reached by phone at his home in London, Adam said, "Barney and I had known each other for many years. Five years ago we resumed contact and I got to ask him every question about Motown I ever wanted to. I wanted to tell the story of the backroom believers, about whom not much is written and less credit given."
I experienced Barney's story-telling talents -- and his dry sense of humor -- when I interviewed him for the Hits Magazine special History of the Music Biz issue published last spring. My fave Barney quote: "I started in construction -- Italians are great with cement." It's wonderful to see his invaluable contribution to Motown -- which included several years as president of the company -- so lovingly acknowledged here.

Barney says the time spent working with Adam was so joyful that it "added five years to my life.' As for the secret to his successful relationship with Berry, he says, "There was love and respect, of course. But I didn't care about going into the studio. My job was running the machine, selling records and making sure we got paid."'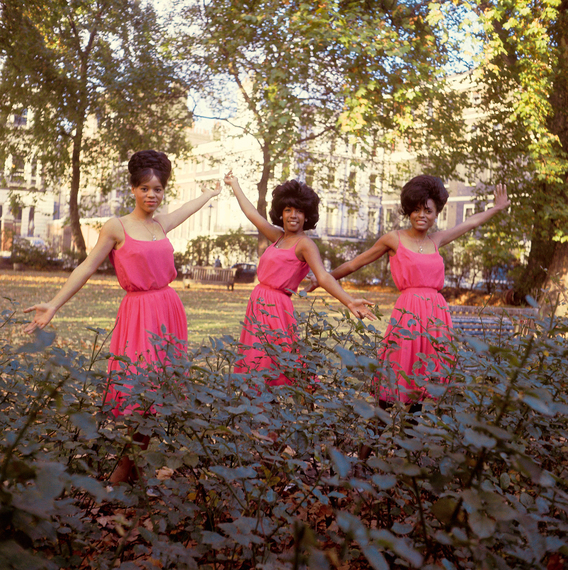 Florence Ballard, Mary Wilson and Diana Ross in London's Manchester Square, outside the headquarters of EMI Records, October 1964
Courtesy of EMI Group Archive Trust
The photos of Motown's hitmakers -- Mary Wells, Stevie Wonder, Smokey Robinson & The Miracles, Diana Ross & the Supremes, Marvin Gaye, The Jackson 5, The Temptations, The Four Tops and many more -- remind us how gloriously attractive these artists were, in addition to their music-making genius.
Some of the pics point to deeper truths about the times. Adam notes that the shot of Barney's wife Mitzi sitting on Berry's knee while Berry's wife Ray sits on Barney's knee, "might have gotten you arrested in the South at that time." It shows the power of the personal relationships that transcended race to give the Motown story its cultural and political resonance.
"We were lucky to interview people who could express that period well by just dealing with the sheer facts," Adam says. Such as the time, in 1961, when Barney and Berry accidentally integrated Detroit's exclusive London Chop House. Calling ahead for a reservation, they were informed that the restaurant didn't serve "colored people." Ales deadpanned, "Well that's good; we don't eat them." Or when a white female fan in Miami told Mary Wilson that every time the Supremes appeared on the Ed Sullivan Show, "I allow my family to watch you." These stories, Adam adds, "speak volumes and don't need much elaboration."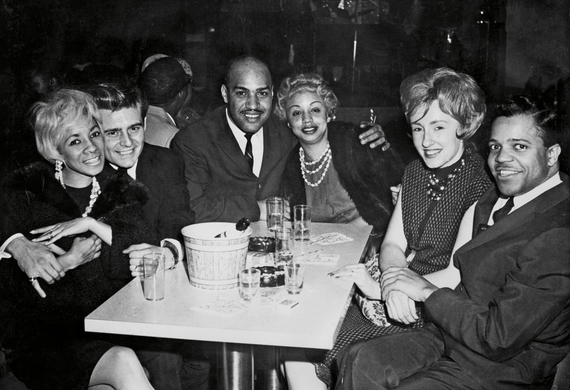 The Gordys and the Aleses in a Detroit club, circa 1960. From left: Raymona Gordy, Barney Ales, Motown promotion man Bill Mitchell and unidentified partner, Mitzi Ales and Berry Gordy
Courtesy of Barney Ales
Adam's passion for Motown was ignited the first time he heard Martha & the Vandellas' "Heat Wave" as a 15-year-old. The romance of distance added a mysterious quality that the Beatles, the Stones and other Brit bands lacked. "I could see them any time I wanted -- there was no enigma to it. But this city more than three thousand miles away I knew little about? There was magic." His obsession was further fueled when his American aunt sent him copies of Billboard -- the industry trade where he would serve as managing editor and editor-in-chief from 1981 to 1985.
Former Rolling Stones manager/producer Andrew Loog Oldham -- who told me "Motown changed my life; gave it zip, verve and attitude" -- brings that verve to an insightful foreword that illuminates how inspirational Motown was to the Beatles, the Stones, and other Brit rockers. "The book is as rich as Motown was, and for Motown lovers, still is," Andrew says."It is probably the most real look there has been at what went on behind the scenes to give us that musical history."
As music critic and author Fred Goodman puts it, "What aspired commercially to be the Sound of Young America became spiritually the Sound of the Best of America with Motown's records providing irrefutable proof that Black voices matter to anyone willing to listen."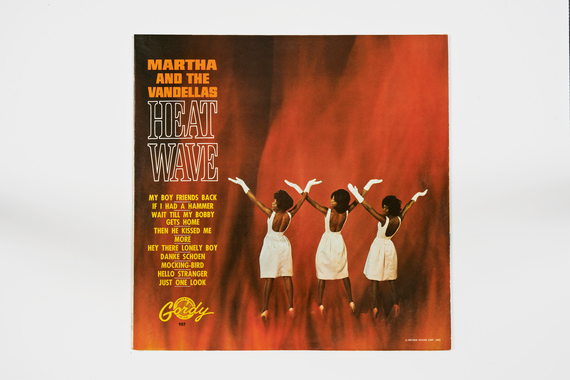 Calling all HuffPost superfans!
Sign up for membership to become a founding member and help shape HuffPost's next chapter