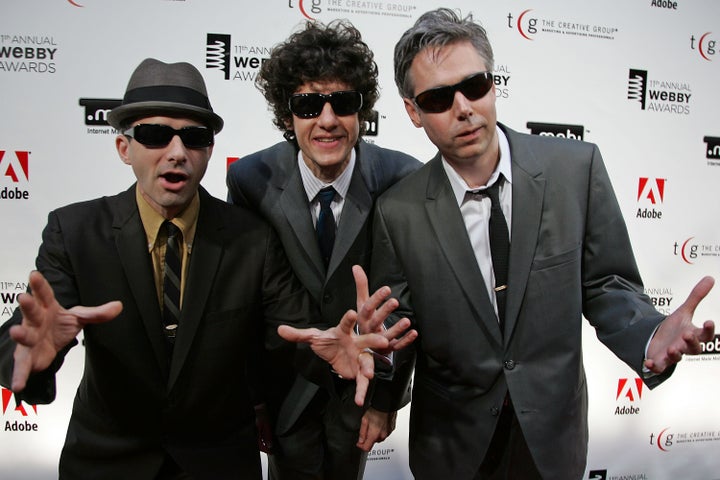 UPDATE 3:: Adam Yauch passed away on May 4, 2012. Our story on his passing is here.
UPDATE 2: Adam Yauch has not beaten cancer, and was unable to attend the 2012 Rock and Roll Hall of Fame induction ceremony. More details here.
UPDATE: On the Beastie Boys' website, Adam Yauch posted the following: "Hello My Friends While I'm grateful for all the positive energy people are sending my way, reports of my being totally cancer free are exaggerated. I'm continuing treatment, staying optimistic and hoping to be cancer free in the near future."
He fought it, and now he's gonna party: eighteen months after being diagnosed with cancer, WENN.com (via BBC Radio One) reports that Beastie Boys star Adam Yauch is back to full health.
Fellow Beastie Boy Mike D told BBC Radio One that the band was "really happy" that Yauch had been cured, and that they'll be putting out the second part of their album 'Hot Sauce Committee' as scheduled. The first part, which had to be rescheduled, does not have a release date yet.
While the band has to make sure Yauch is strong enough to tour, they do have other plans, Mike D said.
"We've got a video we got to finish, a big video," he told the radio station. "I know people don't make big videos any more but we made a big video. It's not even a video, it's a film-eo. A cinematic, short film."
That may or may not allude to the short film Yauch is producing, about their iconic 1986 song '(You Gotta) Fight For Your Right (To Party!).' Seth Rogen, Will Ferrell, John C. Reilly, Jack Black and Elijah Wood are set to star, along with appearances from Orlando Bloom, Susan Sarandon and more.
Popular in the Community