Over the past few years, I've been fortunate enough to attend the Asbestos Disease Awareness Organization's (ADAO) annual International Asbestos Awareness Conference. In 2010, ADAO Co-founder Linda Reinstein asked me to speak and share my story of my experience with asbestos and mesothelioma. I always say Linda gave me my voice; it was Linda who believed in me and saw I had passion for awareness and a story to tell. Over the last few years, Linda has become a mentor to me and a dear friend. She even attended my 9th annual Lungleavin' Day celebration this past February. I was so happy when Linda reached out to my husband Cameron to speak at the 11th annual ADAO International Asbestos Awareness Conference in Washington D.C. this past April.

This year's conference was titled "Where Knowledge and Action Unite." Linda brought together prominent scientists and policy makers, victims, and families and loved ones of victims for a weekend of education and awareness about the current state of the asbestos industry worldwide. At the conference, I'm always amazed at how much information, emotion, and knowledge Linda is able to pack into the day. The conference attracts a truly global audience. I've been able to meet meso warriors from all over the world and learn that asbestos is a global problem, not just a problem here in the United States.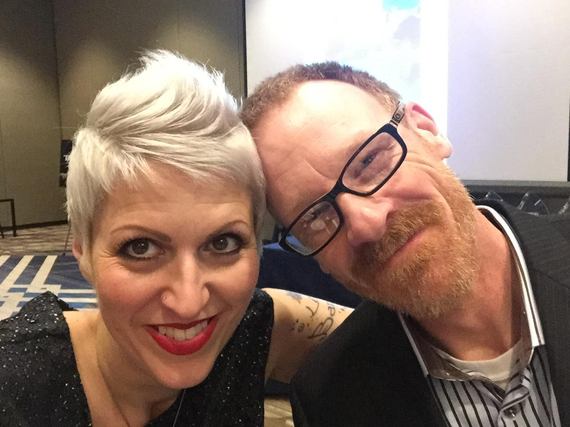 I love this conference because I also reconnect with friends I've made over the years. It's such a great experience to come together with these friends for a few days to further our cause. My one wish is that more meso warriors and their families would take the time to attend-- I know they would glean so much knowledge from it. The conference really gives you an understanding of the work that needs to be done to get asbestos banned worldwide.

The conference was a little different this year because instead of being there as a speaker myself, I was there to support my husband who was speaking. I was so proud of Cams for sharing his story and advice as an experienced caregiver! Every session during the conference was filled with new information and resources and had either a caregiver or patient sharing their story, along with a panel of professionals in medical, environmental and government agencies.
As an added bonus this year, there was a fantastic photo exhibit by world-renowned photographer Earl Dotter called "Badges: A Memorial Tribute to Asbestos Workers." It consisted of photos of the badges asbestos workers wore in the early part of the century, and then photos of the asbestos trade throughout the years. Powerful doesn't begin to explain it.

I always come away from this conference with a renewed sense of purpose and passion. It strengthens my resolve to bring more awareness to mesothelioma and the sad state of asbestos laws in the US. I will continue to do my part in getting this deadly substance banned.
If you're interested in learning more about the information and stories shared, you can find the conference presentations online at the ADAO's website.