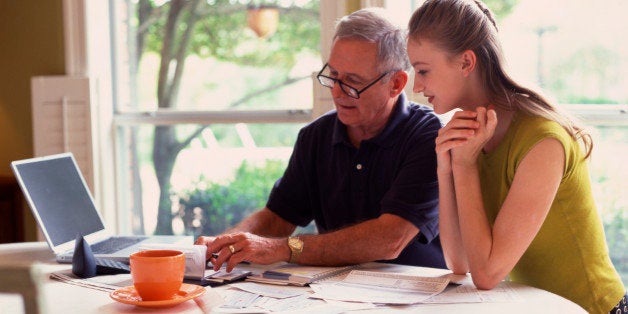 While you will be happy to have your college student home for the holiday break, remember that this can be a stressful time for them, especially if they are a first-year student still adjusting to a new, more independent lifestyle. And even though no one, especially students, likes feeling financial pressure at the holidays, it's important to have a discussion about your child's finances during your short time together.
You might be surprised to learn that students are truly stressed about their finances -- not only about the cost of their education, but also the pressure of managing and navigating everyday financial decisions. In fact, Money Matters on Campus, an annual study of 50,000 first-year college students, found that students reported being less prepared to manage their money than any other aspect of college, including keeping up with their coursework and staying organized.
To help ease your student's anxiety, take a few minutes to talk openly about their feelings and experiences. Trying to make ends meet on a tight college budget can be a challenge, so consider sharing lessons you've learned through your own financial experiences. Reassure them that the sacrifices they make now will pay off once they complete their degree. Here are a few additional topics for your discussions:
Review past spending. Offer to help review spending over the last semester. One of the major budget busters among college students is dining out, but there may be other little expenses that they were unaware of that add up quickly. Make sure they have been taking full advantage of their meal plans if they have one, or make adjustments to the plan next semester if things haven't worked out.
Keep track of bank account balances. Most banks now offer online features and/or apps that make it easier to keep on top of account balances. You may want to suggest that they set up alerts for important bill payments or low balances. While keeping a check register may be a thing of the past, it is still important to keep separate records, get into the habit of checking balances often, and stay conscious of where money is going. These mental moments of going back and reviewing how and where money was spent is an important step in becoming more financially responsible.
Review payment behavior. Another important routine for college students to develop is paying bills on time, especially if they have a credit card and/or recurring expenses such as a cell phone or car loan. They should be made aware of the importance of keeping current on their bills and how delinquency will negatively affect their credit score. Hopefully, they have not built up any credit card balances. If they have, help them develop a plan for paying them down and encourage them to use their debit card or cash on hand to make future purchases if they have trouble with credit card spending.
Get ready for spring semester. Review financial aid packages to make sure that when combined with family and student resources, they are sufficient to cover costs. Students receiving aid, especially those that commute to school, may be receiving another financial aid refund for the spring. These funds are intended to cover educational and living expenses throughout the whole semester. Many students use up these funds quickly and end up strapped for cash near the end of the term. Use a calculator to help figure out how much to spend each week to avoid having to resort to last minute, emergency loans.

Think ahead. It's not too early to start thinking about next year. Remember, all students must reapply for financial aid every year. They can complete the Free Application for Federal Student Aid (FAFSA) online at http://www.fafsa.ed.gov/index.htm starting on January 1 for the 2015-2016 academic year. State and institutional grant programs may require additional information as well, so be sure to check with individual institutions for application requirements. If they have been taking out federal student loans to help finance their education, have them visit http://www.nslds.ed.gov/nslds_SA/ to review what they have accumulated to date. Also, review the amount of any private loans they may have utilized to this point and estimate what monthly payments are likely to be upon graduation. Most importantly, see if they can manage to take out less in loans next year by budgeting carefully and taking full advantage of scholarship and/or work opportunities.
Though the holiday break is supposed to be downtime for your college student, use some of that time to help establish a clear plan to help alleviate financial stress. That way, they can feel more confident in their ability to manage their money, helping them in the long run to stay on track to completing a degree and in reaching longer-term goals as well.
REAL LIFE. REAL NEWS. REAL VOICES.
Help us tell more of the stories that matter from voices that too often remain unheard.