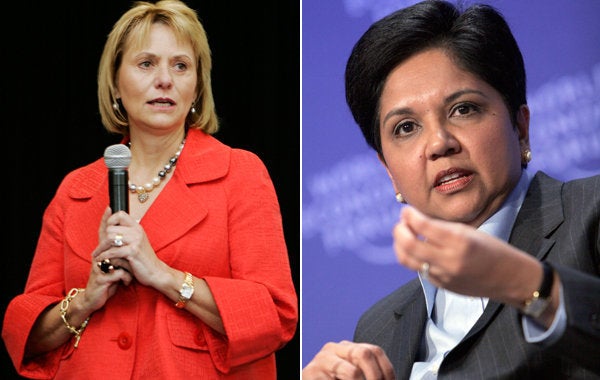 News last week of the establishment of The Women's Leadership Fund, created by Switzerland's Naissance Capital, Ltd made the financial world prick up their ears. Naissance has committed that the fund will only invest in companies with women in management and on their boards. The Fund will also take an "activist stance" against companies that have not yet committed to women in leadership positions.
The creation of The Women's Fund echoes recent findings by several respected research groups here in the U.S.: there is a simple way to improve business performance significantly that requires neither a government bailout nor vast corporate investment. Appoint more women to company boards and top management teams.
For both reasons of justice and economics, making women's leadership in corporate America a priority is a step long overdue. 66 of our top Fortune 500 companies have no women on their boards and only 3% have women CEOs. Catalyst, the leading organization for advancing women in business has published a series of research studies that demonstrate a link between gender diversity in leadership and corporate performance. Its 2004 report of 350 Fortune 500 companies found that those with the highest representation of women on top management teams performed better financially than companies with lowest women's representation, as measured by return on equity and total return to shareholder.
The positive impact of women on the bottom line is confirmed and amplified in a 2009 study, "Women in Fund Management" from the National Council for Research on Women. A forthcoming report, "Benchmarking Women's Leadership," from the White House Project reflects the findings of the Catalyst and NCRW research not only in the corporate sector, but across 10 sectors of American culture.
Given the consistency of the research findings, logic would seem to dictate that CEOs would jump on this method of improving financial performance by adding women to top leadership posts.
Yet, as we have learned from watching corporations blind themselves to the consequences of their actions -- from the subprime mortgage crisis to the collapse of the auto industry -we cannot rely on those who created the problem to see it and solve it.
The US government is intervening in business right now, because the well-being of the nation is at stake. Now may be the time to replace good intentions about diversifying leadership with government action. We should consider the full range of options from legislation mandating a reasonable representation of women on corporate boards to attractive financial incentives such as tax credits and other deductions.
Take Norway for example, which is just about the only western nation thriving amidst the current economic crisis. Not only did this country enjoy 3% economic growth in the last year, but it actually has an 11% budget surplus.
As of 2008, Norway has a large number of women on its corporate boards, a stark contrast with the paltry 15% representation of women on the United State's Fortune 500 corporate boards.
How did Norway institutionalize this priority?
In 2002, Asnager Gabrielsen Trade and Industry Minister scanned corporate boards and saw that the percentage had stalled at 6%. A former businessman, Gabrielsen knew that very often male board members were drawn from a small social circle, of men who went "hunting and fishing together." He led the effort to bring women onto Norway's boards, not for the noble cause of helping women, but because he believed that diversity creates wealth.
By 2003 , Norway passed a law requiring all companies to fill 40% of board seats with women by 2008. The law was called "completely ridiculous" by the business community, and, they predicted, impossible to enforce. In 2006, as companies continued to resist, Karita Bekkemellem, Minister of Equality, threatened to close down companies that did not comply.
The result: As of the 2008 deadline, all 500 companies on the Oslo stock exchange now have 40% women on their boards.
Diversity does not just improve financial results. It also enhances the quality of a group's capacity to think about complex issues. Researchers from the University of Michigan and Loyola University Chicago proved that random groups of intelligent problem solvers outperformed carefully selected group of people considered to be the "best," when asked to solve complex problems. Why? Because the random group is more diverse, and this heterogeneity offers a distinct strategic advantage.
Our country certainly is facing a torrent of problems. We can equip ourselves to meet these challenges, by creating more diverse teams and adding more women to the leadership mix. US corporate leaders have not responded to the years of data that prove that women improve the bottom line. So, we need to ask our government to move them to action - and the good news is that this particular government intervention need not cost our beleaguered taxpayers another cent.


Shifra Bronznick is a leadership strategist and the co-author of Leveling the Playing Field. Marie Wilson is the President and Founder of The White House Project.
Related
Popular in the Community