It's about 7 a.m. on Friday, February 26, 2016. I haven't shed tears over him in a really long time; until today. It's sad not because a high school relationship didn't work out, plenty of those are over before they began, but because addiction doesn't discriminate. Mental health issues are stigmatized. Warning signs fall through the cracks. It's hard to help in the right way when you don't fully understand. It's hard to help when you're a kid yourself. Addiction can turn good people in monsters. It can make them do things that they would never even think of doing normally-- make them say things that are ugly, hurtful, and completely untrue... cause them to hurt the people they love both purposely and inadvertently. At times and for a very long time, it seemed that I was the only one who truly knew and understood Stephen's struggles, insecurities, dreams, and eventually demons.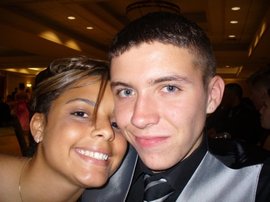 He was captain of the high school soccer team. Popular. Well-liked. Fairly good grades. Eventually a college soccer player. From the outside looking in; he had it all. On the inside he was fighting a constant battle of self-acceptance that eventually manifested itself in a heroin addiction. A year or so into our relationship, his behavior was off. Our relationship wasn't what it once was. He was angry, irritable, and his moods were constantly up and down. Sitting in his car one day, I begged him to tell me what was wrong; to tell me what had changed. He broke down in tears and confessed that he had made a mistake. He tried something with his "friends" and he was trying to stop. He was withdrawing from heroin.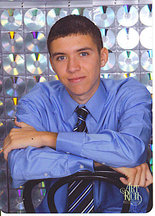 This has been something I chose to not fully address for years. I'm not sure if it's because it was too painful, taboo, too much hurt had happened to both of our families, or because I thought maybe I was 'over it', that I moved on, I was stronger, I overcame. I think I hadn't fully processed what happened until today. Until I read a post that his younger cousin wrote today, on the 6th anniversary of his passing. Truth is, I haven't been to a wake or funeral since. Not when a good friend from college took his own life, not when my step-grandfather passed, not when close family friends passed from muscular dystrophy related complications. I've avoided dealing with death ever since; I've ignored it. I've only let myself be upset for a day or two over loss of life. I haven't allowed myself to drag out the mourning process ever since.
When he passed, I don't think I ate for two weeks. I was in my second semester of sophomore year in college. Luckily, the people that cared about me weren't going to let me dwell in my sadness in my dorm room. Our romantic relationship was long over as I had decided to cut ties a few years prior. Constantly worrying about someone else's drug use, safety, and erratic mood shifts was far too much for me to handle as a teenager. I didn't know enough, I was so young, and that cross was far too heavy to bear. I tried to help him for years. My family tried to help him for years. That fight was taking my life away.
The Dean at my college was not going to let me give up our trip to Italy that I received a scholarship to attend. My friends would not allow me to miss our spring break trip that we had planned all year. My sorority sisters didn't let me sulk in loneliness-- they made me go out and enjoy the quickly fleeting college years when all I wanted was to be alone. My psychology professor refused to let me process what had happened on my own. My mother chose to forgive my high school love who had caused so much turmoil for both of our families. His family gave me the peace that all that had happened in the past wasn't my fault and they celebrated the love we once had through a display of cards, poems, and pictures from our time together beside his casket.
I see posts from the people he used to hang around with. His best friends and teammates that he drifted away from as the drugs took over. The "friends" that he used with that seem to be living normal lives now (except for the ones that also fatally overdosed). I'm not sure if they're clean, sober, or still using. Some of them were my friends too before they used drugs.
I spoke to him just two or three weeks before he had passed. An out of the blue, very unexpected phone call came from him. He had recently gotten out a rehab. He was off the drugs. He was so proud of himself. He felt good. He was gaining weight that heroin had taken away. He wanted me to be proud of him; he said I would be proud of him and he wanted me to see that he was turning his life around. He was letting me know that my efforts to help him in the past weren't useless and that he was going to finally be okay. He wanted a friend to congratulate him. He wanted me to know he was so sorry for the things he had done and for the pain he had caused for everyone that loved him. He kept me updated on his progress after that. Suddenly, the updates were less often and eventually he stopped updating me. I figured that he was using again. I wasn't allowing myself to be emotionally invested at this point; so I didn't think much of it. Within two weeks of no contact, a mutual friend had asked me if I had heard what happened to him. I said, "No, what happened?" He had overdosed and this time he was gone forever.
In writing this piece, I wanted to respect his family and childhood best friends that he lost touch with. His mother that still feels the void of losing her oldest son that she brought into this world; her blue-eyed angel that stole her heart the day he was born, just as he stole my heart at that high school football game in 2004. His middle brother that served our country in Afghanistan and continues to serve as a police officer. His youngest brother that was still so little when he had to watch horrible events unfold. His aunt and cousins who miss him every day. His on and off again girlfriend that he dated after me. The family owned pizza shop in town that continued to give him a chance as their beloved delivery driver after he dropped out of college. His father that found him in his last moments when he was already supposed to be out the door and off to work delivering pizzas. His best friend who was also his grandmother, that I am sure greeted him in the afterlife. We all shared the same pain. We all cared. We all tried to help. We didn't fail; we did the best we could.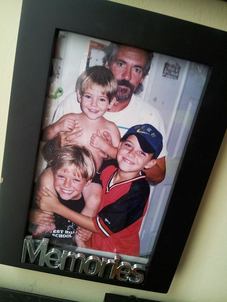 I'm sharing this to shine light on addiction and mental illness. To demonstrate that bad things can happen to good people. I used to think that addiction was a choice. That Stephen chose to do drugs and continue doing drugs. That he chose to cause hurt. I've never used heroin. I never had the slightest urge or interest. I hated the thought of it. I've never been addicted to anything; I couldn't fully understand and I'll never be able to say I know how an addict feels. I had immense trouble accepting that addiction is a disease; but it is a disease. It doesn't discriminate. Someone doesn't necessarily know that they're going to be an addict until they are... and even at that point, they may still not know that they're an addict. Yes, it was most likely a choice to try a drug in the first place. A choice and a mistake. When someone is fighting an inner battle, sometimes the clearest solutions are clouded. Their judgement is clouded. They make a decision that they wouldn't typically make. They fall into the wrong crowd to feel cool, accepted, or to have some fun. They decide on the most convenient and readily available escape.
If you're reading this, I want you to do some simple things. Talk to your kids. Talk to your friends and family. Ask them if they're okay. If you're causing someone you love hurt; try your absolute hardest to make a positive change in that relationship. Don't let the people you love feel alone. Try not to yell as often. Addiction does not need to be a death sentence; some people can change.
Need help with substance abuse or mental health issues? In the U.S., call 800-662-HELP (4357) for the SAMHSA National Helpline.
Popular in the Community