At Fernside, a McLean Hospital Signature Recovery Program in Princeton, Massachusetts, we've had great success helping individuals with addiction and mood disorders through integrated group therapy (IGT). Developed here at McLean, IGT is an evidence-based approach for addressing co-existing bipolar disorder and substance use disorders. IGT focuses on group interaction and interpersonal support to teach recovery behaviors and relapse prevention skills. The approach gives people definitive tools and skills to navigate a lot of situations—like high-risk situations that might cause a person to relapse into using drugs or alcohol.
Also, unlike a lot of other treatment approaches, IGT addresses mood disorders and alcohol and drug abuse simultaneously, not separately. We know that if people don't address their mental health issues, it makes them vulnerable to substance use. And, of course, substance use makes their mental health issues even worse. Working on both issues at the same time is a big selling point of IGT.
Through our experience caring for patients, we know that IGT works, but we also know that not everyone who could benefit from the therapy can come to places like McLean for help. To address this situation, I've long believed that a mobile app could be extremely useful. By bringing IGT tools and activities to a smartphone, millions of people in need could be helped. And it would be very inexpensive.
A group from McLean, including me and a few of my colleagues at Fernside, started working to make the app a reality a few months ago, when we were given the chance to take part in the Partners Connected Health Innovation Challenge (CHIC), a competition focused on using technology to solve healthcare problems. We thought our idea for an IGT-based app had a good chance of winning, and we were right—our idea won the competition. As winners of the competition, we received hundreds of hours of technical support to build our app.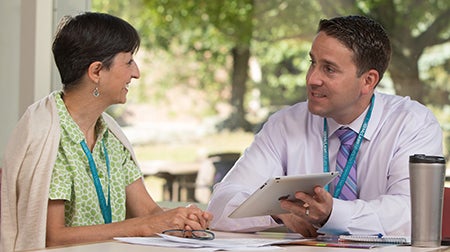 Although technology isn't really my cup of tea, it has been interesting to work with software designers and engineers on the project. Along with my teammates from McLean, we've been helping the technical experts translate the principles of IGT to a digital platform, particularly with finding ways to bring the one-on-one, personal support you get with IGT to a digital platform. Whether we're coming from the clinical side or the technology side, we all want to produce the most effective and user-friendly result—something that's going to be sustainable over time.
Based on our work, I'm confident that our app will keep people engaged and help them address their substance use issues and mood disorders. Using the principles of IGT, the app will have definitive tools to help people navigate a lot of risky situations. The app will have recovery rules, skill building exercises, and a support group meeting finder. To bring in the interpersonal support that's central to IGT, the app will also offer "live supports," including a virtual coach that users can interact with when they have questions or problems. Also, we're going to try to pull in ideas that are already out there from other apps to make ours more of a full-service solution.
Our team hopes to have the app ready to go in a few months. We're excited about bringing IGT to millions of people who could benefit from the treatment. For people who can't come to a place like Fernside, having IGT tools and resources in the palm of their hands will help them get—and stay—on the road to recovery.
Kenneth Gilman is the residential supervisor at Fernside, an addiction treatment program at McLean Hospital. McLean is a leader in alcohol and drug abuse treatment, with care designed to meet the needs of patients at every stage of treatment. Services are offered at a number of locations, including at the hospital's main campus in Belmont, Massachusetts. For more information, visit mcleanhospital.org.
Related
Popular in the Community