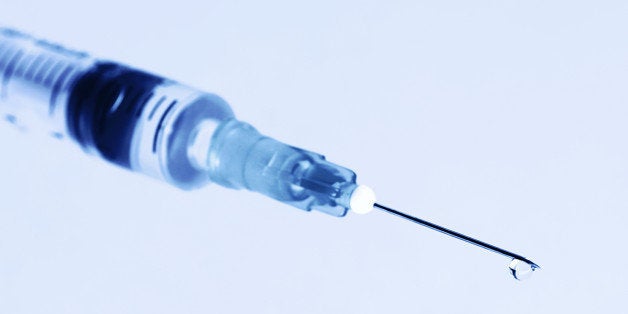 February 2, 2014 was the day the nation started taking heroin seriously again, the day people learned about the darkness that comes with drug addiction, it was the day we lost an incredible actor Philip Seymour Hoffman. Hoffman's death ignited a media frenzy and opened the door for the public to see the heroin epidemic that as treatment providers, we've been seeing for the last decade. Something that has come out of the increased awareness of heroin addiction is a newfound interest with the controversial drug naloxone (also known under the brand name, Narcan) that can reverse the side effects and overdoses of opioids. It is a right move that more states are giving police and first responders' access to this drug, but it is one that comes with a lot of controversy.
Let's start from the beginning. From where does the surge in heroin come? Part of the reason why there is an increased demand for heroin stems from the rise of prescription drug abuse, particularly prescription opiates (Vicodin, Oxycontin, etc.). According to the Substance Abuse and Mental Health Services, 80 percent of people who try heroin for the first time had previously used prescription drugs. (And I think that number is probably closer to 95 percent.) For many, abuse of prescription drugs can be a gateway to a new high in the form of heroin or other illicit drugs. As people become more addicted they are always looking for a better high and many see heroin as the natural next step in that saga. Also, heroin is relatively inexpensive and can cost as low as $5 to $10 for small bag compared to a single Oxycontin that can go for as high as $80.
Its clear heroin isn't going away and more deaths and overdoses will be reported as the year continues. There probably isn't a week that goes by that another huge heroin bust isn't reported in the news. Just a few months ago, 53 pounds of heroin was seized in the biggest bust in New York City this year. Meanwhile in New Jersey, 325 people were arrested for heroin use, which included users and drug dealers. While we can't stop this problem overnight, one forward thinking initiative that's been put in place is allowing law enforcements to carry naloxone.
In December 2013, a pilot program was started in Staten Island for 200 cops to carry the drug and administer the drug to prescription drug overdose victims. This was in response to the overwhelming number of painkiller overdoses happening in Staten Island. Each officer is prepped with a naloxone kit that contains two pre-filled syringes of naloxone, two atomizers for nasal administration, sterile gloves and a booklet on the use of the drug. From there the pilot program expanded to New York City's Metropolitan Transportation Authority police officers. This meant more than 650 MTA officers in 14 counties in New York and Connecticut are equipped with naloxone. Other states are adopting the program as well. Just last month, Gov. Chris Christie announced he would expand the program to both 900 state police officers and local law-enforcement offices across all 21 counties.
I believe this is a small step to help battle the heroin epidemic. While I see many families requesting naloxone for their private homes, the drug is not ready for public distribution yet. For right now, allowing the appropriate law enforcement and medical teams to have naloxone at the ready is a way to reduce the number of deaths caused by a drug overdose and help get addicts to receive proper treatment. I speak to a lot of families who would jump at the chance to have naloxone on the side to use in very dire circumstances. Obviously for parents who live with a drug addict, naloxone could be an antidote for the unthinkable, but having it widely available could create a bigger problem. Naloxone could become a dangerous safety net for drug addicts seeking a high without considering the consequences. But, as I know from personal experience, when you are addicted, the goal is to find that place between death and the perfect high. Whether or not a lifesaving drug is available won't necessarily affect the addict's behavior. For now, the waters are being tested and my hopes are the number of deaths caused by drug overdose declines and more people get the help they deserve.