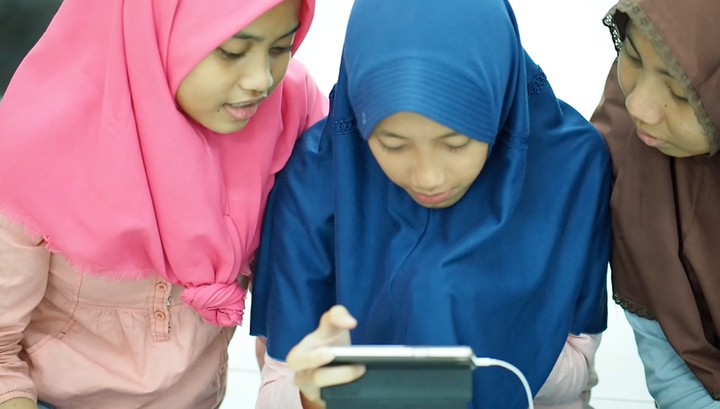 "Everyone just expected that I would work in the factory… there was no college in my village… So at age 16, I ran away with a bag full of clothes and five dollars to the Indonesian city of Bandung." From the poverty of a rural Indonesian village to becoming a Fulbright scholar, Talitha Amalia developed an unstoppable passion for education. Today, Amalia is working with Janine Teo, CEO of Solve Education!, and Peng T. Ong, Chairman, to bring education to children in Indonesia and soon all over Southeast Asia. Solve Education!'s new educational app is designed to teach English, math and science to children and adults who earn less than $2 a day. The hope for the app is to bring the engagement levels of Clash of Clans, Minecraft and Candy Crush to English-learning, math and science curriculum. Remarkably, many children in rural Indonesia don't have decent schools, but "they have phones," Amalia smiled as we sat down for the interview.
Without the pressures of institutions, schools and parents who push for education, these students have to be taught through the addictive nature of video games. Unlike children in the West, they're not a captive audience. Amalia, Teo, Ong and the Solve Education! team are using the effective strategies of consumer analytics to engage students in the developing world to make education understandable and captivating. "Our mission is to make education accessible to everyone."
Amalia's journey to help other children like herself pursue higher education was inspired by her experience growing up in a rural industrial village in Indonesia. Destined to be just another link in the factory supply chain, her fire to learn has changed her fate and now many others. "At the time, I didn't know the factories were exploiting my village. I was just really angry… I would ask, why don't we have clean water? Why is our village so warm [from factory smoke]? I had to clean myself using yellow water because the mineral water factories used all the clean water for their product." Unlike her peers who knew they would end up working for the local soda and mineral water factories, Amalia had greater ambitions because of the books she found in her father's home, "Although my father was a security guard at the factory and had a very traditional mindset [that girls shouldn't pursue higher education], he loved reading," she said. "So I had books at home from politics to philosophy." Through literature, Amalia discovered her portal into a larger world, giving her a perspective outside the conservative mindset of her tiny village. The wealth of the written word enabled her to see beyond her poverty. "Through reading I developed my rage towards the elite decision-makers in society… so I thought I must become a different type of leader; I must be the change. I must acquire the power of education."
With this motivation to pursue education, Amalia went door-to-door asking families in her village to sponsor her high school education and finally received funding from a distant relative. Despite the limited resources, poorly educated teachers, and the lack of engaging curriculum, Amalia became even more driven to achieve and eventually go to college. "After finishing high school [two years early], I was expected to apply to work at the factory to follow in my father's footsteps, but I wanted to go to college… So at age 16, I ran away with a bag full of clothes and five dollars." After arriving in Bandung (capital of Indonesia's West Java province and an international hot spot), she was exposed to radical inventions like the internet and fascinating people from all over the world, which broadened her horizons to an unfathomable set of possibilities. She received acceptance letters from all the colleges she applied to and she decided to go to Universitas Pendidikan Indonesia with the most affordable major, English Literature. If starting a new life in an uncharted city at 16 wasn't difficult enough, Amalia had to earn a living and attend college at the same time. She would study from 7am to 3pm and work as a radio announcer from 5pm to 2am. I realized she wasn't joking about sleeping during the radio commercials when she said, "my boss got mad when I sometimes overslept through the commercials [and didn't wake up after the commercials ended]."
After graduating from college, Amalia worked as a secondary school teacher and finally went to the University of Hawaii at Manoa, and University of London in the UK. When coming back to work in Indonesia, she met Janine, who recruited her onto the Solve Education! team. Much of Amalia's experience growing up in the poor conservative region of Sukabumi, West Java, Indonesia has given her insight into the development of Solve Education's Dawn of Civilization App. Inspired by Clash of Clans, the profitable video game in Indonesia, Dawn of Civilization game is a platform for students to build a virtual city using "points" earned by playing mini games (mini lessons that teach curriculum). Amalia and the Solve Education! team wanted to develop an app that allowed the kids to be creative and assume leadership roles by building a city instead of rehearsing the violent nature of many engaging video games.
Solve Education!'s app allows kids to become proficient in English within six months to a year with no money and limited internet connection. "The game can be downloaded and saved on low-end phones to be used without internet connection." Her mission is to use accessible education as a scalable solution to socioeconomic problems transforming the learning process by enhancing the students' development, while the children enhance the curriculum's development. The consumer analytics on the Solve Education! app allows for constant modification and improvement of both the curriculum and the learner.
Now, as manager of Solve Education! with the hope to change the lives of other children in poverty, I asked Amalia if she felt her experience was similar to other students in Indonesia. She quickly corrected me that there are more than 300 languages and hundreds of distinct diverse cultures in Indonesia, but told me about one unifying factor, "I wouldn't say that my experience speaks to all children in Indonesia. Based on my experience as a researcher, I spoke to many children in parts of Indonesia and I would say that even though our backgrounds are different, Indonesian children have the dream to change their lives. They want to transcend their restricted environment… As an educated Indonesian who was lucky enough to study abroad at top universities in the world, I have an obligation to give back to these children." Anger rose in Amalia's voice as she said, "We can't deny them education! We can't deny them a bright future!" She paused, "so even though I have a quite different experience… some of us had supportive parents, unlike mine [or learned different languages or had different cultures]… we still have the same dream… we want to have a bright future…"
As she and the small-but-mighty Solve Education! team work on scaling their app, her dream is now providing a platform for the next generation to seek that bright future.
Related
Popular in the Community