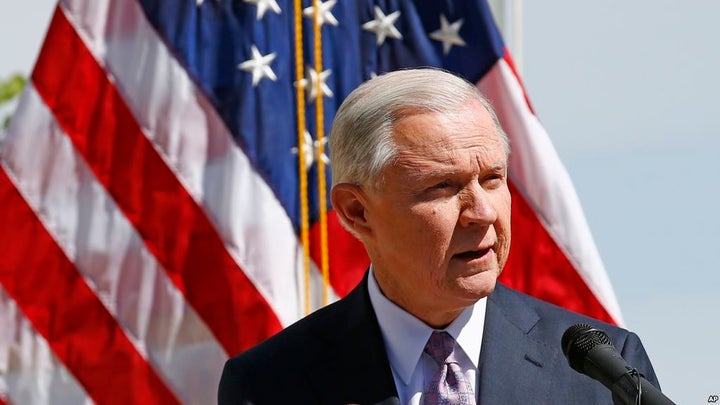 On a visit to the U.S.-Mexico border last month, Attorney General Jeff Sessions made a rare announcement that might have secured the support of both immigrant advocates and those eager to accelerate deportations.
Unlike most other U.S. courts, the immigration courts are managed not by the Judiciary, but by the Department of Justice.
The enormous task of managing the hundreds of thousands of cases each year falls on the Executive Office of Immigration Review (EOIR), a little-known agency that, because of a backlog approaching 600,000 cases (note to prospective federal office seekers), ranks at 232nd of 305 federal agencies on an employee satisfaction survey.
Our Constitution affords everyone in the United States – regardless of their status – the Fifth Amendment right of due process. Be they someone that overstayed their visa, a visitor accused of a crime, or an asylum seeker desperate to share their plight in front of a judge, all are afforded the same access to the equal administration of justice.
But anyone that has watched a courtroom drama or an episode of Judge Judy knows that getting your day in court requires much more than having enough judges to hear your case. Each hearing also includes a clerk to support administration of a hearing, a court reporter to record the proceedings, sheriffs to provide security, and, of course, the interested parties and their lawyers.
Immigration courts have another layer of support, the professional interpreters needed to ensure that those appearing before a judge understand the proceedings and their rights.
Just recruit a few Spanish teachers from the local high school?
EOIR, the agency that manages the immigration courts, has a mandate to provide language interpreter services to more than 300 languages and dialects in the 58 immigration courts located across the United States.
Two of the top ten languages spoken in U.S. immigration courts in fiscal year 2016 were Mam and Quiché, Mayan languages that are spoken in Guatemala, Belize, and Southern Mexico. Most likely you won't find those languages taught or spoken at your community school.
Language matters. It can mean the difference between the swift administration of justice and bottlenecks, confusion, and fear. It relays the pain of those fleeing violence and the facts supporting those that wound up on the wrong side of the law.
There is an important debate around the wisdom and impact of the President's ramp up of immigration enforcement efforts, and the impact it is already having on both families and our economy.
It's one thing for the Trump Administration to hire more judges. But if this White House is serious about stemming an immigration backlog sure to grow in the months and years ahead, it also needs to provide the resources necessary for EOIR to fully support the immigration court program – including for interpreters – so that they function in the best interest of those in front of the judge.
Those appearing in immigration court are often those with the fewest resources to advocate for themselves. We owe them the ability to understand their legal proceedings.
Like it or not, it's their right.
An immigrant from Mexico, Rosario Marin served as the 41st Treasurer of the United States under President George W. Bush. She became a US Citizen in 1984.
Calling all HuffPost superfans!
Sign up for membership to become a founding member and help shape HuffPost's next chapter