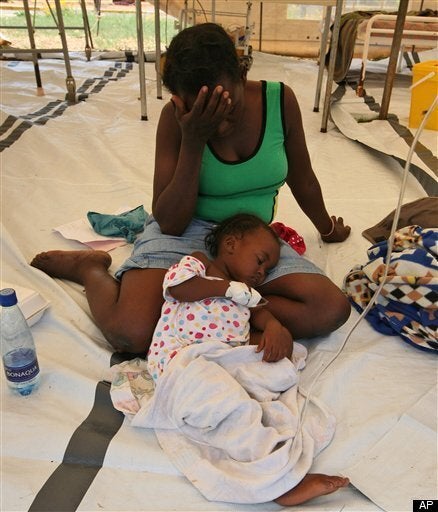 Take a deep breath and hold it.
Do you remember the last time you had a cough or shortness of breath? For millions of kids in the developing world, seemingly benign common cold symptoms can be a death sentence.
Aung Soe was 2 years old when she developed a deep cough which progressed into rapid and heavily labored breathing. Aung Soe's father had heard an ad on the radio about the threat of severe pneumonia and its symptoms, and he knew it was important to take his daughter to the local Myanmar health clinic at once.
In the twenty seconds that you held that breath, another child in the developing world -- Aung Soe could have been one -- died of pneumonia. Each year, pneumonia kills over 1.5 million children. That's more than malaria, HIV, and measles combined.
Today is World Pneumonia Day. But to Aung Soe or her father, who deal with the threat of pneumonia much more often than once a year, any day could be pneumonia day.
Few Americans would guess that pneumonia kills more children than any other disease. It's rarely fatal here, thanks to accessible medical care and trained professionals. But in many developing countries, knowledge about the disease is very low, and access to effective treatment is limited.
A coalition of governments, nonprofit and community-based organizations, research and academic institutions, and foundations established a working group -- the Global Coalition against Child Pneumonia -- to raise awareness of the disease and focus the world's attention on the need to scale up pneumonia prevention and treatment programs.
In September, this Coalition signed a letter urging President Obama to support further action in the fight against pneumonia within his Global Health Initiative, and ensure adequate resourcing of pneumonia programs. The Coalition called for greater support across governments, as well as stronger partnerships with the private sector to implement a global plan to save kids from pneumonia deaths.
Pneumonia is a great barrier to achieving the UN Millennium Development Goals. Throughout Africa and Southeast Asia, organizations like mine, PSI, are working on the ground to improve pneumonia awareness among mothers and families and improve their access to effective antibiotics to treat the disease. By training community health workers, improving their supply of antibiotics and developing "social franchises" of private health providers, PSI is able to ensure that children in some of the most remote parts of the world are able to access guidance and treatment for pneumonia. Aung Soe's father brought her to one such social franchise in Myanmar, a nearby Sun Quality Health clinic, where a doctor trained by PSI was able to diagnose her with pneumonia and provide her with antibiotics just in time. In a country with the challenges of Myanmar, where a child is estimated to have seven episodes of acute respiratory infection each year, many of which progress to pneumonia, social franchise networks are an effective way to deliver treatment services while also building the capacity of existing private health providers. Join us in the global fight against this killer. You can help spread awareness by lending your voice to the cause, and by drawing attention to this often underestimated problem. The official color of World Pneumonia Day is blue, representing the face of a child suffering from pneumonia who struggles to catch a breath. The organizers of this Day urge the wearing of blue, to show solidarity. So put on your blue jeans! Go to the World Pneumonia Day website and join the fight to raise awareness about the world's number one killer of kids.
Related
Popular in the Community