Mark and Diane* once had thriving jobs in an Ohio manufacturing plant until a car accident left them with severe back injuries and unable to work. Ineligible to receive workman's compensation, the couple and their young children, Emma (5), Ava (7) and Lucas (10), quickly lost their livelihood, their home, and their dignity as they slid from America's middle class to America's forgotten class. Permanently disabled, Mark spends his days struggling to find odd jobs in their small town. Diane lost hope and spends her days in an opioid and alcohol induced fog. The family survives on a mix of public benefits, including Medicaid, welfare, Social Security income and housing vouchers. The children attend school, less for the education and more for the free breakfast and lunch that help ensure they are fed.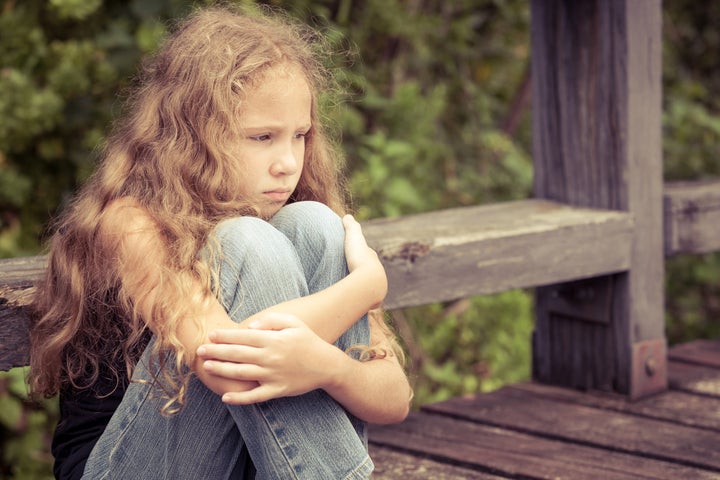 Justine is a thirteen-year-old girl locked in juvenile detention. Her incarceration follows an attempted suicide after years of struggling with debilitating depression and anxiety. Born to a heroin-addicted mother in Oregon's Willamette Valley, Justine bounced from flophouse to flophouse before being placed in state custody at four years of age. By then she had been diagnosed with reactive attachment disorder and oppositional defiance disorder, direct consequences of her chaotic first years of life. Justine was adopted when she was six years old. Since then her adoptive parents have struggled to find needed mental health support in their small Idaho community that lacks a child psychiatrist. In a fit of rage, when Justine beat the family dog then attempted to overdose on cough medicine, the county sheriff arrested her and sent her to juvenile detention for her own protection. After 72 hours, unless charged with a crime, Justine will return home with no clear plan for long-term care outside the juvenile justice system.
Eight-year-old Xavier's family spends hard earned money – of which they have very little – on bottled water instead of picking up free water and avoids accessing free, recommended developmental screening at a municipal center in their town of Flint, Mich. Fear of deportation poses a greater risk to the family than lead contamination. Xavier's mother was born in Flint, after her parents fled war-torn El Salvador in 1989, crossing into the U.S. without documentation. His grandparents speak little English and live in Xavier's basement. Years of manual labor (migrant farming, itinerant day labor jobs including construction and housekeeping) have left the elderly couple with numerous debilitating ailments. They are completely dependent upon Xavier's family for care. While Xavier and his parents have legal status, they live with the fear that any interaction with civil authorities will lead to the grandparents' deportation, an outcome that would be a death sentence for the couple.
The Soil in which we're Rooted; the Branches on which we Grow
Each of the children described above experiences adversity within their families: parents with substance abuse problems, physical and emotional neglect at a very young age, fear that family will be deported. Each child also lives in a community that faces adversity: widespread poverty, lack of opportunity, lack of needed social services – including in mental health. When childhood adversity occurs in the context of an adverse community environment, these stressors can become toxic to a child's development and long-term health.
The Pair of ACEs Tree (pictured) depicts the interconnectedness of Adverse Community Environments (ACEs) – the soil in which some children's lives are rooted – and the Adverse Childhood Experiences (ACEs) of their family environment, or branches on which children bud and grow.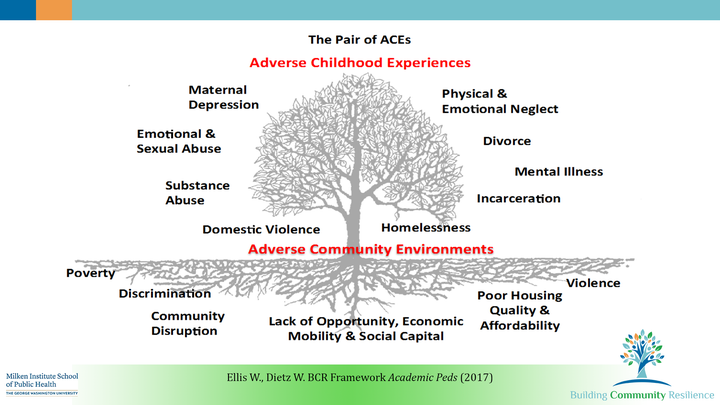 The leaves on the tree represent the 'symptoms' of ACEs that are easily recognized in medical, educational and social service settings. Adverse childhood experiences can increase a person's risk for chronic stress and poor coping mechanisms, and result in lifelong chronic illness such as depression, heart disease, obesity and substance abuse. Physical or sexual violence and abuse or neglect, for example, can exist as chronic stressors for individuals. The Pair of ACEs Tree is planted in soil that is steeped in systemic inequities and dysfunction, robbing it of nutrients necessary to support a thriving community. Adverse Community Experiences, such as lack of opportunity, limited economic mobility, fear of discrimination, and the associated effects of poverty and joblessness contribute to – and compound – the adversities experienced by individuals and families.
Healing the Tree: The Building Community Resilience (BCR) Approach
At the Building Community Resilience (BCR) initiative, we aim to create more fertile soil and a more vibrant tree to address, prevent and reduce the effects of Adverse Childhood Experiences (ACEs) and Adverse Community Environments (ACEs) on children's health and wellbeing: The Pair of ACEs.
We know that resilience – or one's ability to 'bounce back' in the face of adversity – can protect an individual from the accumulation of stress due to adverse childhood experiences. BCR, based at the Redstone Global Center for Prevention and Wellness at the George Washington University, takes this understanding to the community level in order to foster resilience that buffers against adversities impacting whole communities – and to break the cycle of poor health and other lifelong outcomes.
BCR recognizes that many socially vulnerable populations are already resilient in that they consistently 'bounce back' from the same adverse conditions. We build upon this understanding but aim higher. Building Community Resilience enables communities and individuals to bounce forward from chronic adversity, such as unemployment and community violence, so that they are better prepared to bounce back in times of acute shock, such as natural and man-made disasters.
What might community resilience look like for Xavier's, Justine's, and Emma, Ava and Lucas' families?
Xavier: In the midst of Flint's water crisis, fear prevents his family from taking advantage of necessary, free public health services they are eligible for: clean water and developmental health screenings. A peer-to-peer network driven by trusted individuals in Xavier's community – and recruited through a tightly-knit group of Spanish-speaking churches there – could link the public health system with a community that would benefit greatly from its services.
Justine: The sheriff's best option to protect Justine from hurting or killing herself is putting her in juvenile detention – and it's only a 72-hour solution. Yet in nearby Boise, pediatric behavioral health services exist and could provide Justine and her family with important supports and treatment. The missing link – and an opportunity to build resilience – is a pathway to relationships and programs that would allow the sheriff to refer Justine's case to a proper community-based mental health provider to get her lasting help.
Emma, Ava and Lucas: Because they attend a school in which a majority of families have very low incomes, community health workers (CHWs) and visiting nurses make home visits to evaluate the wellbeing of the students. If the school system were meaningfully connected with the adult substance abuse program in their town, a visiting nurse or CHW could connect Diane to the services needed to treat her depression and opioid dependency without fear of losing her children.
Tools to Build Community Resilience
The Pair of ACEs Tree is just one of many tools BCR has created to communicate – in simple terms – the issues we aim to address. It's being used to help multiple community and government agencies understand their potential roles in the work to build community resilience. With this image and other BCR tools, we are able to more readily engage diverse stakeholders in developing partnerships and goals that will address, and begin to alleviate, adversities embedded in communities. Often these community adversities are perpetuated because community systems serving children and families are not coordinated: for example, Justine landed in juvenile detention and is now on an inappropriate path in a system designed to handle crime, not mental health.
BCR offers additional tools to help support community change. The language used with the Pair of ACEs Tree can be customized to fit the needs of other communities to build tailored, clear and concise communications to change how public systems prioritize community issues, and influence change. In the policy arena, the Pair of ACEs tree illustrates the interconnections of individual and community adversities, but also provides a framework to begin to discuss how to measure efforts designed to solve the problem.
BCR in Communities Around the Country
The BCR approach works to establish and support partnership and collaboration between local, community-serving initiatives and city and county agencies, for example, so community infrastructure and economic vitality can be improved. This can include solutions that provide access to affordable housing, safer streets, more equitable access to education and financial sustainability.
BCR partners in Dallas (TX), Cincinnati (OH), Portland (OR), Washington (DC) and Wilmington (DE) are successfully using the Pair of ACEs image and other BCR communications tools and tactics to engage partners in efforts to set goals for building community resilience and implement policy and practice change.
To learn more about how BCR coalitions have used our communications tools, their resilience building successes, and the challenges they have faced, register to join our March 21 webinar go.gwu.edu/BCRwebinar.
* The stories in this post are composites based on real people and families to illustrate common problems that lead to adversities faced by children, families and communities.
Related
Popular in the Community