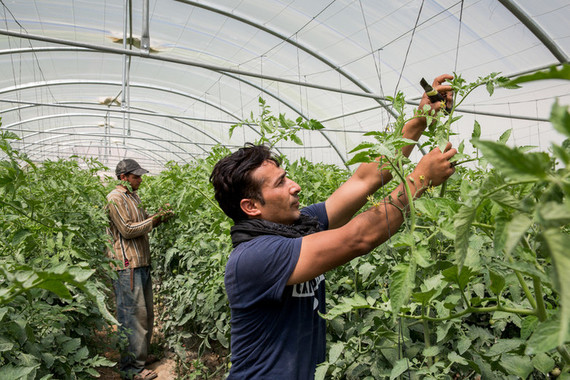 Greenhouses are built and managed by a farmers' group in Shoubak, Jordan. IFAD is working with the Jordan River Foundation to boost sustainable agricultural practices and provide training for local farmers and displaced members of the community. ©IFAD/Ivor Prickett/Panos
In recent years, forced displacement has become a global problem of unprecedented scale, driven by conflict, violence, persecution and human rights violations. The total number of forcibly displaced people reached an all-time high in 2015 of over 65 million according to the United Nations High Commissioner for Refugees.
Global attention has been focused on countries in the Middle East and North Africa, where continued conflict and violence most acutely affect Iraq, Syria, Yemen and neighboring countries. Approximately 39 percent of displaced people are being hosted in this region.
What is often not recognized is that forced displacement has a strong rural dimension, with large numbers of displaced people originating in rural areas, and now living in rural host communities within or outside their home countries.
While immediate, often life-saving, humanitarian support is urgently needed in countries absorbing thousands of refugees, the long-term solution is to promote actions that balance the needs of displaced individuals and households with those of the host communities.
Through decades of experience, the International Fund for Agricultural Development (IFAD) knows that investing in agriculture and rural people is critical to sustainably address forced displacement, poverty and food security. It helps increase the self-reliance of displaced persons, and strengthens the resilience of host communities. It also contributes to providing durable solutions to situations of protracted displacement and assists rural returnees to re-establish their livelihoods and agricultural production.
Investment in agriculture can help create sustainable food systems and boost rural economies by generating opportunities that counteract forced migration due to hunger and poverty.
UN Refugee Summit and the New York Declaration
The United Nations Summit for Refugees and Migrants on 19 September is the first time that world leaders will come together at the United Nations to address issues of both refugees and migrants.
The draft outcome document, 'The New York Declaration' is based on a commitment to sustainable development for all. In adopting the Sustainable Development Agenda last year, all 193 members of the UN General Assembly agreed "to leave no one behind". As leaders of the United Nations, we must start with those who are furthest behind, especially refugees and migrants.
One of the commitments in the declaration is "to improve the delivery of humanitarian and development support for those countries most affected, including through innovative multilateral financial solutions, with the goal of closing the funding gaps."
IFAD is responding to the ongoing refugee and migrant crisis by establishing a financing Facility for Refugees, Migrants, Forced Displacement and Rural Stability (FARMS). The goal of the FARMS facility is to ensure that poor rural people overcome poverty through remunerative, sustainable and resilient livelihoods. Looking at the crisis holistically, FARMS' objectives cover both host areas and places of origin.
Host countries need our help too
In host areas, FARMS will support poor local households who have become more vulnerable due to the current crisis. Local communities will be helped to cope with the influx of displaced people by making their agriculture more productive and sustainable. Refugee households will be supported through innovative approaches to help increase their incomes and develop their marketable skills. This will help refugees to better contribute to their host communities, and be better prepared to return home when the situation improves.
Economic opportunities will be created in migrants' countries of origin so that the people who have left have something to return to, and those who remain have a chance to build their livelihoods. FARMS will focus on supporting youth by creating employment and business opportunities so that they are not forced to migrate.
The influx of an estimated 1.4 million Syrian refugees into neighboring Jordan has placed increased demands on food, natural resources and services, with both Syrian refugees and vulnerable Jordanian host-communities feeling the pressure.
Overall, only around 10 percent of Syrian refugees are living in formal camps, with the remainder living in rural areas where agriculture is the primary source of livelihood. This puts additional pressure on the host communities and local resources and affects their ability to cope.
In response, IFAD is partnering with the Jordan River Foundation, established and chaired by Queen Rania Al Abdullah, to help build resilience in Mafraq, a border area marked by persistent unemployment and poverty.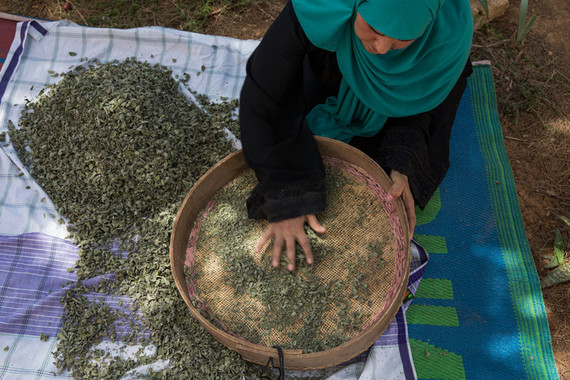 Salha Al- Jamaan grows and sells Zaatar, a Middle Eastern herb, from her home garden in Sabha, Jordan. ©IFAD/Ivor Prickett/Panos
Thanks to affordable revolving loans, 140 host families were able to revive their farming activities and livestock breeding. An additional 265 host families benefited from three community-led, income-generating projects for raising sheep and growing greenhouse vegetables.
The project has enabled 2,000 rural host families to produce nutritious food for their households and earn an income through the sale of the surplus. IFAD has supported training for some 600 host persons and Syrian refugees in and around the Zaatari refugee camp on home gardening, greenhouse cultivation, poultry and sheep farming, financial management, and marketing.
These efforts, in line with the Jordan Response Plan for the Syria Crisis 2016-2018, are helping to promote cooperation between host communities and refugees.
Investment in agriculture and rural development is critical to eliminating poverty and food insecurity. IFAD is committed to improving the lives of poor people living in rural areas whether these people are displaced refugees and migrants or members of host communities.
This post is part of a series produced by The Huffington Post to mark the occasion of two critical conferences at the UN on the Refugee and Migrant crisis: the UN Summit for Refugees and Migrants (Sept. 19th, a UN conference) and the Leaders Summit on Refugees (Sept. 20th, hosted by U.S. Pres. Barack Obama, at the UN). To see all the posts in the series, visit here. To follow the conversation on Twitter, see #UN4RefugeesMigrants.
REAL LIFE. REAL NEWS. REAL VOICES.
Help us tell more of the stories that matter from voices that too often remain unheard.