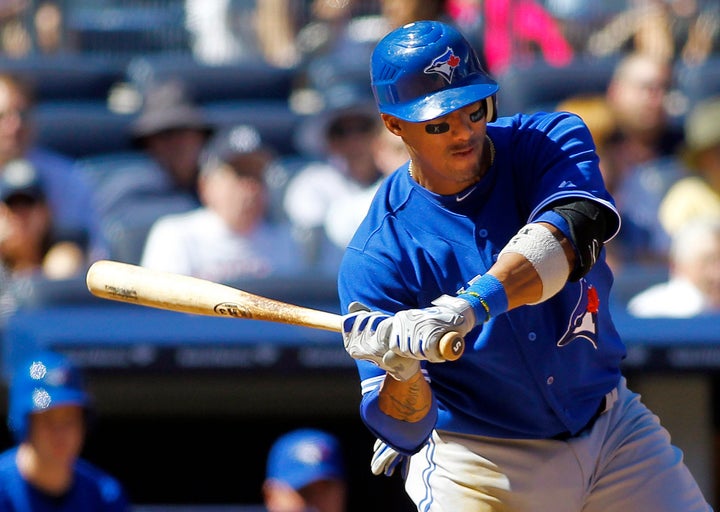 As we highlight the many complexities of our heritage it's also a time to dig into the stereotypes that surround us. We've been called many things, some that we embrace less than others — such as the stereotype that Latinos are homophobic by culture.
Today we can celebrate that we have indeed made enormous strides in the matter. A Pew Hispanic Research Center poll released earlier this year shows that 59 percent of Latinos in the U.S. say homosexuality should be accepted by society, compared to 58 percent of the general public. When it comes to second-generation Latinos, 68 percent agree. Other polls show that 74 percent of Latinos support gay marriage or similar legal recognitions.
So, how is it that the words "pato," "puto," "marikita," "maricon" and "puñal" continue to find their way into our popular culture?
Toronto Blue Jays shortstop Yunel Escobar was banned from playing in three games this season after he wrote "tu ere' maricon," which translates into "you are a fa***t" on his eyeblack tape.
At a recent press conference, the Cuban fielder, projected to make $5 million this year, apologized, saying the message was intended as a joke: "For us, (the word) doesn't have the significance to the way it's being interpreted now." He added, "It's a word without meaning."
Despite Escobar's rationale, the $83,000 Escobar lost during his three-day suspension will be donated to two LGBT advocacy groups and he will participate in several outreach programs promoting tolerance.
Perhaps Escobar's actions can be viewed as a concession to the truth, that the label is not without meaning to Spanish-speaking homosexuals who may feel disgraced by its utterance, regardless of how 'common' the colloquial use of this word.
"The mere fact that you're using it in a negative way means: I think it's bad to be like you," says GLAAD spokesperson Aaron McQuade, who worked directly with MLB officials in the aftermath of the incident.
"I think it's a matter of a lack of awareness of the way this word could weigh on somebody," he added. "I don't think Escobar thinks of the fact that there are kids in Toronto who hear this word thrown at them every day in school... and it's not joking."
His is not the only case of homophobic expression from an influential figure in Latin pop culture that's grabbed headlines recently. Just last month in Colombia, a popular DJ at Las 40, one of the country's highest-rated radio stations among teenagers, prompted listeners via Twitter to denounce what they considered "gay behavior" from their peers at work, school, their neighborhood or within their own family.
The tweet read: "Reporta ya mismo tu #AyMarikita de la oficina, de tu colegio, de tu barrio o de tu familia."
In August, after years of protests from LGBT groups, Liberman Broadcasting finally removed Jose Luis sin Censura from its Estrella TV stations across the US for airing what GLAAD officials called "virulent anti-gay, anti-Latino and anti-female" content. The talk show, which is produced in California and came across as a sort of Spanish-language "Jerry Springer Show," often featured audience members chanting anti-gay epithets at panel guests that they reportedly read off a teleprompter.
Is it our deeply-rooted religious beliefs, our traditionally conservative culture or prevailing traces of "machismo" that allow for such clear-cut cases of homophobic expression to still infiltrate our culture?
Monica Trasandes, who monitors Spanish-Language media for GLAAD, does not concede to the stereotype — but she agrees that the culture of "macho" in Latin American countries and how "being masculine is rewarded as opposed to being effeminate" may be a contributing factor to homophobic expression.
While it would be hard to imagine Ryan Seacrest tweeting anything along the lines of Contreras' message, one of Escobar's teammates writing fa***t on his eyeblack or Springer's audience chanting it at a panelist (even at their raunchiest), the important question is not, "Are we homophobic?" but, "How are we making sure we are not?"
The fact is that every one of the incidents above was met with some consequence after somebody spoke up against it. That's the best way to beat the stereotype, Trasendes says.
"'No te dejes,'" she says. "Raise your voice and don't let anyone talk to you that way."
It is encouraging to see mechanisms are in place to scorn intolerance both in English and increasingly en Español, but there still is work to be done to prevent abusive speech from seeing the light of day.
As America's youth, increasingly made up of Latinos, walks towards greater openness it's up to that next generation to denounce intolerance, promote respect and perhaps redefine the "macho" as a proud, unprejudiced and hardworking Latino... regardless of whom he or she falls in love with.
Calling all HuffPost superfans!
Sign up for membership to become a founding member and help shape HuffPost's next chapter