The Great Recession delivered a body blow to our country's financial equilibrium, and only after years of painfully slow recovery have housing prices begun to stabilize and the unemployment rate steadily fallen. But while the economic crisis has abated, it remains a devastating morass for many, especially young adults, ethnic and racial minorities, and lower income families.
Many experts concur that two of the challenges keeping people underserved, underbanked and underemployed are a lack of digital skills and financial literacy. Seventy-five percent of Americans live paycheck to paycheck and 25 percent have no savings at all; nearly half of all Millennials have too much debt, and many borrow from predatory lenders.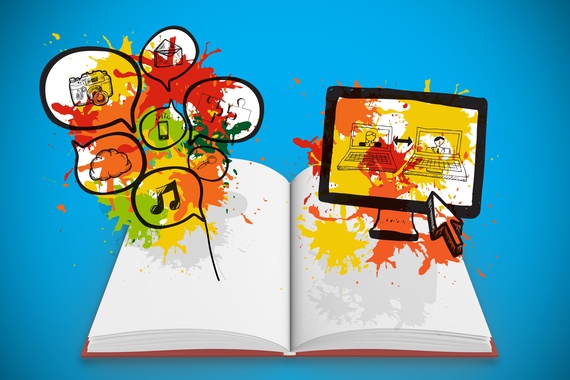 Understanding how to make financially responsible decisions and managing one's credit and debt are skills that are essential to our daily lives, without which people are vulnerable to the kinds of financial predators and poor decisions that helped cause the housing crisis. Financial literacy is critical to avoiding high levels of debt, excess fees for financial products, accessing credit and saving for retirement.
Meanwhile, digital literacy is an essential component of being able to communicate with the modern world and access professional opportunities. Together, financial and digital literacy are vital tools to access financial and social services and achieve economic mobility. The Points of Light Civic Accelerator, the first national accelerator program and investment fund in the country focused on "civic ventures," is committed to supporting innovative solutions around these two skills in order to help more people succeed in the digital economy. For the challenge of increasing technology adoption and financial inclusion, the Accelerator, along with founding supporters PwC Charitable Foundation and Starbucks Foundation, and program sponsors Capital One, Dentons, Hilton Worldwide and Singing for Change will build what they call a "cohort" around 12 to 15 innovative, scalable ventures that focus on creating greater access to financial and digital tools, technologies and services, thereby broadly impacting the civic health of our vital communities. Their mission is to invest in business models for community service ideas that have the potential to break down economic barriers, increase employment opportunities and advance the financial well-being for those who need it most.
"The potential solutions are many," as noted in the CivicX mission statement, "from user-generated and peer-to-peer technologies, equitable access to financial services and skill development, to models that influence savings and spending habits. As we build on our success and launch our next class, CivicX will leverage a program design that has been proven over six cohorts to produce truly scalable and innovative approaches to complex social issues."
The Points of Light Accelerator highlights several financial and digital alumni successes as models for inspiration:
Moneythink is the only movement of young people restoring the economic health of the US through financial education. Moneythink has trained nearly 1,000 college volunteers to provide financial literacy training to upwards of 10,000 11th and 12th graders in low-income areas across 36 states. A finalist for the White House Champions of Change award, Moneythink has received funding from the Blackstone Charitable Foundation, The Center for Financial Services Innovation, was awarded the Hitachi Foundation Yoshiyama Award for Social Entrepreneurship, and its CEO was most recently named a 2015 Forbes 30 under 30 in Finance.
Neighborly began as a crowdfunding platform the helps citizens and organizations comes together to invest in civic and community causes. In 2013, Neighborly received $175,000 in funding from the Knight Foundation in order to scale up its operations. In 2014, Neighborly underwent a major pivot (powered by 500 startups and high profile investors) from a donation-based crowdfunding platform for civic projects to the nation's first platform for individuals to invest directly in their communities through municipal bonds. Neighborly is an online civic funding platform for communities and is reinventing bond investing for the 21st century. "Neighbors" will be able to invest directly in education, green spaces, and transportation in their communities with a 3-7% annual return. Neighborly. In 2014 they also received funding from an OpenGov grant from the Sunlight Foundation in order to develop a public dashboard on which every dollar raised on Neighborly would be detailed, making the funding of the projects more transparent.
Library for All unlocks knowledge to those without access to books in developing countries through an application that delivers e-books at a much lower cost than building physical libraries. By making content available on all devices such as tablets, mobile phones and PC's, Library for All's digital platform is able to reach developing populations who only have low-bandwidth environments. The company is recipient of most recent Knight News Challenge, with an award of $265,000.
CODE2040 is creating programs that increase representation of Blacks and Latino/as in the innovation economy. With support from Google.org and Google for Entrepreneurs, CODE2040 launched a nation-wide minority entrepreneur in residence program and prep curriculum to build diversity in the tech sector. Google recently donated $775,000 in grants to CODE2040 to launch free training programs for more than 5,000 Black and Latino college engineering students. CODE2040 has also received nearly $4M in funding from others including the Knight Foundation.
CareerVillage prepares young people for professional success by connecting them directly with working professionals. Through education technology that helps high school students get college and career advice, they recruit mentors who are working professionals, to give advice online using their Q&A mentoring platform. CareerVillage was named as one of the winners of the Bill and Melinda Gate's Foundation College Knowledge Challenge and they won the J.P. Morgan Give-It-Away Campaign. The funding is allowing them to reach 2 million students and 185,000 employees across US high schools and companies.
I applaud the efforts of the Civic Accelerator to support creative innovations around entrenched social issues. By matching social entrepreneurs with investments, expert training and education, peer learning, mentoring, connections, and continued support, CivicX is giving changemakers enormous opportunity and possibility to bring their ideas to life - and in the process benefiting not just individual businesses, but the community at large.
Related
Popular in the Community