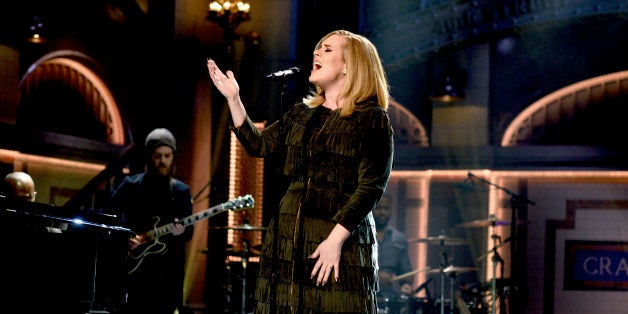 If Sunday night's AMAs gave me anything to talk about, I guess it would be the confirmation that there is an apocalyptic dearth of great singers in American popular music. That said, there's always hope... and it appeared yesterday via another one of those isolated "LEAKED" vocal performances.
This time it was from an artist who has proven that she truly is a singer. Instead of making our skin crawl, as we've heard in the past with isolated vocals from other "performers," what we hear in this leaked mix (taken from the most recent broadcast of "Saturday Night Live") is a refreshing glimpse of authentic talent in Adele.
What is an isolated vocal performance, you ask? Pretty much what it sounds like. Usually, it's just the audio coming from the artists' mic, sans the bells and whistles of ultra reverb, background vocals and orchestration; however, in this particular mix the bass can be heard under the intoxicating allure of Adele's moving vocals.
Adele has clearly proven that she is a force to be reckoned with, although (and not to take away from her great talent) it is my belief that she is breaking records and astounding listeners the world over due to the fact that she has very little competition. The greats have either died, or they are (as Hal David so poignantly wrote), "parking cars and pumping gas" because the industry just isn't buying great singers anymore... they're buying beats, profane lyrics and worst of all, teen sex.
Adele is a single rose in a field of weeds... her existence is a miracle... and who doesn't love a miracle?
Popular in the Community