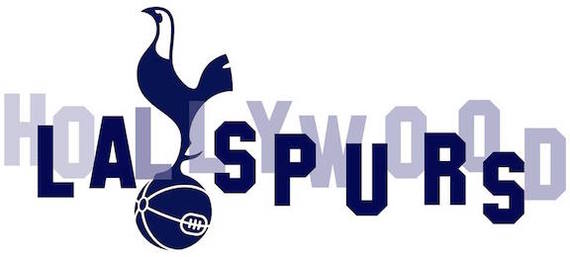 "Someone Like You," Adele!
Wow, the English Premiership's new season is just around the corner (August 13). And we're so ready for some "football" as NBC Sports gears up to broadcast every single game. Our club Tottenham Hotspur FC will be one of the contenders, and if you'll permit me the sort of verbal banter that fuels all the great football rivalries, these are the main questions for our rivals, done with a lot of tongue-in-cheek and, uh, much love.
Leicester -- last year's fairy tale champions were 5,000-1 long-shots but with their main midfield cog (abandoning ship to the Blues, nicknamed "Chelski'), those odds may now be even longer; Arsenal -- to the tune of Pink Floyd's legendary record, The Wall, all we can quip, nudge-nudge, is, "Hey, Wenger, leave them kids alone"; Manchester City -- there's just one question for former Bayern super manager Pep Guardiola, "But, can he do it on a cold night in Stoke?"; Manchester United -- is there room enough in Old Trafford for the egos of both Zlatan and the self-named Special One?; Chelsea -- with celebrated new manager Conte, the award for best sideline histrionics will be between him and Liverpool's manager Klopp, and additionally to our southwest London/Blues fans, we'll see you in Europe...oh, hold on, you won't actually be in Europe, okay, my bad!
Our own question is whether Spurs can improve on our highest ever Premiership position (3rd), and most importantly, can we entreat the world's biggest music star, our own Tottenham-bred Adele, to come cheer on our team at our L.A. Spurs supporters club local, The Greyhound Bar & Grill.
That's right, the other-worldly talented and so down-to-earth Adele is presently touring North America, and has been seen "bigging up" her support of her favorite soccer team, brandishing Tottenham banners on her Instagram feed. She is unequivocal about her love of Spurs.
Our Greyhound local bar owners will open their establishment for every single Spurs game (Premiership, Champions League, and Cup matches) from our Premiership opener, August 13, to the end of the season in May. It just so happens that our hero Adele will be joyously performing at Staples Center (August 5, 6, 9, 10, 12, 13) heading into that curtain raiser -- so this is an open invitation to join us at that first or any subsequent game.
Our LA Spurs has already welcomed masterful character actor Eddie Marsan (Terry in Ray Donovan), the lovely Marina Sirtis (TV's Star Trek), and James Cannon (husband of Downton Abbey's Joanne Froggatt). And our eclectic bunch includes businesswomen, entrepreneurs, a doctor, teachers, actors, human resource specialists, an Emmy winner, and our "choral-meister" Graeme Rudge.
So, Adele, we will treat you with the respect and love that you deserve. But I'll leave it to our L.A. Spurs ladies to make the personal invitation.
Alma Barron Banuelos, managing director of U.S. Trust, is a California girl who grew up watching American sports. But when her husband, Mark, asked her to attend a televised Tottenham game, she hasn't stopped going since, saying:
Dear Adele, we'd love you to attend a game at the Greyhound, just a 15 minute drive from Staples Center. Our games are attended by a passionate but respectful group of men and women, and some children. The games recently have been a great diversion for our family, including our 16-year-old daughter, Brooke, who is our supporters club mascot. Please consider joining us. It would mean so much to American-based supporters of Tottenham -- who are all over this country. We promise you'll be treated like the Queen that you are. Cheers, Alma!

English-born Eliana Fu, who grew up near Wembley's venerated stadium, listening to the FA Cup Final's roar, is now a supplier technology engineer for SpaceX. With a PhD from the University of London, Fu is a lifelong Spurs fan:
Hello, fellow Tottenham girl, Adele! I grew up in Wembley and have supported Spurs since I was six! I'm working as a SpaceX engineer, where we build rocket ships that go to the International Space Station. We're reaching for the top, just like our Spurs and just like you posted on your Instagram -- 'Started from the bottom now we're (up) here.' We welcome you to come visit with us at the Greyhound. We Spurs ladies and gents would love to host you. Warmest regards, Ellie.

American-born Karin Manwaring works as an attorney for a local government air quality agency, fighting the good fight, and prosecuting polluters. When she decided to learn about the Premiership, the gleaming Lilywhites of White Hart Lane caught her attention:
Hello Adele and welcome! It would be our pleasure and privilege to share our little piece of L.A. with you. As one of a growing number of American fans of Spurs, my heart has belonged to THFC, the greatest football club in the world. Please come visit and sing along with us: "Oh when the Spurs, go marching in..."
Finally, Rolfe Jones, co-founder of LA Spurs (official Tottenham Hotspur Supporters Club), who has personally met Daniel Levy, THFC's brilliant chairman recalls when Adele reached out to a Spurs supporter at a past San Diego concert:
That lady whom you graciously spoke to was Holly Hitt-Zuniga, one of our past board members. So you already have a connection to LA Spurs. And if you come visit us at the Greyhound, it'll be a day you will never forget. We promise. COYS!
This season, here's to our Spurs having it all as you sing in "Rolling in the Deep," Adele -- and, here's to you, pretty lady!
Calling all HuffPost superfans!
Sign up for membership to become a founding member and help shape HuffPost's next chapter