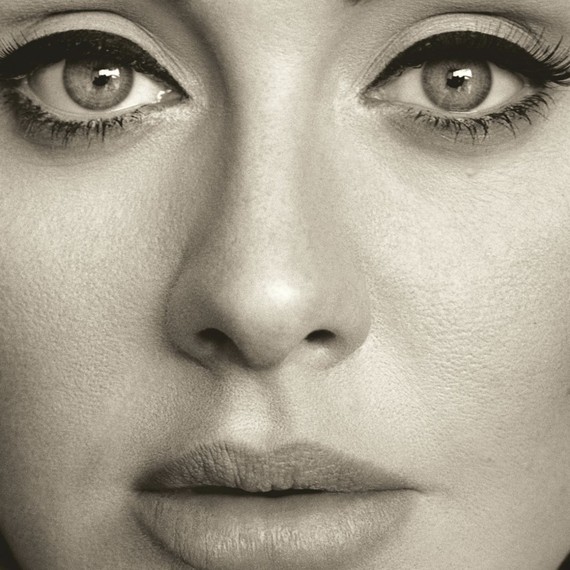 I had planned to write about the results of Black Friday and Darkening Thursday but decided to wait until the full picture was clear after Cyber Monday, when I can tally those outcomes with the data from what now seems to be Good Deal September and Bargain Basement October.
There is a lot to ponder -- but hear me out -- if you think that the key lesson is mobile commerce or that anything that smacks of "digital only" is all that's important (let's not be so obvious, knee-jerkers, and, yes, it's important), and if you are a retailer -- give up now as Alibaba will soon be eating your proverbial lunch. More next week.
I have opted instead to ramble about the recording industry and hopefully -- without my needing to be obvious -- you will see the link back to all things Black Friday related.
Clearly the story of the year is that of Adele, and like David Cameron in the UK and Justin Trudeau in Canada, her success is a total and complete surprise to all the experts, pundits, analysts, commentators and the growing world legion of Digibabblists.
Adele is a global superstar singer and songwriter who, amongst other achievements, holds
numerous mentions in the Guinness Book of World Records. She is the first woman in the history of the Billboard Hot 100 to have three simultaneous top 10 singles as a lead artist, and the first female artist to simultaneously have two albums in the top five of the Billboard 200 and two singles in the top five of the Billboard Hot 100. 21 is the longest running number one album by a female solo artist in the history of the UK and US Album Charts. In 2011 and 2012, Billboard named Adele Artist of the Year. In 2012, Adele was listed at number five on VH1's 100 Greatest Women in Music, and Time magazine named her one of the most influential people in the world. In 2013, she received an Academy Award, a Grammy Award, and a Golden Globe Award for Best Original Song for her song 'Skyfall,' which she wrote and composed for the James Bond film of the same name.
And she stays away from phony social media promotions, uses streaming like the radio it imitates and emulates, and when she released her latest album (notice the language) 25, Billboard reported that it broke the record for single-week sales set by NSYNC's No Strings Attached in March 2000, and at least 2,433,000 copies of the album sold in just over three days, more than doubling the first-week sales of some of the biggest albums of the past 15 years, including Taylor Swift's 1989, the Beatles' 1 and Eminem's The Eminem Show.
And yet Bob Lefsetz, an influential music industry critic, said her decision to snub streaming services by "windowing" her new album -- making it available on CD or as a paid download for a period of time, before putting it on streaming services -- was "dumb" and "keeping people in the past." And there you have it.
"Dumb" and "keeping people in the past" as opposed, no doubt, to Madonna who jumped head first into the Digibabble frenzy, releasing her last endeavor on Snapchat -- to great media hype (old, worn out, traditional media hype too) -- before it flamed out quickly in the worst release she has ever had -- her first album in 20 years that didn't make it to number one.
And Madonna, as opposed to Adele, went where her fans were -- Grindr and other targeted platforms -- streaming and promoting in the present, not, God forbid, "keeping her fans in the past."
Now, no doubt, some will argue that she just didn't have the goods -- maybe -- but that has been said about her before and you should note that her last tour was a huge success. So I'm not buying.
Rather, I'd like to think like this:
And according the Financial Times,
Adele also knows how to use streaming services to her advantage. "Hello," the first single on her new album, was made available to stream on the same day as it went on sale. The single has already been played 160m times on Spotify, and its video version has been viewed 470m times on the Google-owned video platform YouTube -- generating huge publicity to help drive sales.
So against all predictions and against all wisdom and knowledge of what we know people will do, Adele actually sold albums -- and so it goes.
Frankly, I have only scratched the surface of this story but I propose that it links to all that I have been writing about and believe in and the true story of Black Friday will resonate from this one.
We live in a digital world -- digital is everything, but not everything is digital.
Her music is recorded digitally. CDs are digital as are the millions of downloads she sold -- but no one says that being digital means giving it away for free or close to free.
And here is the crossroads. The point where we can either turn off into the murky swamp of Digibabble or take the road less traveled, today, where we embrace human need and emotion and celebrate the true value of our digital world despite the threat of "keeping people in the past."
And I for one will be thinking a lot about taking that risk like Adele did...and hoping for the headlines of "surprise" success while others struggle to make money from their "digitally savvy" PR.
Adele didn't need to go where her fans were -- whatever that means -- they came to her and in droves, and they didn't need Big Data to find her and buy. Think on that.
Don't worry so much about seeming old fashioned and out of touch -- rather, learn from what was - radio was like streaming -- it was used to promote and Adele did that brilliantly by releasing "Hello" -- everywhere -- creating demand, driving demand and fulfilling demand via 25...
And, could anything be truer in our day and, I might add, more important to understand?
The past isn't old or irrelevant...au contraire, it is the stage upon which we can build a true and powerful digital world...
And no, knee-jerkers, I am not keeping myself in the past.
Calling all HuffPost superfans!
Sign up for membership to become a founding member and help shape HuffPost's next chapter