 The controversial and acclaimed French film "Blue Is The Warmest Color" arrives in theaters this week (though not in Idaho), and in an interview with GQ, the film's star brushed aside the assertion that the "Blue" sex scenes were not simulated.
"I know that everybody wants to ask me, 'Do you really f-ck together?' " Exarchopoulos said to GQ. "When you die in a movie, you don't really die in life."
Directed by Abdellatif Kechiche and starring Exarchopoulos and Lea Seydoux, "Blue Is The Warmest Color" won the prestigious Palme d'Or trophy at the Cannes Film Festival in May of this year. (The award was presented to all three, the first time actors were included in the honor.) The film, about a love affair between the actresses' characters, includes a graphic sex scene that has been the source of much debate.
"Of course it was kind of humiliating sometimes, I was feeling like a prostitute," Seydoux said of the film's sex scene in an interview with The Independent. (The stars previously said the infamous sequence took 10 days to shoot.) "Of course, he uses that sometimes. He was using three cameras, and when you have to fake your orgasm for six hours ... I can't say that it was nothing. But for me it is more difficult to show my feelings than my body."
Speaking to The Daily Beast in September, Exarchopoulos said the production was difficult because of Kechiche's demands.
"Once we were on the shoot, I realized that he really wanted us to give him everything," Exarchopoulos said. "Most people don't even dare to ask the things that he did, and they're more respectful -- you get reassured during sex scenes, and they're choreographed, which desexualizes the act."
Kechiche, meanwhile, has criticized the stars, specifically Seydoux, for speaking out on the process.
"[She] knew her words were slanderous," he wrote. "I will come back. It is for her to explain in court."
For more on that, head to THR. For more from Exarchopoulos, head to GQ.com. A photo from the magazine's piece on the actress is below.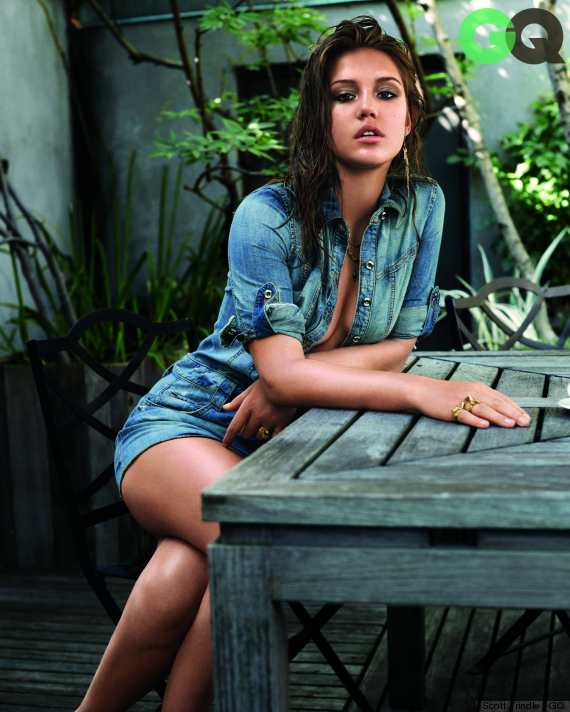 PHOTO GALLERY
Celebrity News & Photos
Calling all HuffPost superfans!
Sign up for membership to become a founding member and help shape HuffPost's next chapter