Adele isn't relinquishing her crown as Sin City's reigning queen just yet.
The 16-time Grammy winner confirmed this weekend that she'll extend her blockbuster residency, "Weekends with Adele," at the Colosseum at Caesars Palace in Las Vegas for an additional 34 performances. She also announced plans to document the concert on film.
"Playing to 4,000 people for 34 nights is not enough, and I know that," Adele told fans Saturday during what was initially slated to be her final Caesars performance. "I know it's not enough, so I am coming back. I'll be back for a few weeks in June, and I'm going to film it and I'm going release it to make sure that anyone who wants to see the show can see the show."
She followed up the announcement with a short note on Instagram, writing: "See you soon."
Adele's return engagement is expected to kick off on June 16 and conclude on Nov. 4.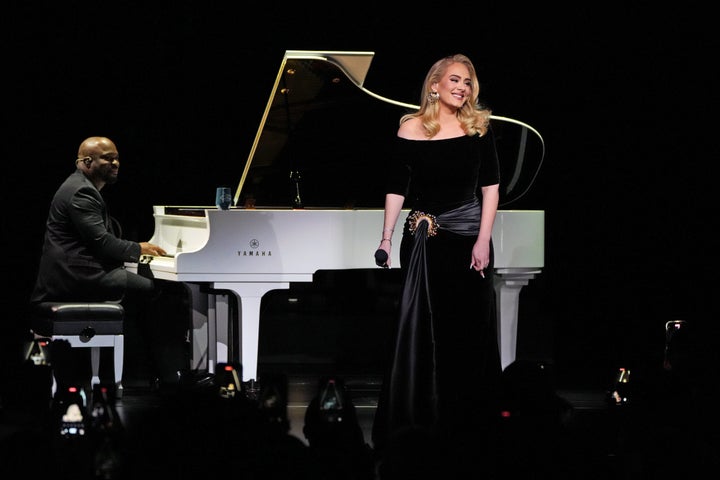 "Weekends with Adele" has developed into a powerful show, but like many things in the pandemic era, it got off to a bit of a rocky start. Adele was initially slated to begin performances in January 2022, but she ended up postponing the show less than 24 hours before opening night, citing unspecified production "delays" related to COVID-19.
To date, not much has been revealed about what prompted that postponement. By the time Adele took the Caesars stage for the first time in November, however, her show was nothing short of spectacular: a two-hour set filled with classic hits like "Someone Like You" and "Water Under the Bridge," as well as her recent smash "Easy on Me."
The singer-songwriter showcases many of her lesser-known songs, too, offering goosebump-inducing renditions of "Take it All" and "One and Only," both from her breakthrough 2011 album, "21."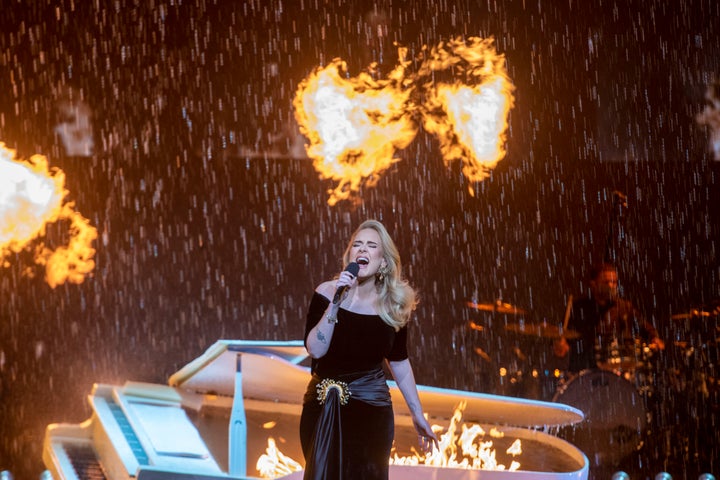 One could argue that as modern pop's foremost purveyor of heartwrenching torch songs, Adele doesn't really need eye-popping pyrotechnics or hyper-choreographed chorus lines to enhance her musicianship. Still, in carrying the mantle of the Colosseum's original occupant, Céline Dion, she and her team have found ways to make her songs feel distinctly theatrical ― most notably during "Set Fire to the Rain," which features an on-stage fire-and-rain storm, and "Skyfall," when a screen at the rear of the behemoth stage is illuminated to reveal a 24-piece string section perched atop rows of scaffolding.
To strike a balance between the intimacy of her early shows and the kind of maximalist spectacle that Vegas audiences expect, Adele is using a type of spatial sound design known as L-ISA (for "immersive sound arts"). It allows the backstage team to digitally "track" the performers and musicians and produce a soundscape that resembles a Broadway musical more than it does a traditional pop concert.
"In the beginning, the stage is fairly narrow," Laurent Vaissié ― CEO of L-Acoustics, the French audio manufacturer that developed the L-ISA system ― told HuffPost of the singer's Vegas show. "It's just the piano and Adele, and the sound design reflects this because it's very much centered in the center part of the stage, and feels very intimate. And then as the show progresses, there's a crescendo in terms of the orchestra coming alive and the stage physically opening up little by little. So the sound is being distributed more broadly."
L-Acoustics also developed the sound design for Adele's 2016 world tour. Given his company's past experience with the singer-songwriter, Vaissié wasn't concerned when "Weekends with Adele" was postponed.
"There were a lot of questions about what was going on, but we had no doubt that was going to come back for the better," he said. "Starting again from scratch, and seeing the efforts and hard work with the team in terms of delivering the absolutely best show possible, is a huge reward."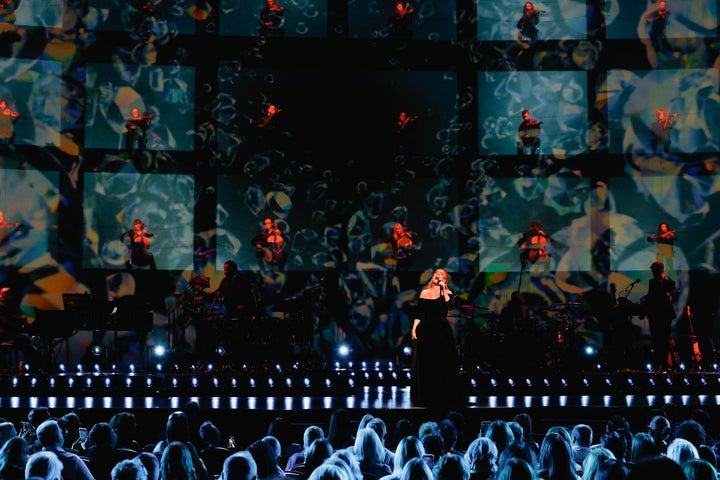 Popular in the Community