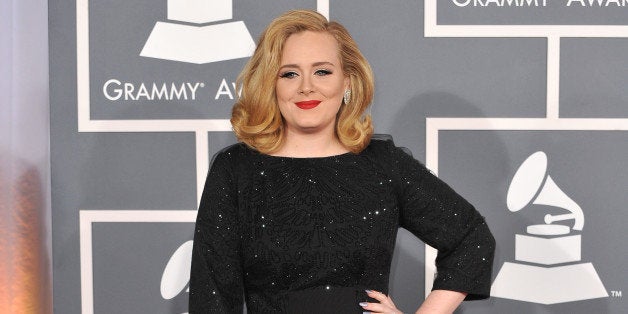 Twenty-seven-year-old songstress, Adele, released her new album 25 this past Friday, November 20th. Its been four years since the artist released her previous album 21, giving us ample time to bask in anticipation for this newest work.
Throughout the recent years, many of us probably wondered "what took her so long?" During a recent interview with Zane Lowe, the singer highlighted how she took time to get her "groove/flow" going once again, without putting the pressure of a deadline on her shoulders.
"...my thing was, how do I follow up 21? But I can't, because it was so big and so many people took it into their lives. I can never live up to that again and that's fine. So once I got over that, being as that 21 is no longer my record, it belongs to the people now, I was just making music for fun, which is what I was doing with 19.
How I was feeling at the very beginning, before everything happened, ended up happening again for this record, which is great."
On the release day of 25, the vocalist sent out a tweet, showing her gratitude for this album, furthermore, encouraging us fans to enjoy it as much as she did: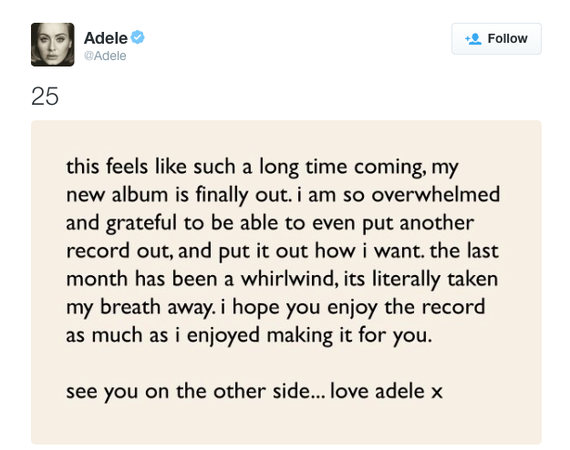 Within the first three days of its release, Adele's album sold more than 2.3 million copies, according to Nielsen Music. 'Rumor Has It' that the album is expected to reach about 2.9 million copies sold, by the end of its debut week.
Calling all HuffPost superfans!
Sign up for membership to become a founding member and help shape HuffPost's next chapter