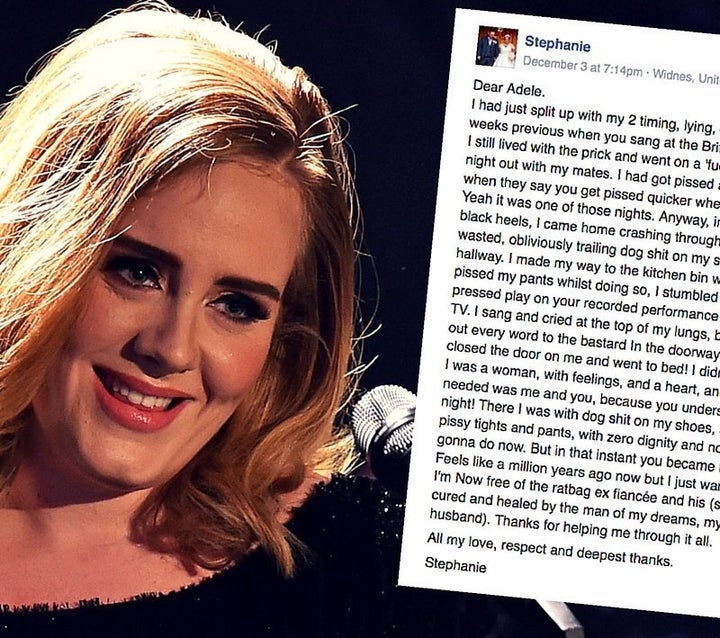 For those of us nursing a broken heart, Adele is an angel, sent from the heavens to help us grieve the most difficult of breakups through her music. (Really, who hasn't ugly-cried their way through the entire "21" album?)
In the post, which is currently going viral, Stephanie Pope, a 37-year-old woman from Northern Ireland, shares how a night back in 2011 spent drunkenly singing along to Adele's "Someone Like You" made her realize she deserved so much better than her ex-fiancé. The note, pictured below, is dramatic, hilarious and ultimately uplifting (the breakup led Pope to her future husband!):
(Story continues after the photo.)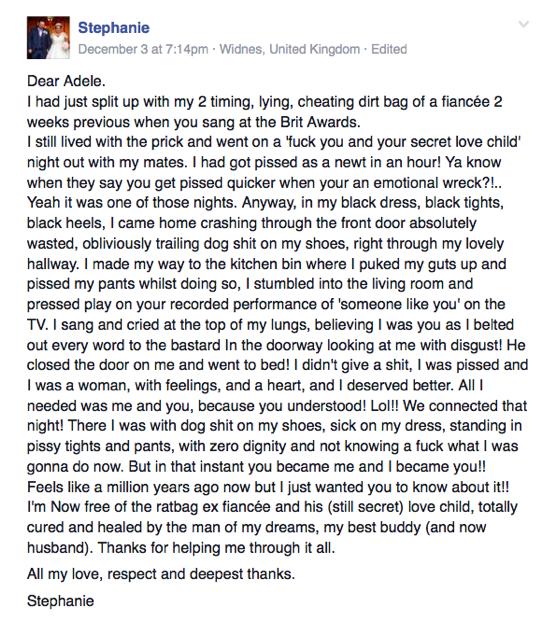 Since it was shared last Thursday, the post has over 64,000 "likes" and more than 3,000 shares. Pope told The Huffington Post that she just wanted to make Adele fans laugh with the story.
"The irony is, it was one of my darkest days ever and now after five years, I can look back and laugh at it," she said.
In a post on her personal Facebook page, Pope further explained why she felt compelled to give thanks to the goddess of breakup ballads in such a public way:
Last week, Pope celebrated her first anniversary with her husband Ben -- and yep, she definitely feels that Adele played a part in bringing them together.
"Listening to her music made me feel normal, that heartbreak happens to us all, and that I would be OK," Pope told HuffPost. "I grieved my relationship with the help of her music and that helped me heal. I moved on and, as luck would have it, meet my husband Ben!"
Mending broken hearts and bringing soulmates together: That's the power of Adele.