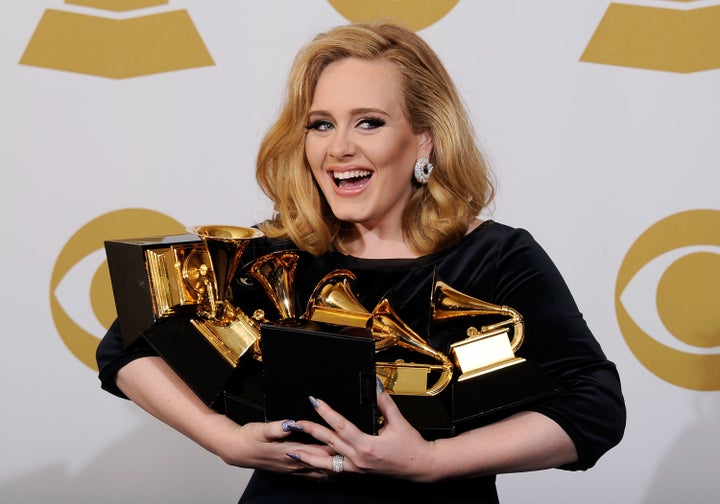 The Adele we find at the beginning of her new album "25" isn't the same woman we fell in love with on "21." She's grown up. 
In the interim between the two albums, the singer gave birth to her now three-year-old son, got serious with boyfriend Simon Konecki and stopped letting herself drown in sadness. 
"21" was the kind of album you listened to alone in your room, only taking breaks between convulsive sobs to shovel the closest available snack food into your mouth. Well, it turns out Adele's process for writing the album wasn't that different. 
I just used to let myself drown. If I was sad, if I was confused -- which I would say were the running themes for most of my records so far -- I'd just go with it. I'd let myself fall apart, and I'd sit in darkness, and I'd feel sorry for myself, and I wouldn't accept any help to get out of it, in terms of going out with my friends to cheer me up, or staying busier. No! I loved the drama of it all.
After completing "21," which One Republic's Ryan Tedder likens to stumbling across a unicorn in the woods, the thought of trying to replicate that success proved to be paralyzing. Adele, whose last name is Adkins (why didn't we know that?), even thought about walking away from it all. 
I didn't think I had it in me to write another record. I didn't know if I should. Because of how successful "21" was, I thought, "Maybe everyone's happy with that being the last thing from me. Maybe I should bow out on a high."
Come back she did, of course, with the song that has launched a thousand memes and gave us the best/unintentionally campiest music videos of the year. Writing "Hello," Adele refused to crumble under the weight of all those emotions. 
I haven't got time to fall apart ... I'm the backbone for my kid, and I want to be there for him. And I want to be there for my boyfriend as well, and I don't want to bring them down with me for my art.
Adele might be in a better place in her life, but that doesn't mean that the singer is ever too out of touch with her emotional side. She revealed to Pareles how she knows if she's written a good song or not. Hint: Girl likes to cry. 
In order for me to feel confident with one of my songs it has to really move me. That's how I know that I've written a good song for myself -- it's when I start crying. It's when I just break out in [expletive] tears in the vocal booth or in the studio, and I'll need a moment to myself.
If I wanted to just be famous, like be a celebrity, then I wouldn't do music, because everything else I've been offered would probably make me more famous than I am just with my music...Commercials, being the face of brands, nail varnishes, shoes, bags, fashion lines, beauty ranges, hair products, being in movies, being the face of a car, designing watches, food ranges, buildings, airlines, book deals. I've been offered everything. And I don't want to water myself down. I want to do one thing. I want to make something. I don't want to be the face of anything.
OMG, could you imagine an Adele airline commercial, though? Head over to The New York Times for more.
PHOTO GALLERY
Adele's 25 Greatest Achievements... So Far
Calling all HuffPost superfans!
Sign up for membership to become a founding member and help shape HuffPost's next chapter