In August, The New York Times wondered aloud what the rest of the political world wanted to know: Does Sheldon Adelson's effort to put Mitt Romney in the White House have anything to do with the federal criminal investigation into his company's business practices?
The Times editorial page mused that "since Mr. Adelson's financial future is riding on the outcome of these federal investigations, it is legitimate to ask whether he has motivation for supporting the Republican ticket so lavishly, beyond his sharp disagreement with the Obama administration's position on the Israeli-Palestinian peace process."
The top reason Adelson gave for backing Romney and opposing President Barack Obama is "self defense," as Allen put it, referencing the probe into Las Vegas Sands Corp. "Adelson said a second Obama term would bring government 'vilification of people that were against him.' He thinks he would be at the top of that list and contends that he already has been targeted for his political activity," Allen wrote.
Adelson's casino empire, the bulk of which is based in Asia, is being investigated for bribery and money laundering. He told Allen that Justice Department officials have been disparaging him in the press. "When I see what's happening to me and this company, about accusations that are unfounded -- that kind of behavior ... has to stop," he told Allen.
In other words, Adelson is spending millions of dollars to curry political favor in the United States, hoping to fend off charges that he spent millions of dollars to curry political favor in Asia.
Federal investigators began looking into the Sands's China activities after the former president of the company's Macau operations filed a wrongful-termination lawsuit in 2010. The former executive, Steven C. Jacobs, charged, among other things, that he had been pressured to exercise improper leverage against government officials in Macau, and that the company had turned a blind eye to Chinese organized crime figures operating in its casinos. (The Jacobs lawsuit raised questions about payments to another well-connected local figure -- a lawyer and legislator in Macau -- that were recently explored by ProPublica and are also part of the federal bribery investigation.)

The Sands declined to respond to a detailed list of questions provided by The Times more than a week ago, saying in a statement that it was cooperating with the inquiries and was confident that once they were concluded "no current member of senior management will have been found to have been involved in wrongdoing."
David Lat, editor of Above the Law, worked in the U.S. attorney's office under Chris Christie, now the Republican governor of New Jersey.
"My reading of Adelson's statements is that Adelson believes the current administration is unfairly pursuing him and that he'd like to see Obama replaced by Romney, for this and other reasons," Lat said in an email to HuffPost. "I don't know if the statements are that unusual; individuals or companies under investigation often like to claim that they are the victims of some sort of witch hunt. I suppose what's different about Adelson is that he has unusually large resources with which to fight back."
Adelson has said he's willing to spend $100 million or more to unseat President Obama, by far a record amount of giving.
A source close to Adelson who spoke on condition of anonymity said that the casino owner does not expect a President Romney simply to close the case. "He was not talking about the investigation per se," the source said, suggesting instead that Adelson is concerned about politically motivated leaks.
Beyond the potential for a friendlier hearing from federal prosecutors, Adelson stands to be on the fun end of a $2 billion tax cut if Romney wins as well.
This post has been updated to include additional information about Adelson's concerns about the Justice Dept. inquiry.
Before You Go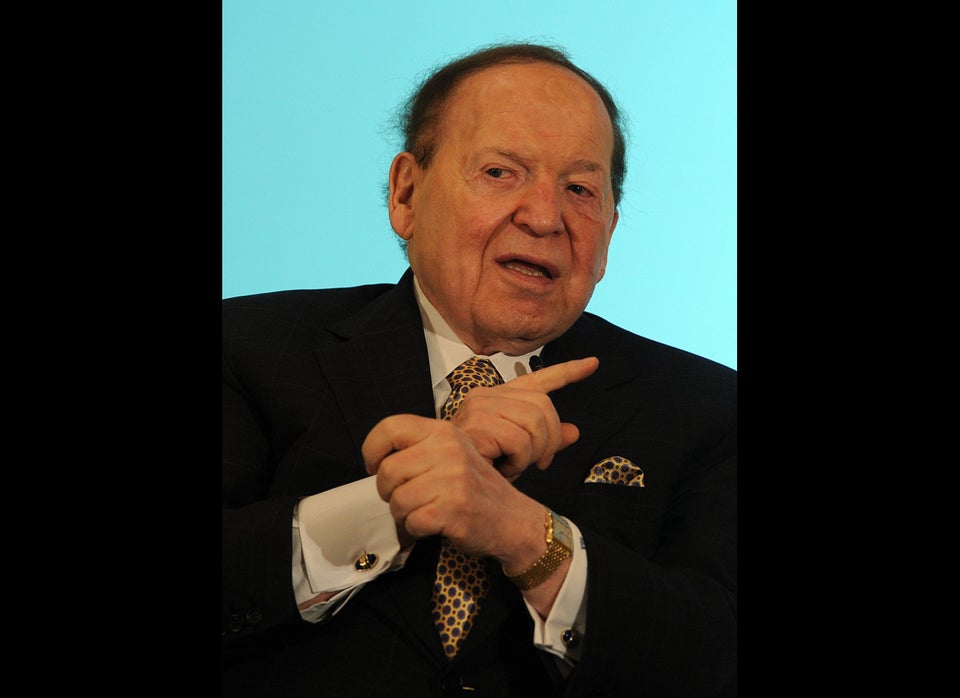 Donors Giving $500,000-Plus To Super PACs
Popular in the Community