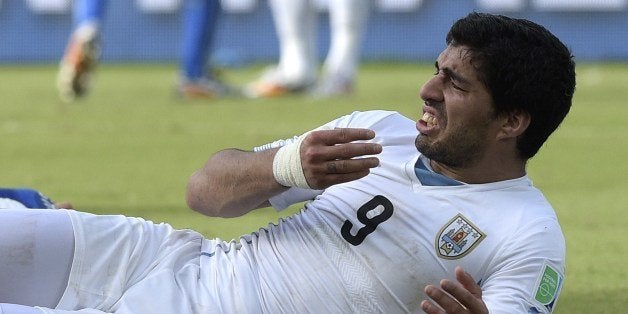 BERLIN, June 26 (Reuters) - Adidas stopped short on Thursday of ending its sponsorship deal with Uruguay's Luis Suarez after FIFA banned him for nine matches for biting an Italy defender, but the German sportswear firm said it would not use him in any further World Cup marketing.
"Adidas fully supports FIFA's decision. Adidas certainly does not condone Luis Suarez's recent behavior and we will again be reminding him of the high standards we expect from our players," a spokeswoman said in an emailed comment.
"We have no plan to use Suarez for any additional marketing activities during the 2014 FIFA World Cup," she said, adding that Adidas' relationship with Suarez was otherwise unchanged.
"We will discuss all aspects of our future partnership directly with Suarez and his team."
Suarez is one of the top footballers that Adidas sponsors and the company's campaign for the World Cup prominently features an image of the Uruguay player baring his teeth.
Suarez was also suspended from any football-related activity for four months and fined 100,000 Swiss francs ($111,000), soccer's world governing body said in a statement.
Suarez will miss Uruguay's last-16 match against Colombia in Rio de Janeiro on Saturday and will play no further part in the tournament in Brazil if they progress.
Suarez will not be able to train or attend matches with his English club Liverpool until late October, meaning he will miss at least nine Premier League games and the start of their Champions League campaign.
The 27-year-old Suarez, voted England's Footballer of the Year after scoring 31 league goals for Liverpool last season, has now been involved in three incidents of biting opponents.
He was also banned for one match at the last World Cup in South Africa for a deliberate handball that cost Ghana a match-winning goal in a quarter-final. (Reporting by Emma Thomasson; Editing by Sonya Hepinstall)

Related
Popular in the Community