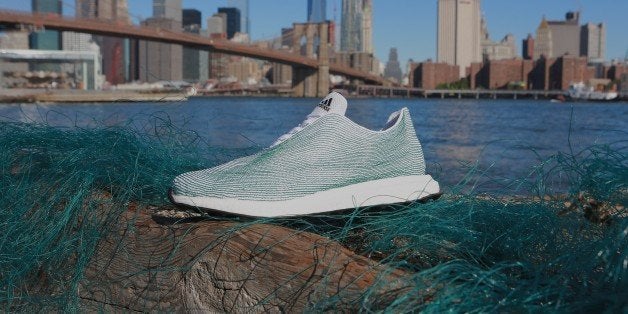 Recycled ocean trash sneakers might be the new Air Jordans.
German apparel giant Adidas has created a prototype for a sustainable new shoe made almost entirely from recycled garbage pulled from the ocean, the company announced on Monday. The upper shoe is made entirely of yarns and filaments reclaimed from illegal deep-sea gillnets and other ocean waste, while the base is made from sustainable cushioning material.
The new kicks are the first to come out of Adidas' recent partnership with Parley for the Oceans, an organization that aims to end pollution of the world's oceans.
"We are extremely proud that Adidas is joining us in this mission and is putting its creative force behind this partnership to show that it is possible to turn ocean plastic into something cool," Parley founder Cyrill Gutsch said.
Gathering the garbage to assemble the shoe was no easy feat. The Sea Shepherd Conservation Society, which collaborated on the project, retrieved the trash over the course of a 110-day expedition to track an illegal poaching vessel off the coast of West Africa. The green fishing nets collected during that voyage can be seen in the design of the upper shoe.
Sea Shepherd Conservation Society employees stand among the fishing nets collected on their 110-day expedition. The new Adidas shoe is made out of these very nets.
A spokeswoman for Adidas told The Huffington Post the shoe is not for sale, and she was unsure whether it would be in the near future. "This is not a plan, this is an action," she said. "We did this to show what we are capable of doing when we all put our heads together."
Still, she confirmed that the company will begin incorporating recycled plastic into its shoes by early next year. So, until then, you'll have to get by without wearing trash on your feet.
Related