With an emotional tribute to Selena Quintanilla, "The Real" host and singer Adrienne Bailon ended a six year hiatus from the stage.
In honor of her idol, the former "Cheetah Girl" sang the hit "I Could Fall In Love" at the close of an episode set to air on Tuesday. The segment will coincide with the 20th anniversary of the Tejano star's death.
Suzette Quintanilla, Selena's sister, also stopped by the talk show to discuss the singer's still growing legacy. At the beginning of the interview, Bailon emphasized that Selena has not only been her idol but is the reason she became a singer.
"Twenty years ago we lost the woman I consider my idol, she single-handedly put Tejano music on the mainstream map and she's the reason I am who I am today," Bailon told viewers.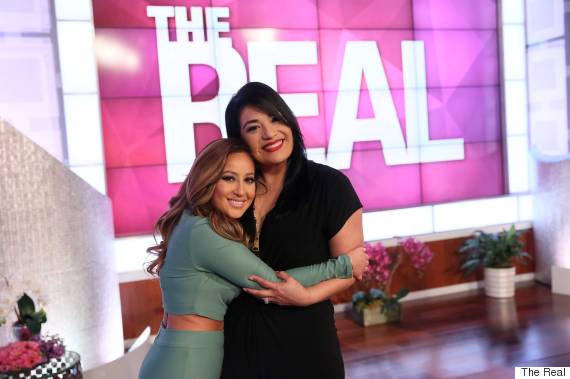 On the topic of Selena's legacy, Suzette spoke to "The Real" about how younger generations continue to embrace her sister's music, the impact she's had on fashion, and the singer's work on an English-language album at the time of her murder in March 1995.
When Bailon brought up the 1997 biopic "Selena," which starred Jennifer Lopez as the Tejano star, the singer's sister mentioned one point she felt the film could have elaborated on.
"First of all, props to everybody that was part of the making of the movie," Quintanilla said. "Of course, Jennifer studied so hard to try to get it as perfect as possible. It is such a hard job to do, I think, to have to mimic somebody and to have to learn how to act and be that person. I think the one thing that the movie just kind of barely touched on … she was so humble and so down to earth. She would really do anything for anybody if she possibly could. That was probably the only thing I could kind of say."
Bailon's performance closed off the episode with Suzette singing along in the audience. "The Real" host had not performed in public in 6 years. Earlier this year she revealed on the talk show that she had not released her anticipated solo album because she didn't like "the sound of my own voice" and was "scared to fail."
At the end of the song, a teary-eyed Bailon embraced the singer's sister and thanked her family for making an impact on her life.
Watch an exclusive look at Bailon's performance above and the interview with Suzette below.
Popular in the Community