A warm summer breeze rippled across glistening Mirror Lake as the glowing early evening sun hovered over leafy mountains in the backdrop. I sipped a fragrant 2010 Savennières, on the deck of Lake Placid Lodge's Artisans Restaurant, in Lake Placid, NY. The white wine's citrus and spice melded in a symphony of flavors with my succulent Hawaiian Uku Snapper and stuffed squash blossoms. It tasted extra delicious, following three days of cycling sweeping hills and remote roads along protected forest preserves, wetlands and waterways in some of Adirondack Park's six million acres of wilderness.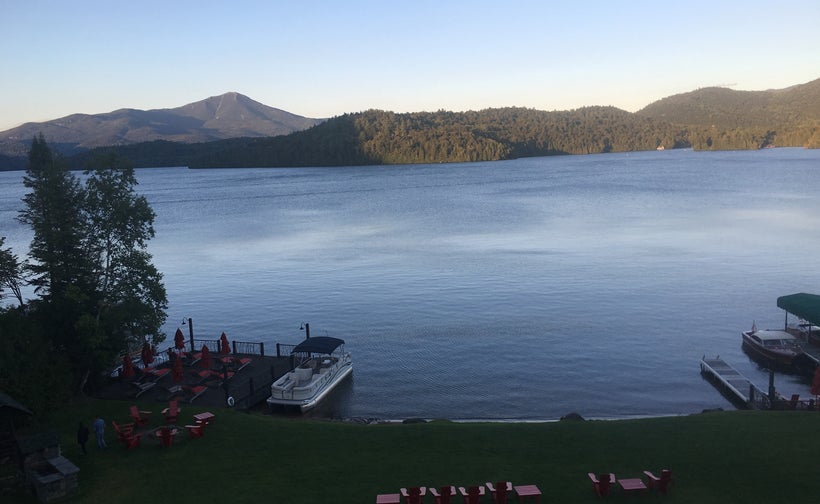 This was my first time in the picturesque Adirondacks since participating in Lake Placid Ironman several years back. Instead of racing the clock and competitors, I was there participating in the 2nd Annual Cycle Adirondacks. The fully supported weeklong bicycle ride covering nearly 65 miles daily is the brainchild of the Wildlife Conservation Society. "Each year, we pick a new route through the heart of the Adirondacks wilderness." Says Zoe Smith, Director of Adirondacks Program Wildlife Conservation Society. "Its a fun cycling vacation and eco-tourism for the small towns." The WCS science team offers environmental education at rest stops and nightly naturalist roundtables. This year's ride started in Hadley-Lake Luzerne, NY.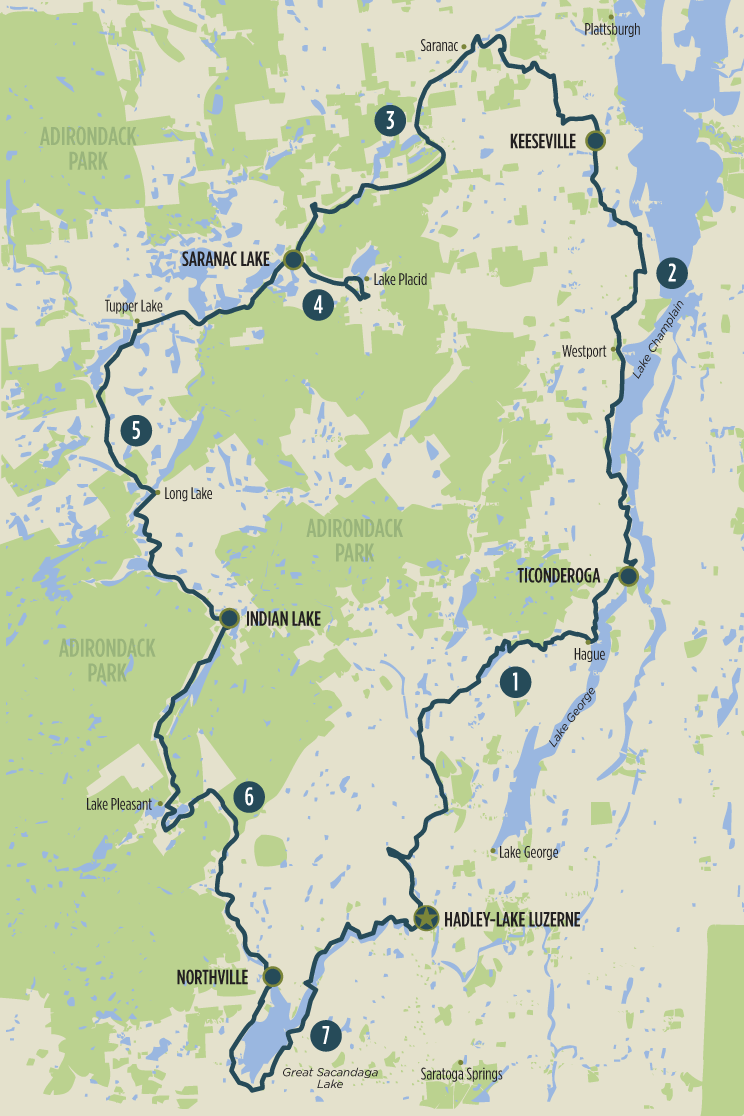 As I stepped out of my tent on the first day, the crisp mountain air kissed me good morning. Puffy clouds peppered cobalt skies. Two Lycra short clad men shaved at pop-up sinks, while a woman unplugged her phone from the nearby charging station. My priority was coffee and breakfast.
By 7:00 am, my belly was full, bags dropped at the transport truck and I was pedaling down a tranquil shady tree-lined road, one of 300 cyclists dotting the roadway. I settled into my saddle, spinning and savoring the serene setting.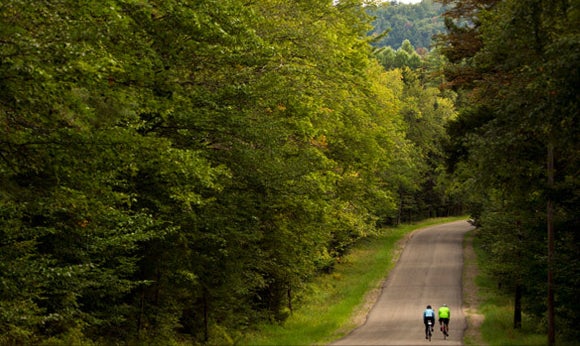 On a steep, winding uphill, I caught Jim and Meg Reed, long time cyclists from Seneca Lake, NY, who rode a black and white custom Co-Motion Macchiato tandem bicycle. They pedaled with the deft of synchronized swimmers - standing and sitting as if one. We became fast friends, sharing an affinity for active travel and post-pedaling sipping. Like them, I chose the three-day option.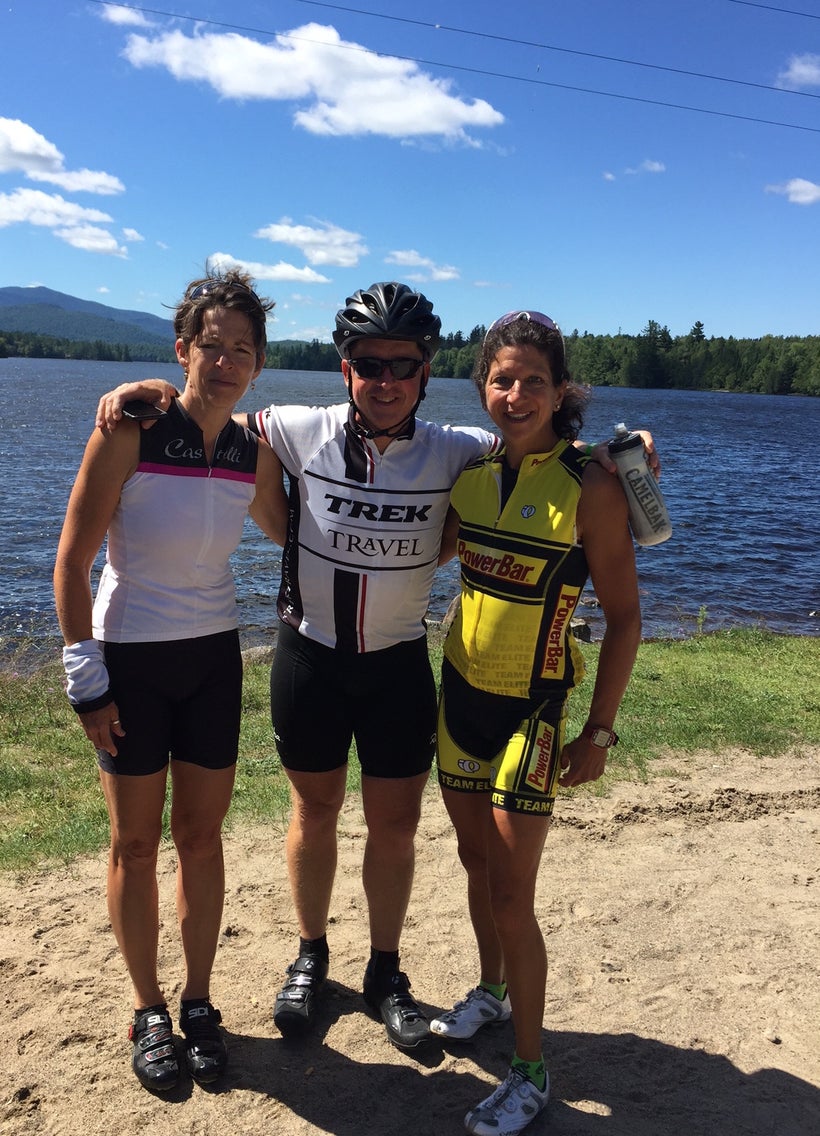 "Our friends did this last year and loved it." Said Jim, 55, personal injury & medical malpractice lawyer and attorney for BikeLaw.com, while nibbling a locally crafted chicken wrap at lunch. "And, 'glamping' is really kind of fun." For an extra fee, Comfy Campers supplies a tent, air mattress, towel and chair.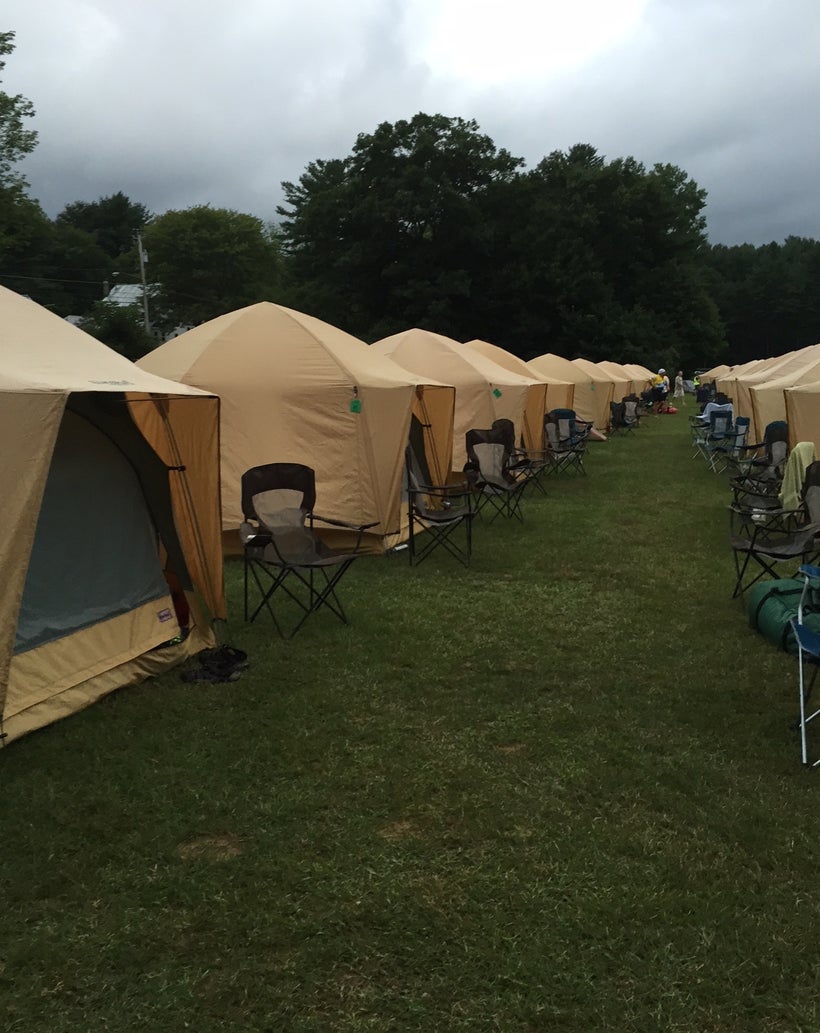 A refreshing breeze cooled the warm arid air as we started up the final four-mile climb. "See ya on the downhill," said Meg, 53, child advocacy lawyer, as they faded - gravity is unkind to tandems on inclines. The adjacent forest was thick with Red Spruce, Yellow Birch and Eastern White Pine. My heart raced on the last steep pitch to the top. I slowed to savor the swaying treetops and breathtaking verdant valley below. Then shifted gears, tucked low and joyfully, swooped around speedy switchbacks on the descent.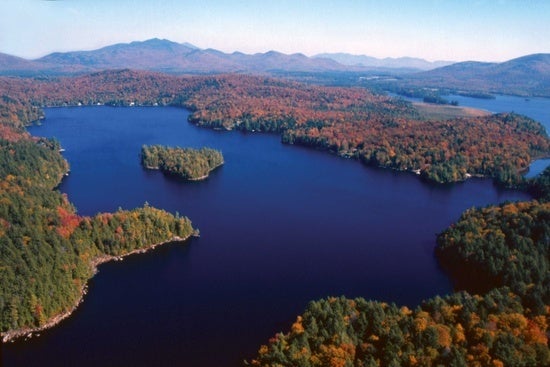 Halfway down, Jim and Meg zoomed past me. I jumped behind their rear wheel, using the draft for a fun, fast ride into the quaint town of Hague, on the shimmering northwest shores of Lake George. Alas, earning the nickname "Tandem Leach".

As we pedaled into Bicentennial Park camp in Ticonderoga, bubbly volunteers welcomed us with ice cream and cheers. Others set up the kitchen, dining tents, the shower truck and toilets with adjacent foot pump sinks. It was quite civilized.
Thanks to 300 volunteers throughout the week, the organization relocates daily. "We tell people Cycle Adirondacks is like an all-inclusive resort that moves every day – you just have to pedal for a few hours to catch up to it." Notes the website.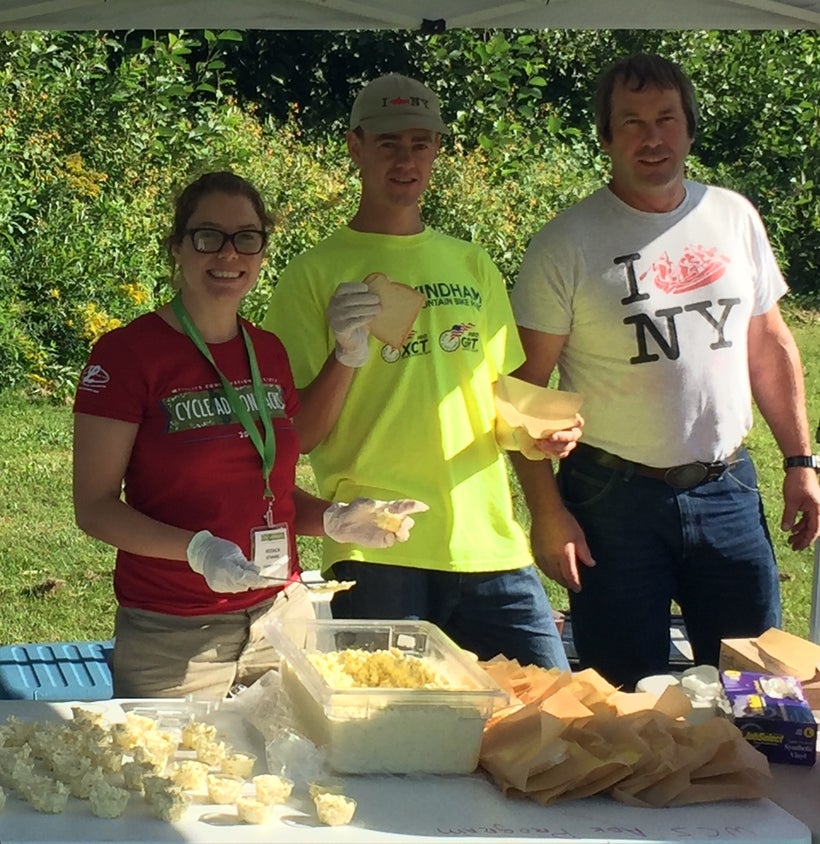 Later, I visited nearby historical Fort Ticonderoga. Walking into the 18th-century star shaped fortress, a pillar of the Revolutionary War and French and Indian War, was a step back in time. Men clad in period military uniforms performed reenactment. Black cannons lined dull stonewalls overlooking Lake Champlain. While, the museum showcased engraved powder horns, wood handled pistols, sharp bayonets and headgear spanning 1760s-1820s.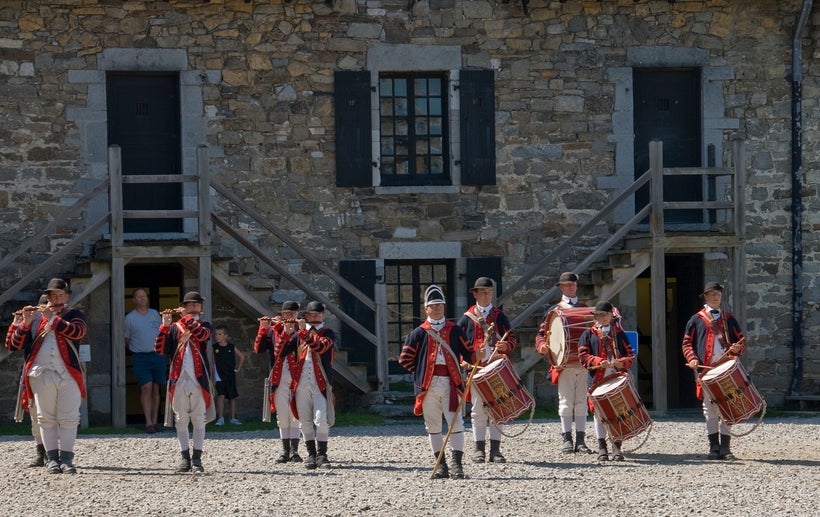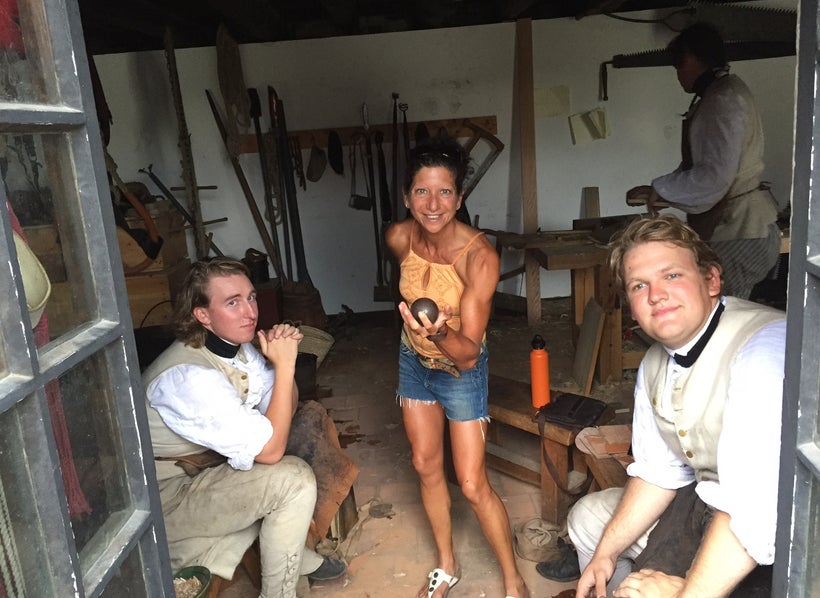 From war to wine, much to my delight the second days ride ended in Keeseville, neighboring the Adirondack Coast Wine Trail, established in 2013. Many of the six wineries along 33-miles of Lake Champlain craft their wines from lesser-known cold hybrid grapes.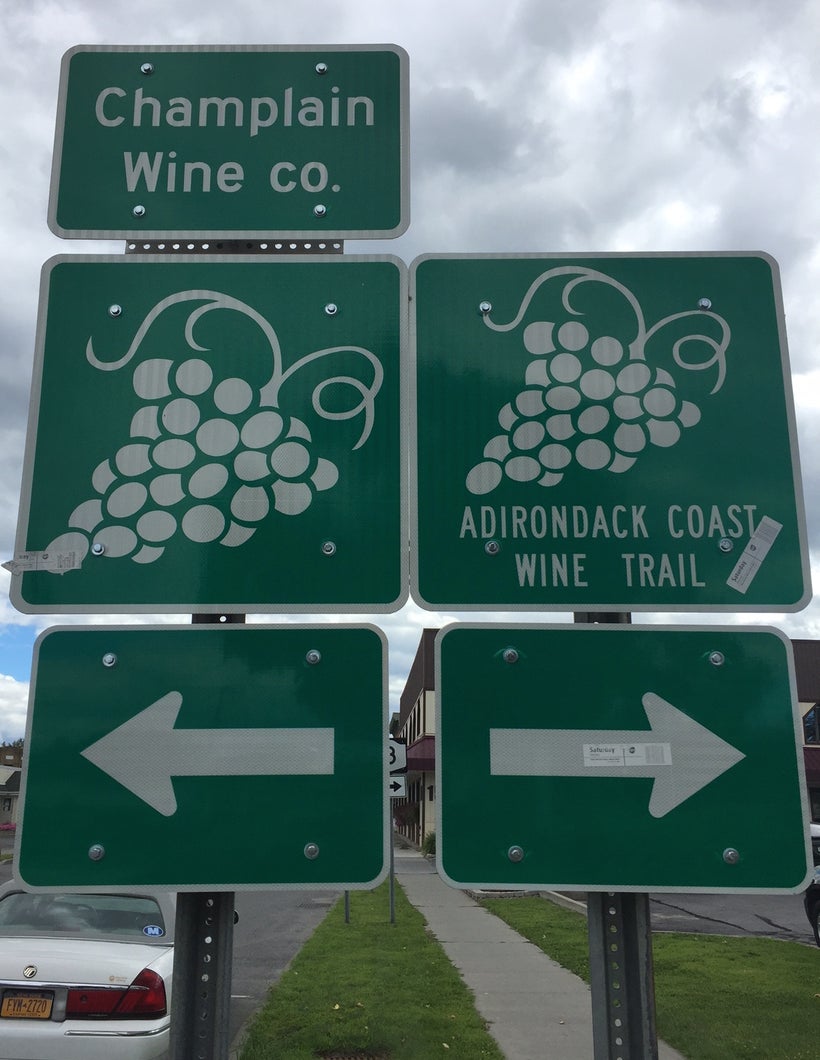 I dropped into Champlain Wine Company's contemporary tasting room, in downtown Plattsburgh, NY. Winemaker and co-owner Natalie Peck has a delicate hand, crafting a bone-dry Riesling with aromatic Granny Smith apple overtones. The Full Sail White, a triple blend of Lacrescent, Prairie Star and St. Pepin pleased with pear, apple and pineapple nuances. And, the structured Marquette delighted with red plum, black cherry and restrained tannins.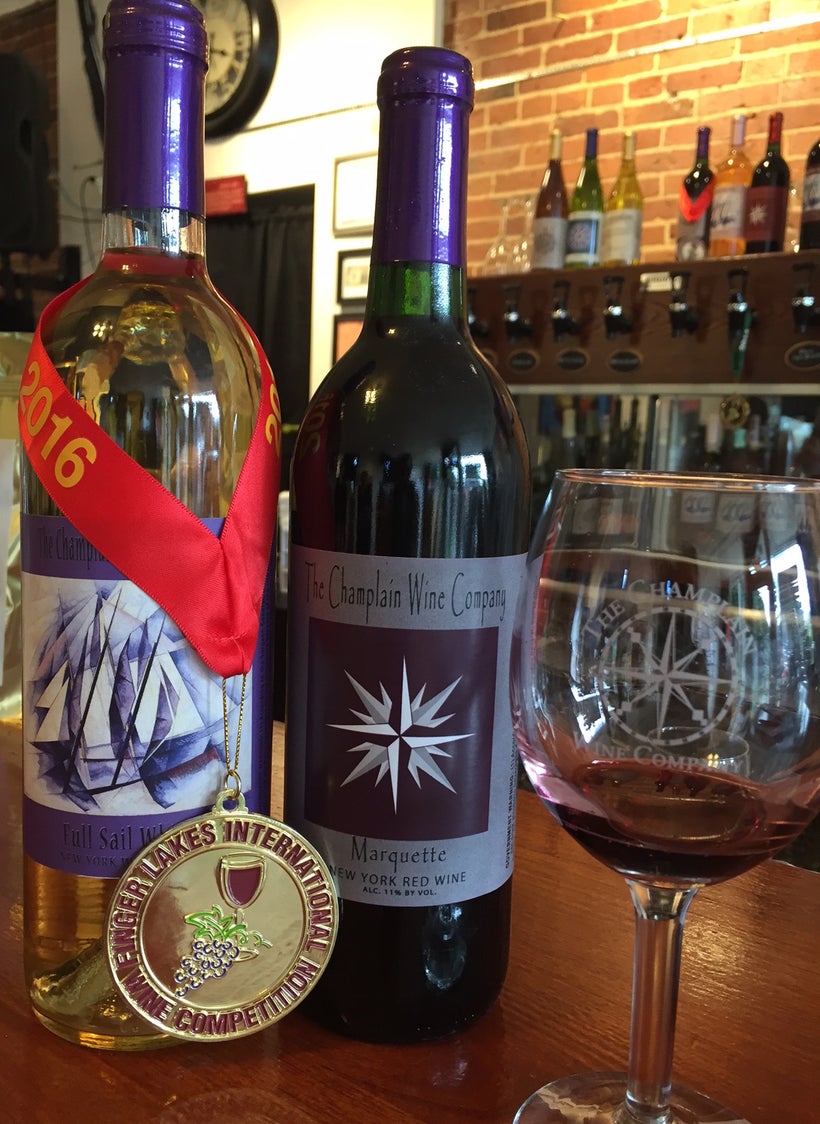 At Elfs Farm Winery & Adirondack Cider Co., owner Tom Frey poured me my first "live wine," called Betwixt. A blend of unfiltered Marquette and GR7, the chilled medium bodied red sported deep black cherry-Coke flavors and noticeable tannin. In contrast, the Incognito boasted smoky spice and stern acidity.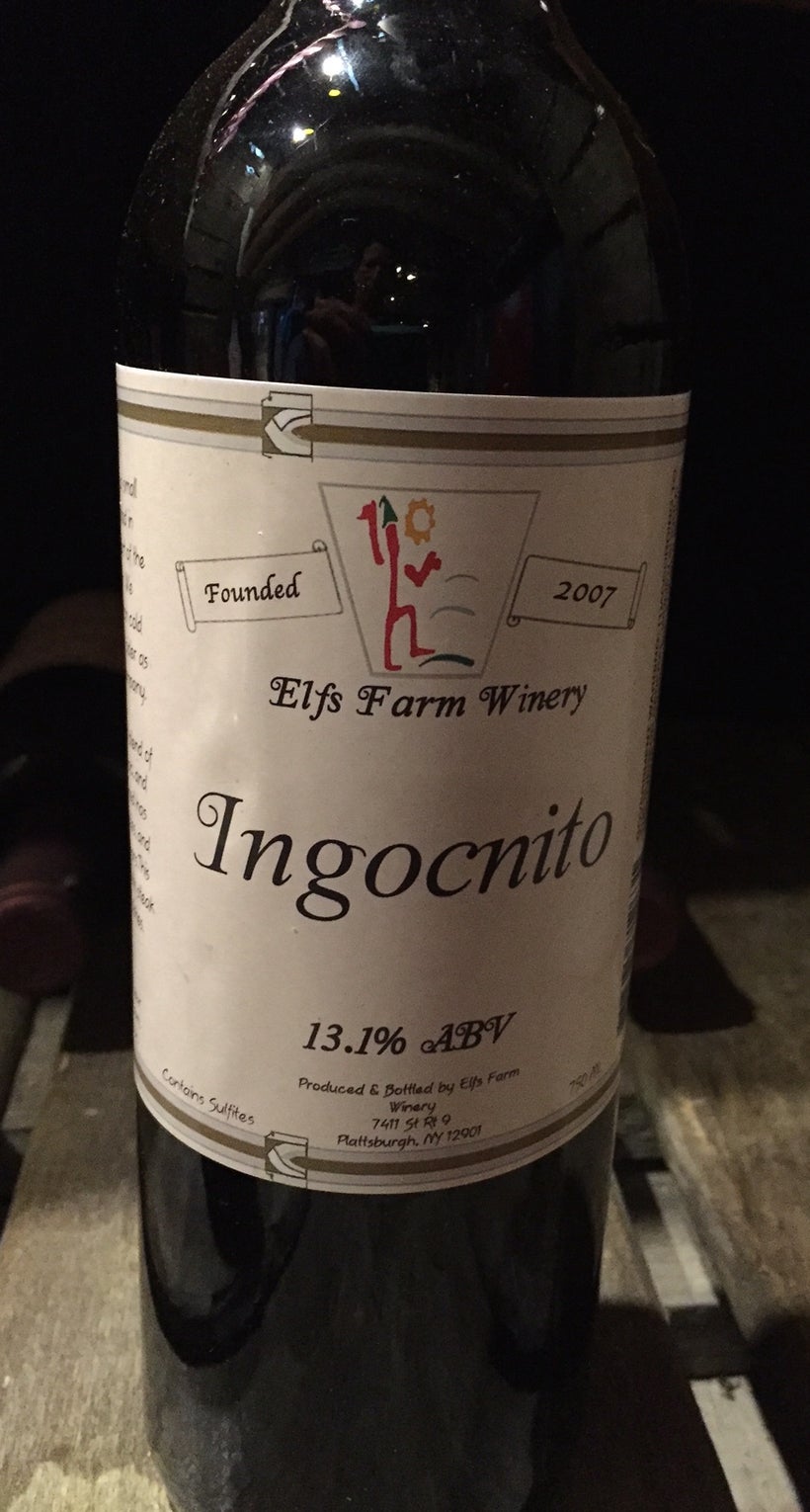 Upon returning to camp, hungry cyclists milled in the dinner tent, balancing plates of black lentil-stuffed peppers, grilled steak and crunchy kale salad from local farms around the Champlain Valley. The colossal vibrant yellow and red heirloom tomatoes popped with sweetness and acidity. I felt like I was like eating from the fields.

I awoke feeling refreshed for my final ride to Saranac Lake. Under bluebird skies, we rolled past fragrant cows pastures, fertile agricultural farm, apple trees and curvy lakeshores leading to out-of-saddle climbs in the mountainous High Peaks region.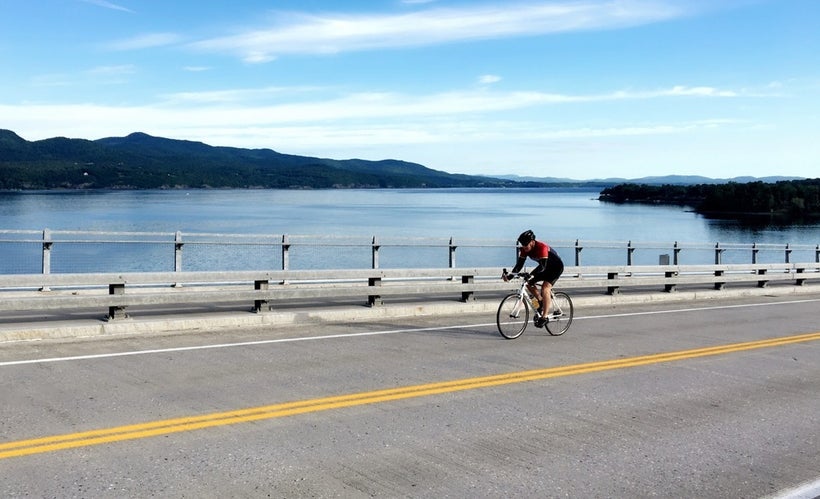 After arriving at camp, I scooted up the road to Lake Placid to paddleboard on bustling Mirror Lake. It felt good to stretch out, dipping my long paddle into the still water, propelling myself past kayakers, pedal boaters and the patio of Lake Placid Lodge, where I'd later dine.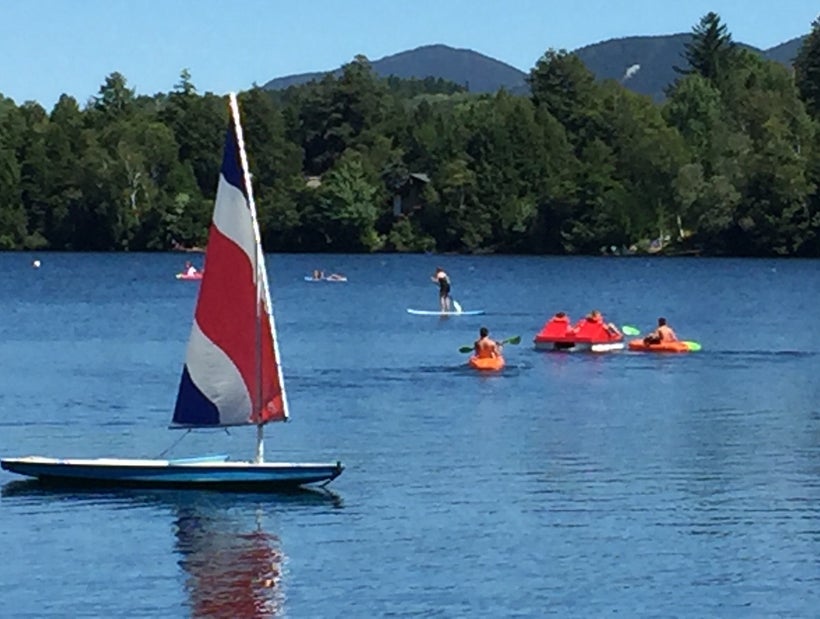 Following a lovely lakeside dinner, I looked forward to sleeping in a cozy bed at the Porcupine Inn, in Saranac Lake. Exuberant owner Fred Mazzeo welcomed me like an old friend, offering me a glass of bubbly and explaining the charming Victorian home was built in 1902 for author Thomas Bailey Aldrich - who wrote with a Porcupine quill. The next morning, coffee aromas enticed me from bed. I munched a scrumptious tomatoes, spinach and mushrooms omelet and then Fred packed me off with a to-go cup of coffee, local maple syrup and a longing to return.
Calling all HuffPost superfans!
Sign up for membership to become a founding member and help shape HuffPost's next chapter
This post was published on the now-closed HuffPost Contributor platform. Contributors control their own work and posted freely to our site. If you need to flag this entry as abusive,
send us an email
.