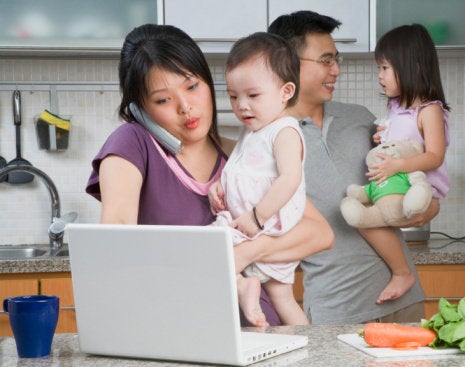 I came out of retirement to run a start-up, Historically, I seldom used all of my vacation time, and the last sick day I took was in 1992. I am a sick puppy. So, it's somewhat ironic (my family might say hilarious) that I now get up on a soapbox and talk passionately about flex-trends and work-life balance since I haven't yet figured this stuff out for myself. (Although as part of a commitment I made to my wife for coming out of retirement, I am taking more vacation and doing a weekly date night, which has been fabulous!)
While I may work my tail off (because I actually enjoy it and that is what sick puppies do) I do so knowing that the way we work is fundamentally changing -- and that the ramifications will be better for everyone. The notions of going to work, putting in set hours, and getting "face time" are increasingly antiquated ideas. Because of technology we have entered a modern era of work where we can work from wherever we want, whenever we want and we can be more productive and make greater contributions than ever before. Not only is this possible, but it's imperative because workers demand (and deserve) to control their own destiny -- and because it's better for families and companies.
Enlightened companies see the world of work differently: There is a global economy of suppliers of talent and buyers of talent. It's the eBay way, and just as eBay revolutionized the world of ecommerce (and eradicated the sole reliance on stores, set prices and accessing things within driving distance), we are now revolutionizing the world of work (and eradicating dependence on office buildings, the same set hours for everyone and working within a commutable distance.)
Independent contractors -- a rapidly growing piece of the workforce -- can often achieve the best quality of life. They can chose from where they work, whom they work for and for how long. And, the best workers will get far more work opportunities as opposed to the traditional employee model where one gets a max of 10 bets in his or her career. People can work productively from their homes (saving the eight weeks a year they waste commuting) and optimize their careers to meet their personal dreams.
This flexibility is important to today's workforce; in fact, it's most important. In a recent survey of our independent agent community, 66 percent of respondents cited work flexibility as the number one reason they have chosen to contract with LiveOps. It's such a different model than we grew up on, where it was about work ethic and presence. I used to pride myself on being the first in the office in the morning and one of the last to leave at night. Now, that's so dated: It's not about effort, it's about outcomes. I often say to people, don't confuse action for traction!
One of the best parts of my job is hearing from our independent agents about how working with us has given them more choices and has allowed them to build their careers while not sacrificing the other aspects of their lives. Francine Phang-Matthews, an independent contractor in Florida no longer has to speed home during the work day to check on her elderly father; she now works from home on her own schedule, allowing her to tend to both work and family needs. Tiffany Shepherd, a young woman in Philadelphia who dreams of becoming an actress, loves the flexibility independent contracting provides her to go on auditions in Manhattan. And, Cynthia Strayer, a single mom who has been contracting with us for about a year, prizes being able to be available when her eight-year-old son comes home from school.
We feel good about this, we are committed to offering workers opportunities that make their lives better, but the reason this model works -- the reason this is a revolution -- is because the freelance economy represents a superior way for companies to engage talent.
The advantages of a more flexible workforce are evident: less overhead for enterprises, broader access to talent and greater elasticity in getting work done efficiently. Traditional work is becoming increasingly flexible in accommodating the new work paradigm: Nearly 80 percent of US businesses currently have employees who spend at least some time as mobile workers and it's estimated there will be 100 million telecommuters in the US this year. It's a start, but we need to go farther, faster.
Up until now, companies have been in control. There has been an over supply of workers and companies have been able to call the shots about where people work and when. But the world of work is dramatically shifting. There is a huge shortage of talent coming, predicts George Friedman in the book The Next 100 Years and with fewer workers, companies will have to better consider the needs and desires of the workforce in order to stay competitive.
Work is no longer just about full-time or part-time. It's about real-time. Getting real starts with embracing a new flexible opt-in model that gives individuals the freedoms they demand and ensures companies the services they need right now-and the ability to alter their workforce as they evolve.