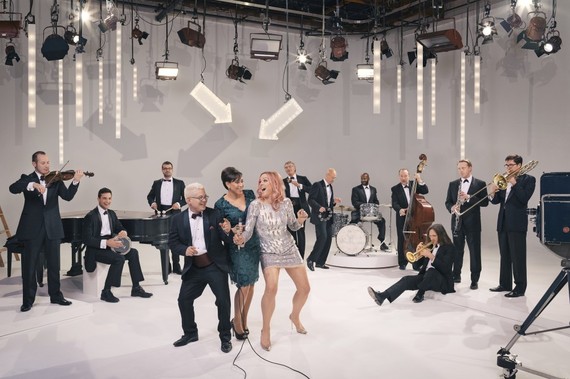 I have been following 'Pink Martini' for a while now, since my boyfriend played an album for a summer night's barbecue at our home about 10 years ago. Our guests immediately responded, "Who are these guys? I love them. They're terrific!" Recently I saw the band at a venue in Long Island called the 'Landmark,' on Main Street in Port Washington, New York.
Is anything new? Well, with 'Pink Martini,' it is always an integrated fusing of the new and classic, the worldly and the world, the poignant and humorous; I could go on, but I am running out of pairings. They are only predictable in how great they invariably are every time. With charisma aplenty, this twenty-two year old, very solid band, puts out some great songs and what sets them apart is their original music as well as their utter integrity, making old international songs, fresh and crisp, more alive and divine through their boundless maestro's orchestrations. His name is Thomas Lauderdale and he is a phenomenal composer, musician and arranger. At one time he had aspirations of becoming the mayor of Portland, Oregon. And though I am sure he would have been an asset to Portland polemics (and has been for numerous political fundraisers as a performer), I am among many who are grateful he chose the fork in the road with the sign that said, 'MUSIC' instead of 'POLITICS.' They travel the globe sharing their plentiful treasure trove of new compositions and old melodies. These guys won't be touring forever, eventually they will settle down and return to Portland full time, as traveling regularly can get old and exhausting. It isn't ten, fifteen years ago when people made money from albums, which makes live performance a necessity, if you are going make a living in music.
As Thomas explained," The industry has totally changed, I'm not sure where things are headed. If we were to start this band today I'm not sure it would work." He puts his whole being into his efforts with absolute devotion and excitement when he rehearses as well as performs. For the first time 'Pink Martini' is working on an original score for a film, which will feature Isabelle Huppert as a singer making a comeback after working in a meat pie factory for years. According to Laura Hardin, their marketing manager, "They will have three French originals on the album (all sung by China), which Thomas wrote as a part of the soundtrack for the French/Belgian film 'Souvenir,' which will have a European debut this fall as well. 'Pink Martini' writes and performs the entire score for the film."
I have heard some of their latest tunes and as always I'm smitten.
When I asked Thomas how he feels about the music of now, he wistfully said "Americas lost the melody." No doubt 'Pink Martini's' oeuvre breaths energy into the musical wind, inspiring others to follow the melody of nonconformity.
The band went through a dramatic change a few years ago when singular songstress China Forbes lost her voice on the heels of a sold out four day run at the Kennedy Center and in an emergency Lauderdale asked mutual friend Storm Large to step in (and yes that is her real name). This was not an easy thing for her to do, as anyone can imagine the pressure to take another female vocalists spotlight might be misunderstood, but a frantic state of affairs requires friends to step up, hence she agreed to do it with the caveat that Thomas explain the circumstances before every performance, so the audience wouldn't throw tomatoes at her or think disparaging girl on girl hair pulling thoughts. Storm learned ten songs in five languages in four days. "Try to hold back vomiting and make everything look great," Storm chortles. The lady is a trooper with a beautiful vibe inside and out. Very different than China in her expression, she's Jessica Rabbit mixed with Judy Garland. An edgy chanteuse with kind of a serpent like expression, moving all over the stage, belting out tunes from far and wide. Some of my favorites are the wonderful new addition of a Turkish song "Askin Bahardi," Storm's interpretation of "I've Got You Under My Skin" is a trip through the deepest sorrow and desperation of desire, "Ne me quitte Pas" is fabulous, just to name a few.
The great thing is these two ladies are richly distinctive, there is no competition because the two cannot be compared. It worked out beautifully.
China Forbes is a classically trained, regal and totally rock-solid lead singer, she is still and luxuriates in her vocal emission. Listening to her is like a sumptuous hot bubble bath on a wickedly cold night; she makes you feel good and warm and happy. Her rounded tones express the elegance of a 1940s-50s songstress in an old movie, but laced with the training of a champion opera singer. Having trained myself, it is heavenly to listen to her golden voice sore. She is also a great songwriter and one of my very favorite songs is "Hey Eugene!." She wrote it after waiting for a call from a guy she met at a party who said he would, but didn't. Lucky for her admirers, because 'Hey Eugene!" is excellent fun and all too familiar to those of us who have sought a significant other.
It's an awful thing to suddenly find yourself in predicament where nothing is coming out of your mouth but desperation. China touchingly explains:"I was at a place in my life where something had to give, and it was my voice that broke. As the mother of a toddler I needed to stop touring and was unable to step off that carousel until I was forced into silence. My body literally stopped me because I could not stop myself. During that time of silence I reflected on work, relationships, motherhood, sanity, and how to find balance. Ever since that time off I have really stayed in a good place between high and low and I am grateful to have my voice back, my beloved job back and my happiness back."
Can we expect the same 'Pink Martini' we know and love for the next twenty years I asked China? "Yes and no. I hope we always maintain our original flavor, but so much has changed over twenty years and one never knows what Thomas Lauderdale will come up with next!"
REAL LIFE. REAL NEWS. REAL VOICES.
Help us tell more of the stories that matter from voices that too often remain unheard.