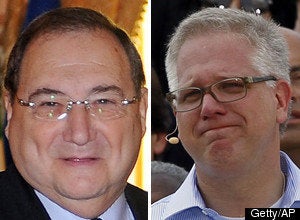 The head of the Anti-Defamation League praised Glenn Beck in a letter just weeks before harshly criticizing him for his attacks on George Soros, it emerged today.
On Thursday, Abraham Foxman, the head of the ADL, released a statement condemning Beck's remarks about Soros' experiences during the Holocaust. The statement called Beck's comments "offensive" and "horrific." In response, Beck struck back through his news site, The Blaze.
On Friday, The Blaze posted a scanned image of a letter Foxman had sent to Beck on Oct. 22, 2010. The letter praised Beck as a "friend of the Jewish people":
Dear Glenn:

A direct-mail piece recently sent to some ADL supporters around the country inadvertently misidentified you on a list of celebrities who had made anti-Semitic statements over the past year.

This was clearly a mistake, and we deeply regret that your name was included in the mailing, which was produced by an independent, third-party contractor. I hope you will accept my personal apologies.

Even though we may disagree from time to time, I know that you are a friend of the Jewish people, and a friend of Israel.

Sincerely,
Abe
Abraham Foxman
National Director
After the contents of the letter emerged, Salon' Justin Elliott spoke to Foxman, who said that he still thinks Beck "is a strong supporter of Israel and the Jewish people."
But, he continued, "I also believe that there are certain things he doesn't understand, which have led him to make insensitive remarks."
REAL LIFE. REAL NEWS. REAL VOICES.
Help us tell more of the stories that matter from voices that too often remain unheard.