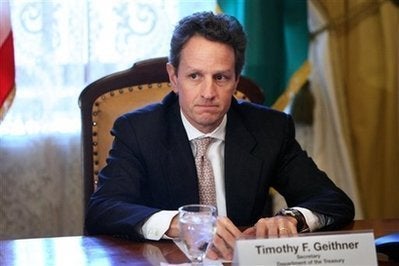 Administration officials were greeted with sarcasm and laughter Monday night when they briefed lawmakers and congressional staff on Treasury Secretary Tim Geithner's new financial-sector bailout project, according to people who were in the room.
The laughter was at its height when Obama officials explained that the White House planned to guarantee a wide swath of toxic assets -- which they referred to as "legacy assets" -- but wouldn't be asking Congress for money. Rep. Brad Sherman (D-CA), a bailout opponent in the fall, asked the officials to give Congress the total dollar figure for which they were on the hook. The officials said that they couldn't provide a number, a response met by chuckling that was bipartisan, but tilted toward the GOP side. By guaranteeing the assets, Geithner hopes he can persuade the private sector to purchase a portion of them.
Congress may be able to do little more than laugh. The Federal Reserve, in extreme situations, is allowed to intervene in the financial markets in dramatic ways. The Fed jumped into the markets long before the $700 billion bailout passed through Congress by guaranteeing toxic assets held by CitiGroup and Bank of America.
The White House still has roughly $350 billion in Congress-appropriated TARP funds to use, and the officials told the group Monday night that it planned to use $50 billion for foreclosure mitigation and further amounts to shore up bank balance sheets.
The officials also said that a review of the bank's books would be undertaken to determine whether they could handle an even more severe economic downturn.
People briefed on the meeting also said that the White House proposed expanding the Temporary Asset Lending Facility (TALF) by up to one trillion dollars in order to shore up the market for credit card and auto loans. It would be a joint project of the Federal Deposit Insurance Corporation and the Treasury's TARP funds.

Popular in the Community