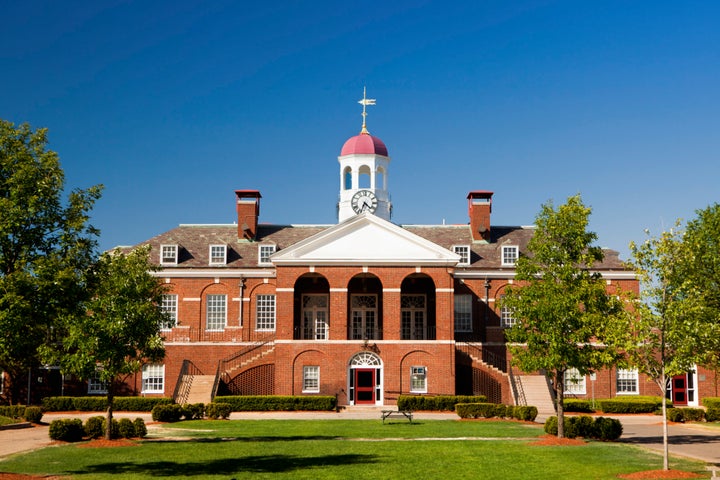 Applying to college isn't easy, or cheap. Across the world, more and more students are hiring private college counselors who can guide them through the admissions process -- for absurdly high prices. Hiring one in the U.S. costs an average of $4,035, per a 2012 report. Across the Pacific Ocean, a Chinese student's family could pay as much as $60,000 for college counseling services.
AdmitSee, a social network that launched in August 2013, wants to make applying to college a little less stressful and more affordable for prospective students. The site charges college and graduate school hopefuls a moderate fee to view application tips and essays by students recently accepted at universities across the U.S, and it pays a small sum to those who upload documents for people to examine. But AdmitSee is not without its critics, who fear it could stifle creativity and individuality by encouraging students to cherrypick or even copy successful essays.
AdmitSee offers five pricing plans -- from $25 per month to see unlimited successful application files to any one college, all the way to $150 per month to see files from any 20 colleges. Alternatively, people can pay a one-time fee of $75 to read 10 application files to any school.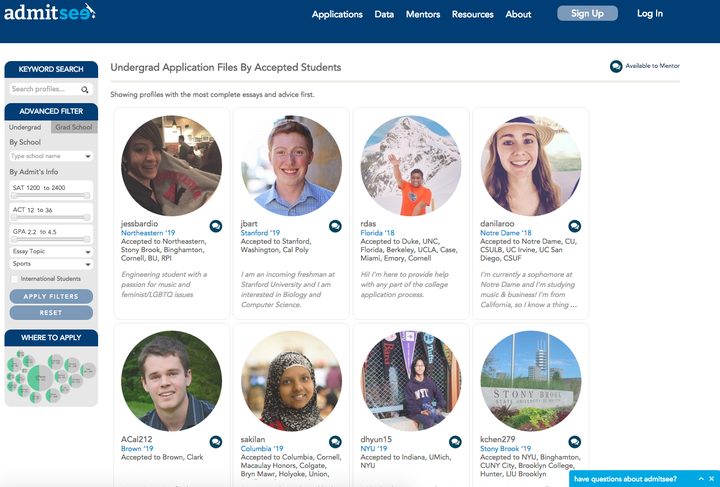 AdmitSee users can view documents uploaded by accepted students. They can also search for application files with a keyword search or advanced filters, as can be seen in the left sidebar.
Users can make $10 if they offer successful application materials for viewing. These profiles must include, among other things, the name of the institution that accepted the student, the graduation year, home state and major, as well as at least one full-length admission essay and answers to at least five questions in the site's "advice" section, such as "how I chose schools to apply to" and advice for obtaining teacher recommendation letters. These students also get small additional payments when their profile is viewed by a potential applicant, per the site's FAQ.
(AdmitSee's marketing director Frances Wong told The Huffington Post that the site verifies student profiles, adding that none of the sensitive data needed to do this is posted on the site. In addition, students' names are kept private, and they're not required to upload their entire application form with all their personal information.)
Potential applicants can use search filters or keywords to find certain kinds of successful essays or student profiles. AdmitSee also has a separate mentorship platform, on which high schoolers can reach out directly to university students for advice.
AdmitSee has a strict anti-plagiarism policy warning students that many universities use specialized software to detect copied admissions essays.
"We are definitely not trying to help students game the system or give them 'tricks' to get into schools," Stephanie Shyu, AdmitSee's co-founder, told HuffPost in an email.
Some college admissions officers, however, are skeptical as to how AdmitSee makes sure students use the platform honestly.
"Applicants could be taking from one line to an entire essay," Kathryn Timlin, senior associate director of undergraduate admissions at Georgetown University, told HuffPost. "[Admissions officers] obviously have no access to what students are using when they fill out applications, and there's no way that [they] are going to be able to fact check and compare every single essay."
Shyu clarified, however, that AdmitSee gives admissions officers open access to the site's essay databank.
That said, Timlin expressed concern that using AdmitSee might lead to less unique essays.
"By going on websites and using information used by another student as inspiration, it sort of homogenizes the entire application process," Timlin said. "[Students become] more worried about looking like somebody who's been 'successful' than they are looking like themselves, which is not we look for."
Ultimately, she says, the most important aspects of a college application are a student's academic record and individual personality.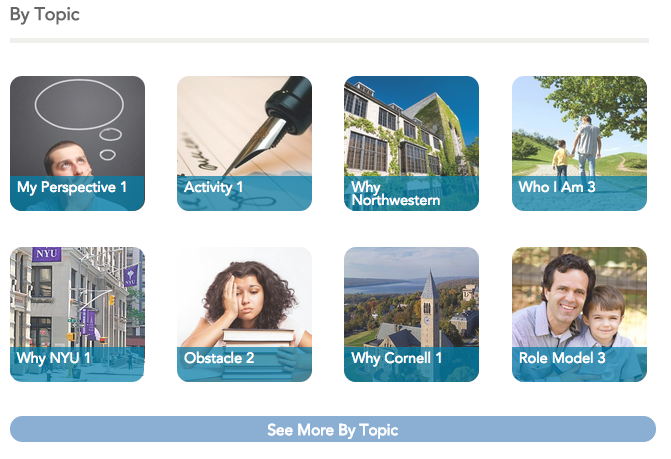 AdmitSee users can search for successful application essays by topic on the site.
Despite these concerns, AdmitSee has about 15,000 prospective students who log on to view successful profiles, and 20,000 college students who have shared their application files, Shyu noted. The site has also partnered with about 40 high schools, including several in low-income communities, to provide free access to the site, she added.
AdmitSee is not the only online platform providing more affordable services devoted to helping students get into college: Textbook rental and online learning site Chegg in 2014 launched its own online college counseling service, for which students pay at least $30 an hour to chat with college counselors online.
Shyu, however, believes college counselors aren't always as valuable to students as "near-peers who've recently gone through the process."
"Applying to schools and deciding where to ultimately attend is a very personal, individual process that should be all about finding the best-fit school," Shyu wrote. "Our mission is to bring transparency to the admissions process and provide data insights to empower applicants to make more informed decisions."
"Especially given the way this generation of students crowdsources information and turns to peers to make decisions, a social network and marketplace platform on which students can give one another insights ... modernizes and democratizes a sorely outdated process," she added.
This post has been updated to include additional info from AdmitSee regarding admissions officers' access to the network.
Related