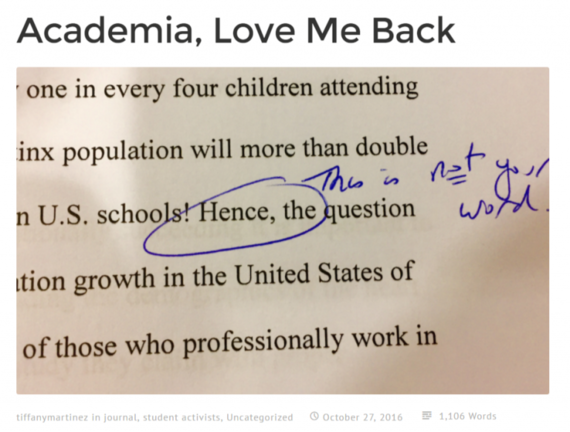 Photo credit: Tiffany Martínez. This article was originally featured on SupaDaily Latina.
"This morning, my professor handed me back a paper (a literature review) in front of my entire class and exclaimed "this is not your language." On the top of the page they wrote in blue ink: "Please go back and indicate where you cut and paste." The period was included. They assumed that the work I turned in was not my own. My professor did not ask me if it was my language, instead they immediately blamed me in front of peers. On the second page the professor circled the word "hence" and wrote in between the typed lines "This is not your word." The word "not" was underlined. Twice. My professor assumed someone like me would never use language like that. As I stood in the front of the class while a professor challenged my intelligence I could just imagine them reading my paper in their home thinking could someone like her write something like this?" -- Tiffany Martínez

To be Brown is to be codified as inherently problematic. To be Brown is to be accused of plagiarizing our own existence. The hostility towards Tiffany Martínez, McNair fellow at Suffolk University, from a professor who, as a part of an institution of higher education, holds an important responsibility to support the student body is nothing more than the realization of internalized racism and misogyny. The veracity with which this professor scolded, condemned, and ridiculed Tiffany for using the word "hence" in the context of an essay assignment in a completely logical grammatical transition is horrifying. However, it is not at all uncommon and not surprising to many who are challenged for simply employing the English language in a manner which is deemed "too advanced," "too white," or even just "copied." This incident is one far too familiar for many people of color, especially in predominantly white institutions, let alone institutions of higher learning such as colleges and universities.
The association of the Latina identity in this context with ignorance, lack of intelligence, and deceit cannot be tolerated as it upholds not just years or decades, but centuries of oppression and suppression towards womxn of color. Too often are people of color, and more importantly womxn of color, subjected to these types of racist attacks for simply using words deemed "too smart" by elitist white folks who perceive the Latinx student as inherently inferior, unintelligent, and not at all resourceful. It is critical that womxn of color are uplifted, valued, and celebrated to the pedestals to which they rightfully deserve but are continually denied access to by racist, elitist, misogynistic power structures in the United States and elsewhere. In this case, Tiffany was not seen as a scholar, an academic, or even a person; Tiffany was not seen by her own professor as the intelligent, inspiring, and invaluable student she is but as a stereotype, a wicked manifestation of patriarchal, racist legacies forged in the white imagination. Hence, I stand with Tiffany, Latinxs, and all other PoC's who experience these same injustices, and refuse to tolerate ignorant ideologies of hate in spaces designated for the advancement of human knowledge and understanding.
This is not an isolated incident. Academia itself is a reproduction of the problematic structures existing outside, and far below, the Ivory Tower. We are studied by academia, our lives dissected and erased through elitist translations of our existences, all the while refused participation in the construction of our own narratives. How can academia know more about Brown pain than the Brown folks themselves? Hence, we are Othered.
"What does it feel like to be a problem" asked Du Bois -- for starters: like we are perpetually forbidden from claiming ownership over a colonial tongue that has stripped away our own, right through our teeth; we cannot conquer what is already conquered because while Tiffany's use of language is a reclamation of power as a first-generation Latina, the professor's doubt is the all-too-familiar heist of an individual's self-empowerment. Hence, we are admitted but never accepted.
Tiffany, mi amiga: these institutions were not designed with us in mind. We cannot wait for elitist predominately white places to foster spaces for us; we are antithetical to their design. We are intended to be gawked at, poked and prodded, because that is the historical underpinning of our lives as first-generation low-income people of color. Those stubborn roots run deep. We have to create our own spaces because "the master's tools will never dismantle the master's house".
This is a statement in solidarity with our McNair sister Tiffany, but also a love letter to all Ronald E. McNair Research Scholars and POCs in academia fighting to succeed within the academy: we must unapologetically resist and disrupt academia from the inside out. Siempre in solidarity with one another. "Hence" is our word, but so is PhD. We cannot plagiarize what is rightfully ours, too.

With love,
Paola Muñoz and Jesse Sanchez
Cornell McNair Research Scholars
Calling all HuffPost superfans!
Sign up for membership to become a founding member and help shape HuffPost's next chapter