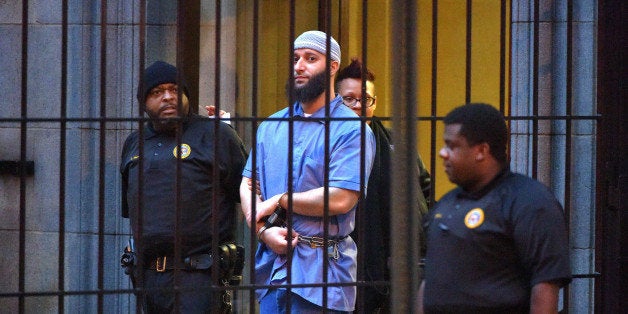 Adnan Syed, whose 2000 murder conviction was chronicled in last year's Serial podcast, has moved for a new trial on multiple grounds. One of those is an "ineffective assistance of counsel" claim, based primarily on the allegation that his trial lawyer failed to follow up with a potential alibi witness. This claim actually has a possibility of succeeding, although the specific issue is different from what some media reports have suggested.
First, some legal background. A defendant in a criminal case has a constitutional right to the "effective" assistance of counsel. If a lawyer's performance falls below that standard, that "ineffectiveness" can render the entire trial void, requiring a new proceeding.
Under the leading case on ineffective assistance claims, a defendant seeking a new trial on this basis has to prove two things. First, he has to demonstrate that his lawyer's performance fell below a standard of "reasonableness under prevailing professional norms." This is an imposing burden -- the defendant must show not only that his lawyer made some errors or could have done better, but that her performance was "outside the wide range of professionally competent assistance." If he can prove that, he then has to prove that "there is a reasonable probability that, but for counsel's unprofessional errors, the result of the proceeding would have been different."
Syed's primary ineffective-assistance argument relates to a witness, Asia McClain (now Chapman), who wrote to Syed before the trial to tell him she remembered seeing him in a library at the time the murder allegedly took place at another location. The evidence at Syed's hearing indicated that Syed passed this information along to his then-attorney, Cristina Gutierrez, but that Gutierrez did not call McClain as a trial witness or even contact her to find out what she might say.
This motion has a better chance of success than most ineffective-assistance claims, because of a critical difference between two concepts that have been described interchangeably in some media accounts. It's sometimes reported that Syed's claim rests on Gutierrez's failure to call McClain as a witness, and sometimes that it rests on her failure to contact her at the investigative stage. It's true that Syed's attorneys have made both arguments, but Gutierrez's failure to contact McClain is by far the more powerful point.
Courts considering ineffective-assistance claims regularly state that it's not their job to second-guess lawyers' strategic decisions, and under the governing law that's absolutely correct. Defending a client in a criminal case isn't a mechanical, paint-by-numbers task. Particularly in a complex or high-stakes case, a defense lawyer has to make a number of critical, often on-the-spot decisions regarding issues such as which issues to contest, which questions to ask on cross-examination, and which witnesses to call.
It's not as simple as just lining up all of the evidence that might point away from guilt and putting it before the jurors. Some apparent "defense evidence" can end up making the defendant look guiltier, especially if it gives off the vibe of a concocted story. Even if there's no suggestion of fabrication but the evidence just seems unconvincing, putting it on could make the defendant's case look worse than it did without that evidence; indeed, there have been books written on the dangers of presenting "weak" evidence at trial.
For these and other reasons, a court will almost never support an ineffective-assistance claim based on a true strategic call such as a lawyer's decision not to put a potential defense witness on the stand. If the lawyer testifies to any remotely plausible reason for the decision -- or, if (as in Syed's case) the lawyer is no longer available to testify, such a reason can be contemplated based on the circumstances -- the post-conviction court will generally uphold the conviction.
But here's the catch -- for the original lawyer's call to be treated as a legitimate strategic decision entitled to deference, the lawyer has to have learned the information necessary to make that decision on an informed basis. If she didn't, it's a lot easier to characterize her decision as a negligent, "ineffective" one. In other words, if a lawyer meets with a witness, finds out what she has to say, and then decides for whatever reason not to call the witness at trial, that decision will almost never support a new trial on ineffective-assistance grounds. But if she never looks into the witness in the first place, the claim of ineffectiveness is much stronger--especially if the witness's testimony, if credible, could have significantly affected the case.
This is why it's so critical in Syed's case that, according to the evidence presented at the hearing, Gutierrez never even contacted McClain. With apologies for stating the obvious, a genuine alibi witness is a huge benefit to a defendant in a murder case, and it's hard to envision a situation in which an attorney can provide competent representation without even checking out the witness's story.
And if the first prong (incompetence) is proven, there's a good chance that the second prong (reasonable probability of a different result) will also be established. Many ineffective-assistance claims founder at this second stage, with courts concluding that the evidence against the defendant was so overwhelming that even an ideal lawyer wouldn't have changed the result. But as demonstrated by the public fascination with the Serial podcast, the case was hardly open-and-shut.
So Syed has a real chance with his present motion. If the judge rules in his favor, he'll likely focus heavily on Gutierrez's failure to even pick up the phone and contact McClain -- a choice that, unlike an ultimate decision not to call a witness at trial, is difficult to treat as a legitimate strategic call.
Related
Popular in the Community