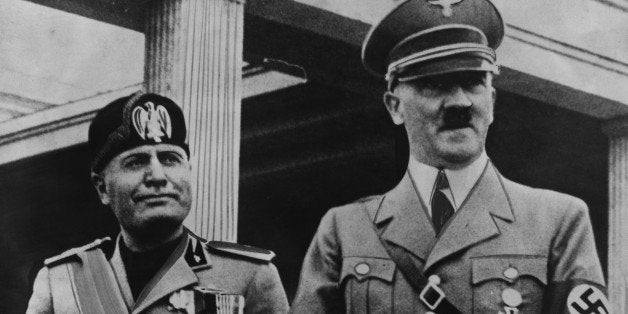 Lesbian, gay, bisexual and transgender (LGBT) rights advocates are part of a "radical homosexual movement" that mirrors elements of Nazi Germany, Rick Wiles is claiming.
As Right Wing Watch is reporting, the TruNews host blasted the LGBT community in a heated broadcast with Pastor Jeff Allen, who has previously evoked Nazi imagery while condemning gay rights.
"It's not an exaggeration to say 'homofascist' because the German Nazi Party was homosexual," Wiles said. "Hitler was a homosexual, the top Nazi leadership, all of them were homosexuals...they were creating a homosexual special race."
Listen to audio of the broadcast, courtesy of Right Wing Watch, below:
Wiles went on to note, "It wasn't this thing about an Aryan race of white people, blue-eyed, blonde-haired, white people, Hitler was trying to create a race of super gay male soldiers ... It will end up in America just like it was in Germany, but it won't be the Jews that will be slaughtered. It will be the Christians."
Listen to a second segment from the broadcast below:
In February, Wiles' guest offered up similar sentiments.
"Many [LGBT rights advocates] really do console themselves with fantasies of their own Kristallnacht, in which Christians are euphemistically 'taken out of the way' as part of the 'gay'-stapo's 'final solution' to the 'Christian problem,'"Allen wrote in an Op-Ed for Liberty Counsel attorney Matt Barber's website Barbwire.
Similarly, the American Family Association's Bryan Fischer referred to LGBT rights advocates as "Nazi stormtroopers" who are "totalitarian and repressive" in a 2013 broadcast.
Wiles' TruNews promotes itself on its website as "the world's leading news source that reports, analyzes, and comments on global events and trends with a conservative, orthodox Christian worldview."
Calling all HuffPost superfans!
Sign up for membership to become a founding member and help shape HuffPost's next chapter
BEFORE YOU GO
PHOTO GALLERY
Horrific Anti-Gay Statements