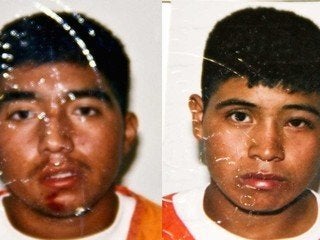 Immigration advocates are fighting to block the imminent deportation of two Guatemalan cousins allegedly bloodied and battered when Immigration and Customs Enforcement agents entered the wrong house during a mistaken sex trafficking raid.
"Given what we believe our clients suffered at the hands of ICE agents, there's no question that ICE should be extending their stay of removal here in the United States," Cheryl Little, executive director of Americans for Immigrant Justice, told The Huffington Post.
The arrests of Diaz and Sales were mistakes. The men have never been charged with a sex crime or any other offense.
"It was a total disrespect for the community," WeCount! Executive Director Jonathan Fried said. "Since they were poor immigrants of color they were targeting, they had no compunction about going into people's houses that had nothing to do with it."
Garcia and Diaz told The Huffington Post that agents handcuffed them, threw them to the floor and kicked them in the face and ribs. Their injuries were apparent enough, Little said, that the head of the detention facility called for an investigation as soon as he saw them.
In a letter written during the subsequent inquiry, the Guatemalan consulate general stated, "Consulate representatives observed that the men had been physically injured-Mr. Diaz had a swollen eye, Mr. Garcia's face was swollen."
"The gentlemen told the consulate that they had sustained these injuries during their arrest and detention by ICE," the letter continued. "Julio Diaz stated that an ICE officer threw him to the floor, handcuffed him and kicked him in the right eye. According to Adolfo Garcia, an officer kicked him in his back and his mouth so that he bled, while he was already handcuffed and on the floor."
Accusations of unnecessary violence surfaced immediately. A nearly year-long investigation by ICE's Office of Professional Responsibility, however, "found that accusations against agents were not substantiated," ICE spokesman Nestor Yglesias wrote in an emailed response to questions from The Huffington Post.
Garcia and Diaz were released shortly after their arrest and given work permits while they cooperated with the investigation into the allegations of excessive force. In the years since their arrest, they also sought permission to stay in the United States. During that time, according to their attorney, Romy Lerner, they have reported regularly to ICE and have not committed any crimes.
Lerner insists that the men should be allowed to stay for one simple reason. "It's just a matter of justice," she told The Huffington Post. "They're law-abiding –- not the way they came here, but they haven't committed any crimes here. It's also a message to ICE that they can't get away with these things. They can't just raid people's homes."
Most troubling, the advocates say, is that two other men arrested along with Garcia and Diaz, who were also allegedly injured by ICE agents and who are also undocumented immigrants, are being allowed to stay.
"I really think this points to the arbitrariness of decision-making on the part of immigration officials and the unfairness of it all," Little said.
ICE refutes the allegation.
"ICE does not make decisions on cases in an arbitrary manner. Decisions are made after a thorough evaluation of the factors involved in each individual case, and are subject to management review," ICE spokesman Yglesias said. "Mr. Diaz and Mr. Garcia have exhausted all legal avenues to remain lawfully in the U.S. and are both subject to final orders of removal. ICE stayed the execution of their removal orders for three years as a matter of discretion due to the subsequent investigation and their applications for an immigration benefit. Neither individual has significant equities in the U.S. that would warrant an exercise of prosecutorial discretion."
Diaz and Garcia both said that they will comply with the deportation order, but they're both sad to be leaving, and disappointed that the ICE agents who arrested them were not punished.
"To me," Garcia said, "it's not just."
Calling all HuffPost superfans!
Sign up for membership to become a founding member and help shape HuffPost's next chapter
BEFORE YOU GO
PHOTO GALLERY
Deportations Around The World